Full Cast Announced For The 5th Avenue Theatre's Exciting New Holiday Production Of ANNIE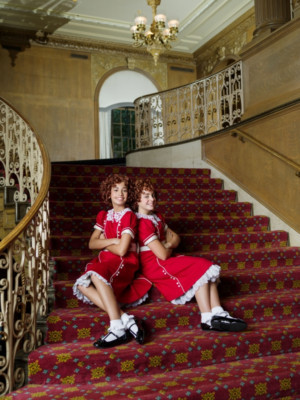 Rehearsals have begun for The 5th Avenue Theatre's new production of the beloved musical Annie, which plays this holiday season from November 23 - December 30, 2018. The 5th is excited to introduce Visesia Fakatoufifita of Tacoma, WA, and Faith Young of Kent, WA, who make their 5th Avenue Theatre debuts alternating the title role.
Joining them and the previously announced Timothy McCuen Piggee as Oliver Warbucks and Cynthia Jones as Miss Hannigan are Dane Stokinger as Rooster, Jessica Skerritt as Grace, Cheyenne Casebier as Lily, and Tony Lawson as FDR. The cast is completed by a stellar group of local talent and 5th Avenue Theatre favorites that play the girls in Miss Hannigan's orphanage and the ensemble of Hooverville-ites, New Yorkers, and more. High school students that are part of The 5th's Rising Star Project are also included in the ensemble.
"This cast is very special. To a soul, they bring incredible emotion, humanity, and generosity to the table. Each heart is a force," said Annie director Billie Wildrick. "Representation was very important to me in casting. So many young people come to Annie - for many of them, it's their first show. We actively sought diversity in our cast because it's very important to me that all the kiddos can see bodies as well as souls that are like theirs on the stage. "
Playing November 23 - December 30, 2018 (press opening Friday, November 30), single tickets for Annie are on sale now and subscriptions are still available online at www.5thavenue.org, by phone at 206.625.1900, or in person at the Box Office at 1308 5th Avenue in Downtown Seattle.
Leaping lizards! Join Annie, Sandy, Daddy Warbucks, and the wicked Miss Hannigan for one of the best theater experiences you will ever have. Laced with unforgettable stories and songs including "Tomorrow," "It's a Hard Knock Life," "Easy Street" and so many others, this is a musical that will stay with you for a lifetime-no matter how old you are. Annie is a magical, musical thrill for the entire family that is perfect for coming together during the holiday season. This is the first time theater's favorite redhead will play The 5th Avenue Theatre's stage since 1982 and is The 5th's first self-produced production; the national tour of Annie re-launched the theater after its historic re-opening in 1980.
Timothy McCuen Piggee returns to The 5th Avenue Theatre as Oliver Warbucks. Annie is his eighth production at The 5th. He was in the Broadway cast of Catch Me If You Can and has performed regionally at Denver Center Theatre in Fences (Lyons), Kansas City Repertory Theatre in The Pirates of Penzance (Pirate King), ACT Theatre in A Christmas Carol (Scrooge), Village Theatre in Chicago (Billy), and Milwaukee Repertory Theatre in The Glass Menagerie (Tom). His film and TV credits include Navy Diver, 65th Annual Tony Awards, and The Letterman Show. He is the recipient of the 2015 Lunt-Fontanne Fellowship and the Gregory A. Falls Sustained Achievement award.
Visesia Fakatoufifita makes her debut at The 5th Avenue Theatre as Annie. She has been performing on stage since age five. Recent credits include Annie at Auburn Avenue Theatre and Oliver at ManeStage Theatre. Past favorite productions are Shrek, Alice in Wonderland, and Willy Wonka at Puyallup Children's Theatre.
Faith Young makes her 5th Avenue Theatre debut as Annie. Her regional credits include Annie (Annie) at Seattle Musical Theatre/Auburn Avenue, James and the Giant Peach (James) at Village Theatre KIDSTAGE, and White Christmas (Susan), Beauty and the Beast (Chip), and A Christmas Story (Randy) at ManeStage Theatre.
Cynthia Jones returns to The 5th Avenue Theatre as Miss Hannigan. She was previously see at The 5th in Cinderella, ELF, Carousel, and Hairspray in Concert. With more than 40 credits to her name, some favorite theaters include Seattle Rep, Intiman, and ACT Theatre (Seattle), The Mark Taper Forum (Los Angeles), The Goodman Theatre (Chicago), The Guthrie (Minneapolis), and Arizona Theatre Company. She has toured nationally and internationally with The Miracle Worker and Menopause The Musical, which she performed in for seven years.
Dane Stokinger returns to The 5th Avenue Theatre as Rooster. At The 5th he has been seen in The Hunchback of Notre Dame (Clopin), Disney's The Little Mermaid (Chef Louis), A Christmas Story (Old Man), and Monty Python's Spamalot! (Lancelot). His regional credits include The Wizard of Oz (Tin Man) and Chitty Chitty Bang Bang (Caractacus Potts) at Seattle Children's Theatre, and The Full Monty (Jerry), Trails (Mike) and No Way To Treat A Lady (Morris Brummell) at Village Theatre.
Jessica Skerritt returns to The 5th Avenue Theatre as Grace Farrell. She was previously seen at The 5th in The Sound of Music (Elsa Schraeder), A Christmas Story (Mother), ELF (Deb), Hairspray in Concert (Amber Von Tussle), and in the The 5th Avenue Theatre and ACT Theatre co-productions of Little Shop of Horrors (Audrey) and Grey Gardens (Young Little Edie). Additional credits include Xanadu (Kira/Clio) with Village Theatre and Arizona Theatre Company, The Producers (Ulla), Barefoot in the Park (Corie), and Million Dollar Quartet (Dyanne) with Village Theatre.
Cheyenne Casebier makes her 5th Avenue Theatre debut as Lily St. Regis. She performed on Broadway in The Glass Menagerie (Laura u/s) and has performed regionally at Seattle Repertory Theatre in Pride and Prejudice (Mrs. Bennett), Boeing Boeing (Gretchen), Dancing at Lughnasa (Rose), Betrayal (Emma), and The Great Gatsby (Jordan Baker), at ACT Theatre in Ramayana (Kaikeyi), Celebration (Sonia), and Old Times (Kate), at Long Wharf (Connecticut), Colorado Shakespeare Festival, and five seasons at the Guthrie Theatre (Minneapolis). Her TV and film credits include John Adams and Two and a Half Men.
Tony Lawson joins the cast as FDR and the Understudy for Oliver Warbucks. He has performed previously at The 5th Avenue Theatre as Gaston in Disney's Beauty and the Beast, and as Colonel John Falstaff in Lone Star Love. He was seen on Broadway as Thenardier in Les Misérables and Off-Broadway in Kismet at ELT and Case of Mary Todd Lincoln at York Theatre. National tour credits include Irving Berlin's White Christmas, Damn Yankees with Dick Van Dyke, and 42nd Street with Loretta Swit. Lawson has performed regionally at Arena Stage, The Old Globe Theatre, Alley Theatre, Goodspeed, and Paper Mill Playhouse.
Macy makes her 5th Avenue Theatre debut as Sandy. She was adopted form Rocky Spot Rescue of Oklahoma City, OK in December 2009 by trainer Bill Berloni. She performed with Annie beginning in 2010 and just finished three years on the National Tour. She has been seen on TV in The National Dog Show, sharing spots with John O'Hurley.
Sunny makes her 5th Avenue Theatre debut as Sandy. She was adopted by Bill Berloni in spring of 2012 for the revival of Annie on Broadway from the Houston, TX Animal Control the day before she was to be put to sleep. She has been seen on TV in Annie's Search for Sandy and From Wags to Riches. She stayed with the show on Broadway until 2014 and was with the National Tour for two years.
The orphans are played by a stellar group of local actors from across the Puget Sound Region. They are Carolyn Dunbar (July), Bea Corley (Pepper), Julia Glynn (Tessie), Sarah Bennett (Kate), Zoe Papadakis (Duffy), Olivia Juarez (Molly), Maya Russell (Millie), and Miranda Power (Olive).
The cast also features Anne Allgood (Sophie the Kettle, Perkins), Sam Bennett, Nicholas Japaul Bernard (Apple Seller, Sound Effects Man, Rooster Understudy), Lauren Du Pree (A Star to Be, Bonnie Boylan), Lola Havens, Cayman Ilika (Mrs. Pugh, Connie Boylan, Grace Understudy), Jordan Jackson, Addie Laramy, John Patrick Lowrie (Drake, FDR Understudy), Nate McVicker (Male Understudy) Trina Mills (Lily Understudy), Jadyn Muralt, Taylor Niemeyer (Ronnie Boylan), Faith Bennett Russell (Understudy for Miss Hannigan), Nathaniel Tenenbaum (Bundles), Chandler Thomas (Dog Catcher), Alia Thomaier, Matt Wolfe (Lt. Ward, Bert Healy), and Cole Zieser. Also in the ensemble are Callan Barth, Summit Geiselman, Bryan Kinder, Lacey Krueger, and Seth Remington, students that are part of The 5th Avenue Theatre's Rising Star Project.
| | | |
| --- | --- | --- |
| | Donations | Arts Orgs |
Related Articles View More Seattle

Stories

Shows
More Hot Stories For You