BWW Review: Strawshop's PRELUDE TO A KISS a Last-Minute Triumph
Any theater company has that fear of, after weeks of rehearsing one play, having to switch it out for another with little rehearsal time left before opening. Maybe the rights to the play get pulled or some other act of the theater Gods which is out of their control forces their hand. But what if a theater were to decide to do it to themselves? Such is the case with Strawberry Theatre Workshop and their current production of Craig Lucas' "Prelude to a Kiss" which took over for what was to be their production of Lucas' "Reckless". After already diving headlong into the show they discovered that one character in particular felt so dated and out of touch as to be offensive without any kind of touchstone in the show to point out the offense. But this is not a review of their decision, so we won't go into all that, this is a review of what they put up ... with the same cast ... and the same scheduled opening night ... after only 12 days of rehearsal.
But let's talk about the play first. "Prelude...", if you're not familiar with the movie, some say was Lucas' reaction to the AIDS crisis but has since grown into a commentary on the commitment of the love of a person and their soul and not just the body. In the show we follow the relationship of Peter and Rita (MJ Sieber and Anastasia Higham) from their meeting at a party through to their eventual wedding. But at the wedding an elderly man no one has ever seen before (Galen Joseph Osier) wanders in, wishes the young couple well and asks to kiss the bride. A kiss that swaps Rita's soul into the old man's body and vice versa. And of course, confusion and hilarity ensue.
Lucas' play has stood the test of time because love has never and will never go out of fashion and neither has good writing. His dialog is, as always. So crisp and believable that you forget you're watching a piece of theater. But we know the play is good, but how about the 12-day rehearsed production? I'm thrilled to report you would never know this wasn't their intent all along and the show is absolutely up to Strawberry Theatre Workshop's stellar reputation. The only thing that might indicate this was a last-minute switch is that the set is quite sparse and simplistic and yet one could easily see that as a smart choice as the show doesn't need anything elaborate, especially with its numerous locale changes, and the pieces they did have all worked perfectly together. And under the direction of Greg Carter everything felt seamless as if this well-oiled machine had been doing this show for ages.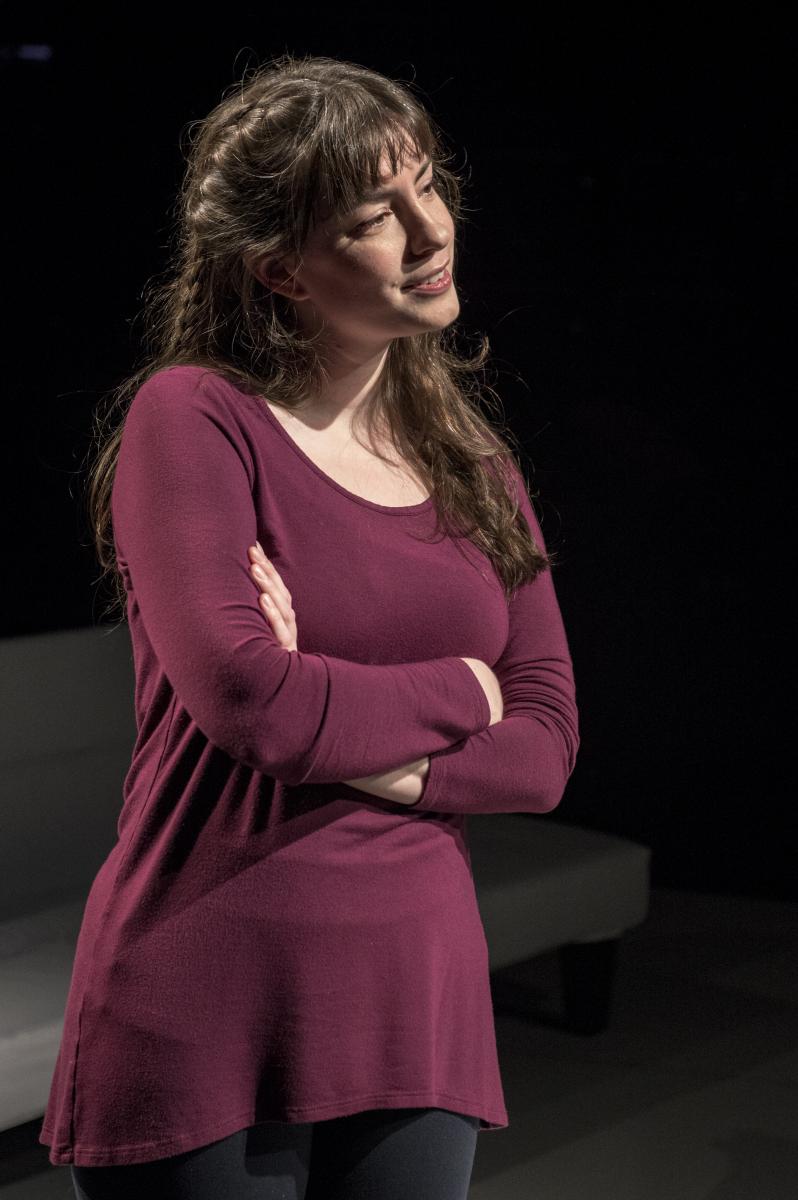 But a lot of that can be attributed to the stellar cast. Sieber and Higham demonstrate some delectable chemistry together that they manage to turn off in an instant once Rita becomes someone else. But then that chemistry seems instantly transferred over to Sieber and Osier, but in a wonderfully strained and awkward way making the moments between all of them resonate with honesty and realism. And extra kudos to the ensemble cast (Marianna de Fazio, Brandon Felker, Rachel Guyer-Mafune, and Ray Tagavilla), many of whom pull in multiple characters to hilarious effect.
In the hands of a less experienced company a last-minute switch like this could have turned into a train wreck but with this stunner of a team, it's almost a given that they would succeed as amazingly as they did. Which leads me to my three-letter rating system. Normally I would just go off the show which would have garnered Strawberry Theatre Workshop a joyous, love affirming, totally made me tear up YAY. But I think I need to add some points here for level of difficulty and so, that earns them a joyous, love affirming, totally made me tear up and they did it all in 12 days WOW. Do yourself a favor and get out to see this one. Not for the feat of what they pulled off in 12 days (which is amazing) but for a truly fantastic production no matter the timetable.
"Prelude to a Kiss" from Strawberry Theater Workshop performs at 12th Avenue Arts through October 6th. For tickets or information visit them online at www.strawshop.org.
Related Articles View More Seattle

Stories

Shows
Born and raised in Seattle, WA, Jay has been a theater geek for years. He attends as many shows as he can around the country (read more...)