Review: Seattle Rep's HERE LIES LOVE Brings Down the House ... Literally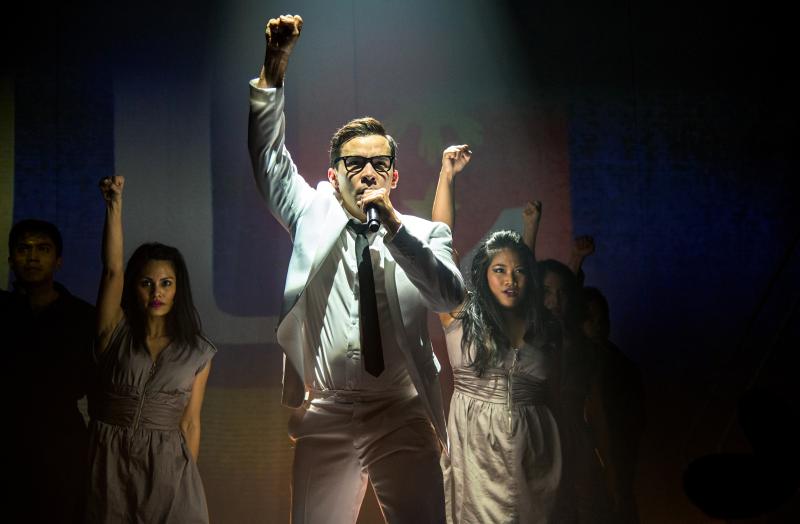 A few years back on one of my trips to New York, pretty much anyone I talked to about what shows I was seeing was aghast that I wasn't seeing "Here Lies Love" Off-Broadway. And to each of them I'd say, "a musical about Imelda Marcos written by David Byrne and Fatboy Slim? No thanks, not my thing." I mean sure, an interesting story and I have respect for the artists (if not much familiarity) but how would this work? Well, now with the new production currently playing at the completely-reconfigured-for-the-show Seattle Rep I'm being forced to sit down to a healthy serving of crow and it's delicious. Not only due to the thoroughly innovative staging and stellar performances but also for Byrne and Fatboy Slim creating a fresh method of storytelling that is a welcome addition to musical theater.
Most only know her from the reports of her closets full of shoes but the show delves further into the rise and fall of Imelda Marcos (Jaygee Macapugay) from her humble beginnings as a beauty queen in a poor village in the Philippines to her position as the country's infamous and extravagant First Lady. And along the way we get insight into her early relationship with liberal Senator Ninoy Aquino (Conrad Ricamora) and of course her ultimate marriage to Senator Ferdinand Marcos (Mark Bautista) who would eventually become President.
The folks at the Seattle Rep have taken on an insane task along with Scenic Designer David Korins of gutting the Bagley Wright Theatre and transforming it into the rocking Club Millennium where the audience watches the show from surrounding balconies as well as from the main dance floor while the stages spin and contort into various performing areas as the audience travels around with them. (NOTE: If you see the show with someone, you may end up separated as the stages move.) And I have to commend the incredible audience guides and stage crew who maneuvered the set and the people like a finely choreographed ballet. I could go on and on as to how innovative the set is along with the incredible staging from director Alex Timbers but let's talk about the rest of the show.
The music is brilliant and completely moves each element of the story along beautifully. Whether it's a soulful ballad or thumping dance number the music from David Byrne and Fatboy Slim not only invests you into the story but into the club atmosphere. If you can sit still during much of the show then you may want to check your pulse.
Macapugay manages a stunning arc throughout the piece as she goes from naïve girl to toast of the town to diva and her idyllic romance with Bautista as Marcos is equal parts beautiful and tragic as she watches the facade of her dream life get stripped away. Ricamora is equally fantastic as the liberal Aquino trying to hold the democracy of his country together and his voice is soul invading. And then there's the ensemble that seemed to have energy to spare as they kept the rocking of the show, as well as the audience, going. And while they were all fabulous I would be remiss if I didn't call out Shea Renee who proceeded to shred every solo she was given. Her vocals, presence and moves were nothing short of outstanding.
This show goes well beyond another win for the Rep and falls into the category of stunning achievement. This is why, with my three letter rating system, I'm compelled to bestow a blown away WOW (my highest rating) to "Here Lies Love" at the Seattle Rep. Don't let this one pass you by lest you be inundated with "you missed "Here Lies Love"?!?" And one final note, I've heard rumors that the tickets are going fast if not already gone. But I've also heard rumors of extensions. So maybe you drop a note to the Rep and ask or beg or demand one of those extensions. Just sayin'.
"Here Lies Love" performs at the Seattle Rep through May 28th. For tickets or information contact the Seattle Rep box office at 206-443-2222 or visit them online at www.seattlerep.org.