Review: MILLION DOLLAR QUARTET at Village Will Have You Rockin' in Your Seat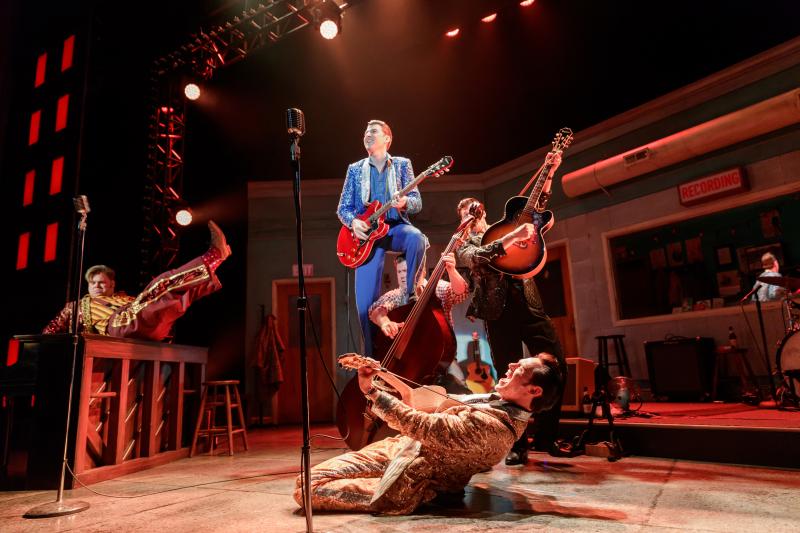 "Million Dollar Quartet", that Rock and Roll spectacular, has long held a special place in the hearts of Village Theatre patrons owing to it being one of those shows that made a name on Broadway after having its beginnings in the Village Originals workshops. Well, those prodigal sons (and daughter) have returned to Village's stage and this new cast, while still paying homage to the iconic characters, are definitely putting their own spin on the roles. And it amounts to a rockin' good time!
The show from Colin Escott and Floyd Mutrux takes a look at the night that the biggest stars of the day in Rock and Roll, Elvis Presley, Johnny Cash, Jerry Lee Lewis, and Carl Perkins (played by Jason Kappus, Brian Grey, John Countryman, and Skye Scott) found their way to the studio at Sun Records (where they all got their starts) for a jam session like no other. The show is one baby step above being a revue as it does have a fairly thin story of Sun Records Producer and Owner, Sam Phillips (Matt Wade), arranging for them to come together in the hopes that he can extend his contract with Cash. There's some tension between the guys for the one looking to make a name, the one's looking to continue their success and the one who made it and moved on, but we're really here for the music. And you get plenty of that.
With a fantastic set and lights from Andrea Bryn Bush and Geoff Korf, not to mention some fabulous costumes from Esther Garcia, you feel like you're actually back in Memphis on December 4th, 1956. And director Scott Weinstein certainly has a feel for the show and era as he keeps the pace clipping along and the audience in the palm of their hands. But with a show like this it all comes down to who's playing those legendary rockers so let's talk about the dream team that Weinstein has assembled.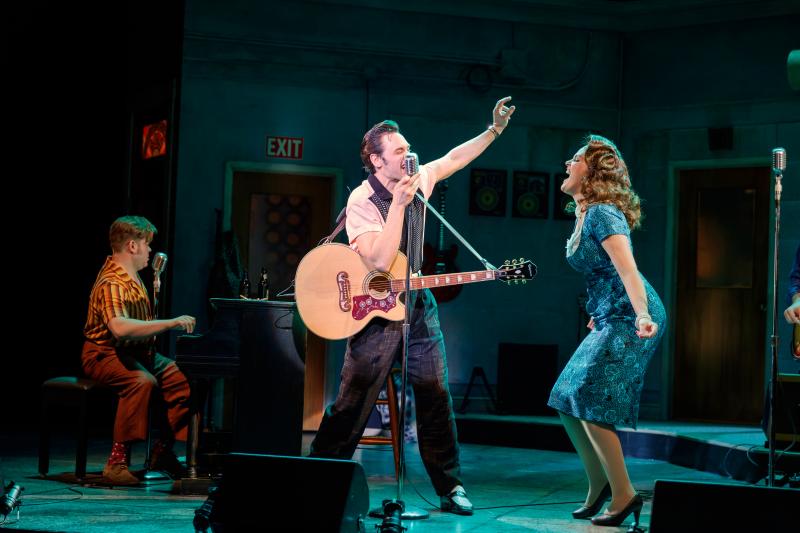 First off, I should point out that all of the cast are playing their own instruments so there's little in the way of a backup band but I'd be remiss if I didn't call out drummer James "Rif" Reif and bassist Chris Jones for keeping that sound going and quite rich. Plus, there's Cayman Ilika, the lone woman on stage in the role of Elvis' girlfriend Dyanne who brings in her own incredible solos with oodles of sex appeal. Honestly, I think her rendition of "Fever" may have gotten me pregnant. And Wade as Phillips perfectly ties it all together as a kind of narrator for the evening as well as one of its central figures.
But it's those four boys who truly bring the house down. Grey has the deepest bass, that you feel in you gut, perfect for Cash. Scott shows off the insecurity of Perkins while keeping up his bravado as well as some insane guitar licks. Kappus doesn't do your typical Elvis impression but rather becomes him complete with those twitching hips and his crystal-clear voice rings throughout every inch of that theater. And Countryman brings in some delightful comedic relief as the brash young upstart of the quartet which doesn't diminish his outstanding musical chops. You'd think you were actually in the room with these four icons.
But then, that's the point, and Village has certainly brought its A game in bringing back this audience favorite. And so, with my three-letter rating system, I give Village Theatre's production of "Million Dollar Quartet" a "dancin' in the aisle's" YAY. A terrific closer for their season and a great evening.
"Million Dollar Quartet" performs at Village Theatre in Issaquah through June 23rdand then moves to their Everett location running June 28thto July 28th. For tickets or information contact the Issaquah box office at 425-392-2202 or their Everett box office at 425-257-8600 or visit them online at www.villagetheatre.org.