BWW Review: MEAN GIRLS at The Paramount Theatre
Not a great musical, but fun, as long as you can hear it.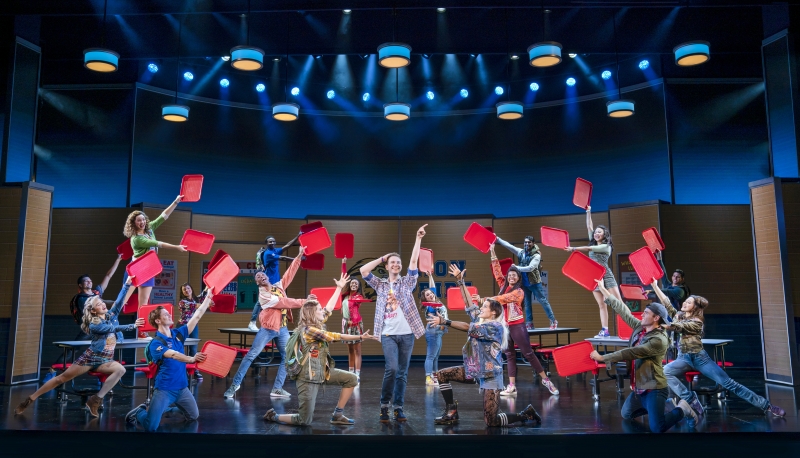 Back in 2004, Tina Fey brought us the movie "Mean Girls", a cute little teen comedy that could have been just another blip in a bevy of teen comedies were it not for the stellar writing of Ms. Fey and a killer cast. Because of that, the movie has become a bit of a classic in the genre. A shining example of how to do it right. Then Fey, along with husband Jeff Richmond for the music and Nell Benjamin for the lyrics chose to convert her classic into a Broadway Musical. They brought over all that stellar writing from the movie, and that's part of the problem. The other part of the problem is that the new elements, the music and lyrics, don't quite live up to the writing. So, what we're left with is a faded carbon copy of the original that while still fun, isn't quite as "Fetch" as the original.
For those crawling out from under their rocks that aren't familiar with the movie, we meet our heroine, Cady Heron (Danielle Wade), a sweet girl who has spent her formative years in Africa being home schooled by her parents. But time has come for the Herons to come back to the US and Cady is thrilled to meet some friends who walk on two legs. Initially she meets Janis and Damian (Mary Kate Morrissey and Eric Huffman), two teens who don't fit in with anyone but themselves and who also serve as the narrators of our tale. But eventually Cady is introduced to the Plastics. The popular Mean Girls of the school led by the Queen Bee of them all, Regina George (Nadina Hassan) along with her two minions, Gretchen and Karen (Megan Masako Haley and Jonalyn Saxer). The Plastics take in Cady into their group which pleases Janis to no end as she has a plan to bring down the group from the inside. A plan that eventually spirals out of control threatening to bring down the entire school.
As I said, if you're familiar with the movie (which I'll admit, I have seen more than a few times) you'll recognize a lot. Like almost the entire script which seems to have been lifted right from the movie and placed firmly on the stage with every gag or joke up front and center. In fact, I can only think of one good laugh that wasn't from the movie, a brilliant bit with a lion costume. But the rest trots along in step, never missing a well-trod beat. But the music is new. And largely forgettable. Save for a few stand outs, the songs from the show aren't destined to become Broadway classics. The stand outs, oddly enough, are never for the Plastics or for Cady but largely belong to Janis and Damian. Damian's rousing production numbers, "Where Do You Belong?" and "Stop" truly bring the energy levels of the show up, and Janis' eleven o'clock number, "I'd Rather Be Me" brings down the house. But why doesn't our heroine have an eleven o'clock number, or at least one that says anything? I couldn't tell you.
Having said all that, the show is still quite fun. With its bright and vibrant set and costumes from Scott Pask and Gregg Barnes and their fantastic video design from Finn Ross and Adam Young, there's always something shiny to get your attention. And the direction and choreography from Casey Nicholaw keeps the fabulous ensemble hopping. I do wish that the sound mixing at the Paramount had been a bit better so as to be able to hear all the fun lines in the songs. Without those, there's not much to latch onto and I was glad I was familiar with the cast album, so I caught most of it. I don't know if a newbie would.
The principals are wonderful. Wade makes for a terrific, good girl caught up with troubled friends. The trio of Plastics led by Hassan are a force to be reckoned but never messed with. Adante Carter brings in a bit of sweet realness to the object of Cady's affection, Aaron Samuels. And April Josephine tackles a fantastic trio of authority figures as the math teacher and victim of the Burn Book, Ms. Norbury, as well as the couldn't be more different from each other, mothers of Cady and Regina.
But thanks to getting the good songs, the show is stolen by the talents of Morrissey and Huffman as Janis and Damian. Huffman's vibrance seems to know no bounds and you cannot help but watch and love every moment with him. And Morrissey's jaded Janis slays with her soul shredding belt especially during the aforementioned "I'd Rather Be Me".
So, is the show a good time? Definitely. Is it a great musical destined to be remembered long after it's time on Broadway has passed? Probably not. But sometimes a good time is what we need. And so, with my three-letter rating system, I give "Mean Girls" at the Paramount a "you can totally sit at my table" YAY-. So, if you want a good time that doesn't exhaust too many brain cells, this could work for you. Just be sure and wear pink if you want to sit with the Plastics.
"Mean Girls" performs at the Paramount Theatre through November 21st. For tickets or information, visit Seattle Theatre Group online at www.stgpresents.org.