Review: Bang Your Head While Laughing at 5th Ave's ROCK OF AGES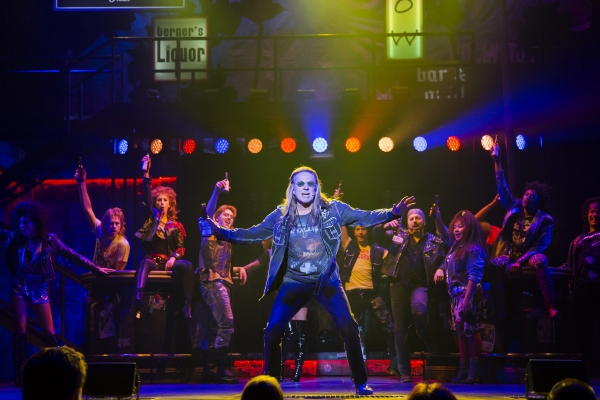 The idea of stunt casting, the practice of taking a big name and putting them in a role just to get butts in seats, has always terrified me. And I've seen it result anywhere from the sublime such as Neil Patrick Harris killing it as "Hedwig" to the shudder inducing Molly Ringwald completely out of her depth as the world's oldest taxi dancer in "Sweet Charity". And while the 5thAvenue's couple of stunt casts, specifically rock royalty Micky Thomas of Starship as club owner Dennis and Galen Disston of the Seattle rock band Pickwick as the romantic lead Drew, in their current production of "Rock of Ages" were nowhere near the latter, when it came to delivering a line or executing some choreography, you could definitely tell the musical theater folks from the rockers. However, when it came to wailing out some amazing rock songs, those stunt casts had no equal, so all told, it amounted for a pretty awesome show. But we'll get to specifics in a minute.
If you're unfamiliar with "Rock of Ages" from its previous tour or maybe the movie version, it's a simple little jukebox musical featuring songs from the 80's from glam metal bands such as Journey, Twisted Sister, and Poison to name a few. Oh yeah, and of course, Starship. But don't expect any highbrow think piece here. As they say, it's filled with "poop jokes and Whitesnake". We're in LA in the 80's at the famous Bourbon Room where club owner Dennis and his sound guy Lonny (Dane Stokinger), who also serves as the narrator for the story, fight with the help of activist Regina (Sara Porkalob) against the evil developer Hertz (Nick DeSantis) and his son Franz (Nik Hagen) to save their club from the wrecking ball. So, they come up with the plan to have the band Arsenal and their lead singer Stacee Jaxx (Brandon O'Neill) come sing their last gig at the bar before the band splits up and Stacee goes solo. Meanwhile, since every good musical needs a love story, there's aspiring rocker/songwriter Drew who works behind the bar and who meets fresh off the bus, aspiring actress Sherrie (Diana Huey) and of course sparks fly, if for no other reason than for him to be able to sing Steve Perry's "Oh Sherrie".
Director and Choreographer Lisa Shriver keeps the whole thing rockin' quite smoothly. That may sound like an oxymoron, but I mean there's tons of energy and fun in this well-oiled machine. And I must mention the overly shoulder padded, glitzy costumes from Cathy Meacham Hunt and outrageous hair band wigs from Jason Goldsberry that were a feast for the eyes. And special kudos to the band for killing it all night long ... sometimes while locked in a cage no less.
Now, as I said before, the rockers on hand weren't so convincing with the acting portions. Maybe the love story suffered a bit and perhaps some jokes fell a little flat but then who cares when they began singing. Thomas' pipes are still incredible and his duet with Stokinger at the end was priceless. And Disston has that crisp clear rock voice you can feel in the back of the house.
Plus, they were backed up with one hell of an ensemble who do know how to deliver a line, belt a tune and dance like nobody's business and each one gets their moment to shine. Huey is a delight as the good girl trying to stay good in this cruel world and she shreds every number. Porkalob is fantastic as her anarchist guides Franz to his true bliss and Hagen as Franz, when he lets go in "Hit me with your best shot" brought the house down. DeSantis has the unenviable task of being the bad guy with a ridiculous German accent and he makes it comedy gold. Felicia Loud comes in late with only a few numbers as strip club owner Justice but nails them with her powerhouse vocals. But for me the price of admission is worth it solely for Stokinger and O'Neill. Stokinger leads us through the show like a giant puppy dog on crack and couldn't be more fun. And O'Neill, oh my Gods. His transformation into an egotistical, sex crazed, blow hard rocker is one of the most delicious things ever.
So, were things a little rocky? (No pun intended) Sure. Might they settle into the parts as it goes on? Maybe. Would it really matter? Not particularly. And so, with my three-letter rating system, I give the 5thAvenue Theatre's production of "Rock of Ages" a "you'll laugh and melt your face off at the same time" YAY. A Rockin' good time!!!
"Rock of Ages" performs at the 5thAvenue Theatre through February 24th. For tickets or information contact the 5thAvenue Theatre box office at 206-625-1900 or visit them online at www.5thavenue.org.