A Powerful Family Story AMERICAN HWANGAP, Premieres 2/1 at West Of Lenin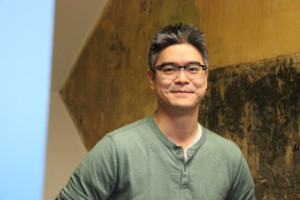 "I've always loved this play. It's deceptively simple on the page, and incredibly powerful on stage. I'm especially excited to explore the story of the Chun family. We get an intimate portrait of a Korean family, but quickly realize that the immigrant experience has great resonance across cultures, and this play is an inviting exploration of that unique and universal American phenomenon."
-AJ Epstein, Director
About the Play:
Steeped in the difficulty of reunification and reconciliation, American Hwangap tells the story of Min Suk Chun, who some 15 years earlier left his family in a West Texas suburb to return to his native Korea. On the occasion of his 60th birthday (hwangap), a milestone signifying the completion of the Eastern Zodiac and a type of rebirth, he returns to his ex-wife and now adult children as they struggle to reconcile their broken past with the mercurial, verbose and often exasperating patriarch now back at the head of the table. Through a tense birthday weekend filled with humor, heartbreak and half-filled expectations, this American hwangap and its aftermath bears a family not quite whole but still somehow transformed, and not quite happy but still somehow beautiful. Happy Birthday!
Cast: (alphabetical)
Michael Cercado (Ralph Chun) Kathy Hsieh (Mary Chun) Mara Palma (Esther Chun) Stephen Sumida (Min Suk Chun) Moses Yim (David Chun)
Creative Team:
Lex Marcos (Scenic Design) Zanna King (Lighting Design) Brendan Patick Hogan (Sound Design) Sarah Mosher (Costume Design
About the Playwright:
Lloyd Suh is the author of Charles Francis Chan Jr's Exotic Oriental Murder Mystery, American Hwangap, The Wong Kids in the Secret of the Space Chupacabra Go!, Jesus in India, Great Wall Story, and others, produced with Ma-Yi, Magic Theatre, Ensemble Studio Theatre, The Play Company, La Mama, Denver Center Theatre Company, ArtsEmerson, The Guthrie Theatre with Mu Performing Arts, East West Players, and internationally at the Cultural Center of the Philippines in Manila, and with PCPA in Seoul, Korea. He has received support from the NEA Arena Stage New Play Development program, the Andrew W. Mellon Foundation, NYFA, NYSCA, Jerome, TCG, and Dramatists Guild, and has been a recipient of the Roe Green Award from Cleveland Playhouse and the Helen Merrill Award. His plays have been published by Samuel French, Playscripts, Smith & Kraus, Duke University Press and American Theater magazine. He is an alum of Youngblood and the Soho Rep Writer/Director Lab, and from 2005-2010 served as Artistic Director of Second Generation and Co-Director of the Ma-Yi Writers Lab. He currently serves on the Dramatists Guild Council and has since 2011 served as Director of Artistic Programs at The Lark.
West of Lenin presents "American Hwangap". "American Hwangap" is written by Lloyd Suh and directed by AJ Epstein
West of Lenin (203 N 36th St, Seattle, WA 98103)
February 1 - 25, 2018
Thurs - Sat. @ 8P
Sunday @ 2P
Additional performance on Monday, February 12 @ 8P.
*Additional dates available for bookings by camp groups and field trips. Interested groups should email liza@emutt.com to make arrangements.*
Tickets: purchased
A. Brown
Paper Tickets.
$25 General Admission, $18 for Students, Seniors and Veterans