The Festival Theatre Presents Exclusive Scottish Dates Of Explosive Political Drama THIS HOUSE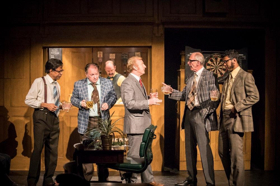 The Festival Theatre is delighted to present the exclusive Scottish dates of James Graham's critically acclaimed and prescient political drama THIS HOUSE.
1974. The UK faces economic crisis and a hung parliament. In a culture hostile to cooperation, it's a period when votes are won or lost by one, when there are fist fights in the bars and when sick MPs are carried through the lobby to register their vote. It's a time when a staggering number of politicians die, and the building creaks under idiosyncrasies and arcane traditions.
Set in the engine rooms of Westminster, This House strips politics down to the practical realities of those behind the scenes; the whips who roll up their sleeves and on occasion bend the rules to shepherd and coerce a diverse chorus of MPs within the Mother of all Parliaments.
The Festival Theatre is one of the few venues on the UK tour of This House offering on-stage seating so that a portion of the audience will sit on the green Houses of Parliament benches, as though they are members of the house. A "house of commons style bar" will be provided for the on-stage audience during the interval.
The cast - who play a colourful host of MPs and Whips - is Ian Barritt (Batley & Morley/Woolwich West/Belfast North/Western Isles & Ensemble), William Chubb (Humphrey Atkins), Giles Cooper (Fred Silvester), Stephen Critchlow (Bromsgrove/Abingdon/Liverpool Edge Hill/Paisley/Fermanagh & Ensemble), James Gaddas (Walter Harrison), Natalie Grady (Ann Taylor), Ian Houghton (Armagh, Ambulance Man, Ensemble), David Hounslow (Joe Harper), Marcus Hutton (Ensemble), Harry Kershaw (Paddington South/Chelmsford/South Ayrshire/Henley/Marioneth /Coventry North West/Rushcliffe/Perry Barr & Ensemble), Louise Ludgate (Rochester & Chatham/Welwyn & Hatfield/Coventry South West/Ilford North/Lady Batley & Ensemble), Geoffrey Lumb (Clockmaker/Peebles/Redditch/Stirlingshire West/Clerk & Ensemble), Nicholas Lumley (Oxshott/Belfast West/St Helens & Ensemble), Martin Marquez (Bob Mellish), Matthew Pidgeon (Jack Weatherill), Miles Richardson (Speaker Act I/Mansfield/Sergeant at Arms Act II/West Lothian & Ensemble), Tony Turner (Michael Cocks), Orlando Wells (Walsall North/Plymouth Sutton/Serjeant at Arms Act I/Speaker Act II/Caernarfon/Clerk & Ensemble) and Charlotte Worthing (Ensemble). Ian Houghton, David Hounslow, Matthew Pidgeon, Tony Turner and Orlando Wells return to This House having previously appeared in the West End production.
James Graham won the Pearson Playwriting Bursary in 2006 and went on to win the Catherine Johnson Award for Best Play of 2007 for Eden's Empire. His recent plays include Ink (Almeida), Monster Raving Loony (Theatre Royal, Plymouth), The Vote (Donmar Warehouse), Finding Neverland (American Repertory Theater), The Angry Brigade (Theatre Royal, Plymouth and The Bush) and Privacy (Donmar Warehouse). He has three new plays opening this year Quiz (Chichester) and Labour of Love (West End) and is planning a Shakespearean epic about the Scottish independence referendum.
Jeremy Herrin is Artistic Director of Headlong, for which he has directed Junkyard (Bristol Old Vic/Theatr Clwyd/Rose Theatre Kingston), Observe the Sons of Ulster Marching Towards the Somme (UK Tour), The Absence of War (UK Tour) and The Nether (at the Royal Court and in the West End). For the National Theatre his directing credits include Common, (A co-production with Headlong), The Plough and the Stars (co-directed with Howard Davies), People, Places & Things (A co-production with Headlong which transferred to the West End, begins a major UK tour in September and opens at St Ann's Warehouse, New York in October). This House (Olivier nomination for Best Director), which transferred to Chichester Festival Theatre and the West End in a co-production with Headlong, and Statement of Regret. For the RSC he directed the world premiere of Hilary Mantel's Man Booker prize-winning novels Wolf Hall and Bring Up the Bodies, which transferred to the West End in May 2014 and Broadway in March 2015 and for which he won the Evening Standard Award for Best Director and was nominated for an Olivier and Tony Award.
Jeremy will direct James Graham's new play Labour of Love, a Headlong and Michael Grandage Company co-production opening in the West End in September.
THIS HOUSE is produced on tour by Jonathan Church Productions and Headlong.
Related Articles View More Scotland

Stories

Shows
More Hot Stories For You