EDINBURGH 2017: BWW Q&A- Samantha Pressdee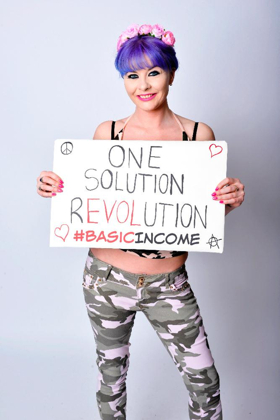 Tell us a bit about Back To Basics.
Back to Basics is a show abut creating equal ground. It looks at what our basic needs are as a society and how we can meet them for ourselves and each other. I talk about a campaign against social cleansing I was involved in Sweets Way Resists. Families were fighting for their social housing in London, which was to be demolished to build luxury flats they wouldn't be able to afford. People were being asked to move out of London, away from their support networks and the lives they had created.
Lack of social housing and our complicated welfare system is not only destroYing Lives but costing lives. Without a feeling of security we can't maintain mental health. With the gap between the rich and the poor continually increasing, could giving every citizen an Unconditional Basic Income be a firmer foundation then our current disintegrating welfare safety net?
Why bring it to Edinburgh?
I feel like comedy is a good platform to get my voice heard. People are more likely to listen to hard hitting truths if you also make them laugh. Edinburgh can be a springboard to further opportunities.
I'm hoping people from the comedy industry will come see this show as I want to spread this message further. Also Edinburgh is really fun. Its the one time of the year when I feel truly part of a community. Lots of my friends are in one place and there is so much to see and do.
Why is it important for people to see it?
I'm taking about politics based on my lived experience. Its a working class perspective, which I feel is underrepresented in the arts. It's sad that it's taken for something as tragic as what happened with Grenfell Tower for social housing issues to become part of the mainstream conversation. This is an extreme example of social cleansing. It's awful that it takes an atrocity like this for the wider population to become aware of how many underprivileged people are really suffering and at risk.
I've been lucky with the support I've received from my local council for my mental health issues, a friend from the next borough to me was not so lucky. This show is in memory of my friend and respected Occupy activist Tom Palmer.
Who would you recommend comes to see you?
This show is for anyone that believes in creating a better, fairer and more secure future.
I've had people from all walks of life come to see the show in preview. It doesn't matter who you are, or where you come from if you care about community you'll be able to take something from this show.
Are there any other shows you're hoping to catch at the festival?
Looking forward to seeing Fern Brady, I enjoyed her show in preview. I always go see Mark Thomas, his show sounds very cool this year & Sarah Callaghan is someone I've been wanting to see but haven't had chance too yet.
Timings and ticket information for Samantha Pressdee: Back to Basics are available on the edfringe website.