EDINBURGH 2017: BWW Q&A- Death Part 7: The Last Word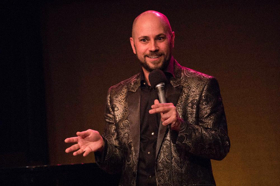 Tell us a bit about Death Part 7: The Last Word.
Death Part 7: The Last Word is a deep meditation on death in the form of a cabaret act. The show is a dark comedy featuring personal storytelling and killer songs (and lots of puns). The songs are from some of the best contemporary songwriters including Kate Bush, William Finn, Laurie Anderson, Adam Guettel, and Hall & Oates to name but a few.
The show is, much like life, delightfully incomplete - the audience is invited to imagine the "real show" that could potentially be possible under the ideal circumstances, during the performance they are watching, should it be really happening. The show is a conversation with the audience, and as such, they are invited to cheer when they like it, to boo when they hate it, to laugh, cry, and sit in the discomfort of death (at least until the next joke). Death Part 7: The Last Word culminates in a rollicking tribute to failed Broadway musical adaptations about death (Jaws! The Musical to name but one). The show has been slaying audiences in NYC, and we're thrilled to be coming to Greenside @ Infirmary Street (Venue 236) for the Fringe.
Why bring it to Edinburgh?
I'm bringing the show to Edinburgh to have a wild adventure. I love sharing this work with people, and the Fringe is a challenge like no other. I want people around the world to get to experience the show, so Edinburgh seems like a great step in that journey. The reputation of the Fringe embracing unusual and challenging work was a big factor. Also, I may have off-handedly blurted out "I want to take this show to the Edinburgh Fringe" in front of my life coach, so basically I was forcibly "committed" from that moment.
What sets it apart from other shows at the Fringe?
Death Part 7: The Last Word is the most gravely important show of our time. A mix of outrageous dark comedy and sincere, deeply felt music. The songs are serious and challenging, while the script is anything but serious. The show is meant to take the piss out of death, and hopefully will give audiences a refreshing take on the subject. The show was born out of a dark place in my life, so of course I had to turn that into an edgy comedy about a topic many people are uncomfortable with. People walking out of the show have said to me "It was hilarious" and "That was disgusting", so...
Who would you recommend comes to see you?
If at some point, you are going to die, this show is for you.
If you love dark comedy, satire, and wonderful music, this show is for you.
If you've lost people in your life to death, this show is for you.
If you love booing at performers, or simply have always dreamed of the chance to boo when you hated something in a show, this show is for you.
This is the final installment in my fabled "Death Trilogy" - if you regret missing Death Part 4: Give that Cat a Comb! Songs of Animal Mummification, this show is for you.
Are there any other shows you're hoping to catch at the festival?
Yes, so many! I'm excited to see Christine Holt's Domesticated; Christina Rossetti's Goblin Market; Michelle Shocked: Truth vs. Reality; Benjamin Clementine; Adriano Cappelletta: This Boy's In Love; Slooshy Wordshow; Van Gogh Find Yourself; Show Up by Peter Michael Marino; Reformed Whores; and DollyWould are some of my top picks.
Timings and ticket information for Death Part 7: The Last Word are available on the edfringe website.