BWW Review: WEST SIDE STORY at Manatee Performing Arts Center a Classic Tale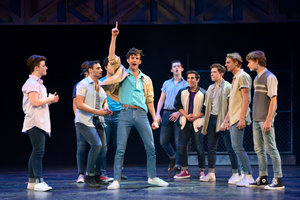 As an educator, writer, and instructor of theatre, I have many opportunities to impart my views and share my experiences with others. One of the mantras I frequently express is "Go see the classics!" Manatee Performing Arts Center's production of West Side Story under the direction of Rick Kerby provides you a chance to go see one of the most timeless musicals ever produced in this parallel of Romeo and Juliet.
West Side has a powerful message and as you watch the story of love and hate unfold, this 1957 musical may give you pause as you view today's social landscape and wonder how our evolved society often finds itself in the same situations the Jets and the Sharks faced on a daily basis.
The choreography staged by Rick Kerby and Vanessa Russo holds nothing back. With aerial flips and street fights, the energy that emanates from the characters engages you right from the opening scene. The cast displays its incredible versatility as the movement and grace in "Somewhere" makes you want to stand up and cheer event though you know the "correct" audience response is just the opposite. The crowd gets its moment just one song later as we can express loudly all the emotion pinned up inside as "Gee, Officer Krupke" is its distinctive show stopping song.
Musical Director Rick Bogner does a masterful job with a complex score by Leonard Bernstein. For the most part the cast navigates each song with ease with any missed note quickly dismissed by the power and authenticity that Bogner has trained his performers to display. Tony, played by Austin Gresham and Maria, portrayed by Eliza Morehouse exhibit a strong vocal range that you do not often see in community theatre.
Gresham and Morehouse's chemistry is evident from the first moment they lay eyes on each other. Each presents an innocence that draws them to one another, while at the same time making them naïve to the societal forces that will prohibit the destiny they desire. Along with Aaron Castle, who plays Riff, these three command the stage and envelop the audience through an emotional rollercoaster that maintains its zeal no matter how many times you have seen it.
The supporting cast has a cohesiveness that can be difficult to create in the short time of a typical production run. The varying ages and ranges of experiences of the performers make the final product even more impressive. "Go see the classics!" There is no excuse. Rick Kerby and Manatee Performing Arts Center provide you the perfect opportunity to experience one of the most famous musicals ever performed.
West Side Story runs through August 25. Tickets and more information can be found at www.manateeperformingartscenter.com
Photo Credit: Michael Fults
Related Articles View More Sarasota

Stories

Shows