BWW Review: THE CURIOUS INCIDENT OF THE DOG IN THE NIGHT-TIME at Florida Studio Theatre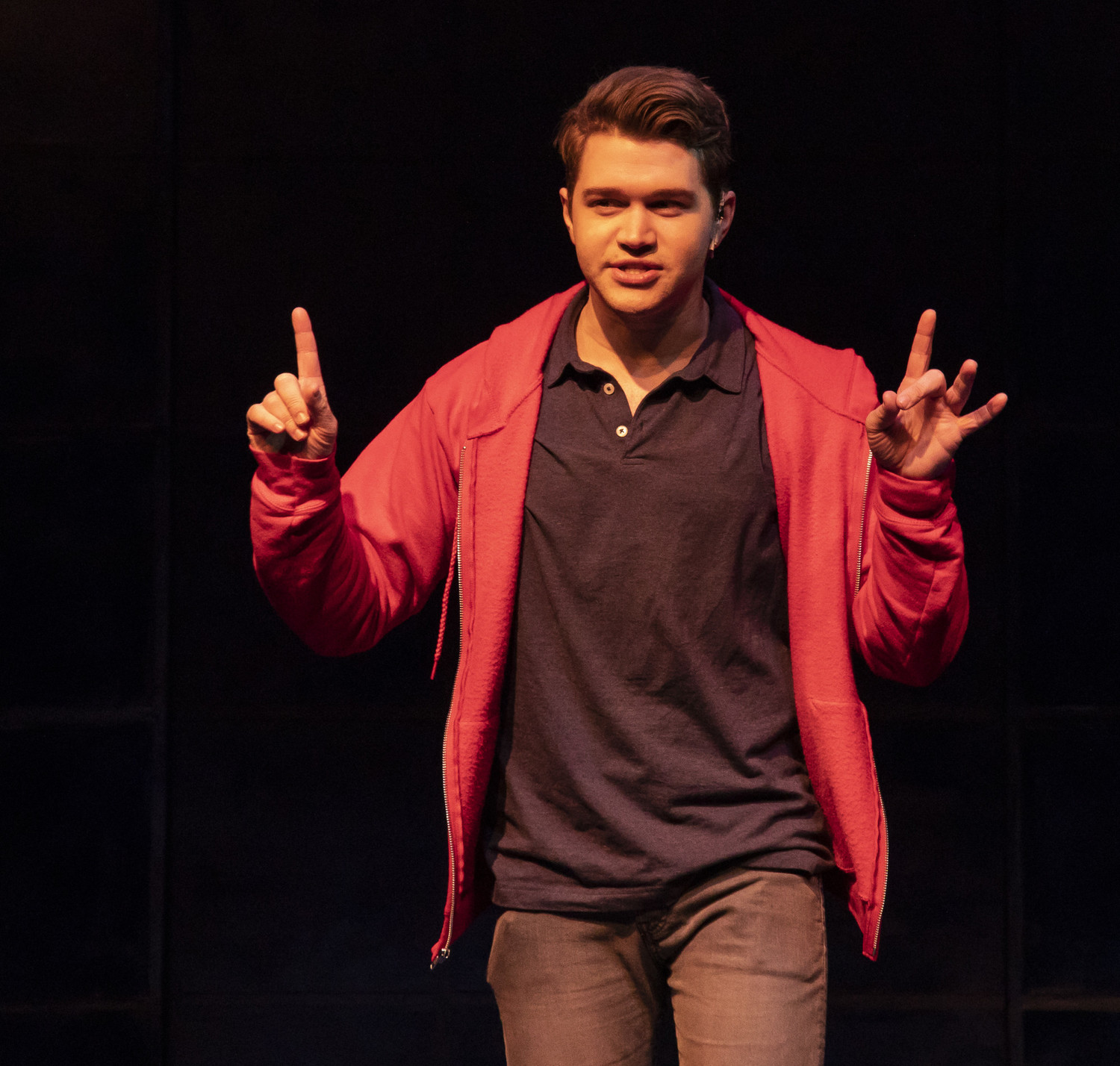 The Curious Incident of the Dog in the Night-Time was originally a 2003 mystery novel by British writer Mark Haddon. Simon Stephens' adaptation of the novel for theatre offers the audience an experiential view of how a person on the autism spectrum perceives life. The play was lauded on West End in London and Broadway.
The story takes place in the English working-class town of Swindon and invites you into the mind of Christopher Boone (Alexander Stuart), a 15-year-old boy managing the challenges of his disorder. Using multiple narrative techniques, the play challenges the audience to see things through Christopher's eyes. Haddon's novel was written in the first person, and part of that narrative is retained in the play through Christopher's teacher, Siobhan (Ashton Heyl) who quotes to the audience from his writings. Discourse between actors is dramatized while the narration is meant to establish Christopher's understanding of what is taking place around him. This can present a bit of a challenge for audience members to adjust, but once you have an understanding of the foundation and get into the rhythm of the quick-paced drama, you will discern you are managing life through Christopher's reality.
In the opening, Christopher stands next to a dead dog that has a pitchfork impaled in its side. Wellington's owner is a neighbor who blames Christopher for the demise of her pet, but she holds back her anguish because she knows Christopher is disabled. She is aware that he is mathematically gifted but assumes he may lack the understanding that killing her dog was wrong. Christopher however shows compassion towards the death of Wellington. He explains to her that he was not the person who killed the dog and volunteers to solve the mystery as to who did. The backbone of this story is that he doesn't grasp the dangers that are set into motion as he journeys to seek the truth.
As the story unfolds the interaction between Christopher, his parents, teacher, and 6 various characters he encounters is presented in several rather choppy vignettes reflecting Christopher's sense of time and where or what draws his attention. I don't want to give away too much of the play. It's being held over and is worth seeing. I will say Christopher's journey to find the truth is similar to that of a young lady named Dorothy who had to Take That little trip to OZ to know, there's no place like home. Like Dorothy, Christopher ventures away from home on his own and encounters some interesting characters. In the end he does find out the shocking truth as to who killed Wellington. And why! This will change his life forever.
The cast is respectable, but the entire production is reliant on the dominantly compelling performance by autistic actor Alexander Stuart as Christopher. Stuart is exceptional in this role. It is worthy to note Mr. Stuart is the second autistic actor to tackle this very difficult character. The panic attacks and seizures that Stuart acts out are almost too hard to watch. As Christopher, he briefly shifts his eyes to get a feel for his surroundings and quickly withdraws to avoid touch or eye contact with others. He realistically uses intense and repetitive motions and is constantly chewing on and wrapping around his fingers the laces of his hoody. What a brilliant portrayal.
Director Richard Hopkins gives his cast the opportunity to explore this sensitive subject within their appointed characters and keeps the pace moving at a good clip. Todd Licea plays Christopher's father Ed, a man with good intentions but burdened with fear and plagued by anger issues. Rachel Moulton is emotionally convincing as Christopher's distraught mother Judy. Both actors realistically play his parents struggling for a balance to protect their son from harm while allowing him the freedom he wants.
This drama relies heavily on sight and sound. Scenic designers Isabel and Moriah Curley-Clay created a wide-open space for the cast with minimal props, a grid-lined stage floor, and wooden boxes serving several uses. Sound designer Thomas Korp allows the audience to align with Christopher's mind, taking in sharp pitches and intonations that attract or distract his attention. Projection designer Bobby Johnson, casts projections on the set's back wall to accentuate abstract visuals such as numbers, addresses, and formulas that resonate with Christopher. Thom Beaulieu cleverly uses ambient lighting to underscore various indoor and outdoor locations.
It is interesting the way the audience is placed inside the mind of someone on the autism spectrum. Although, as I mentioned, it is written a little too choppy for me, the production haunted me enough to rethink what I saw and appreciate the new perspective I gained.
The Curious Incident of the Dog in the Night-Time runs through March 29, 2019. For more information on Florida Studio Theatre visit www.floridastudiotheatre.org.