BWW Review: MARVIN GAYE: PRINCE OF SOUL at Westcoast Black Theatre Troupe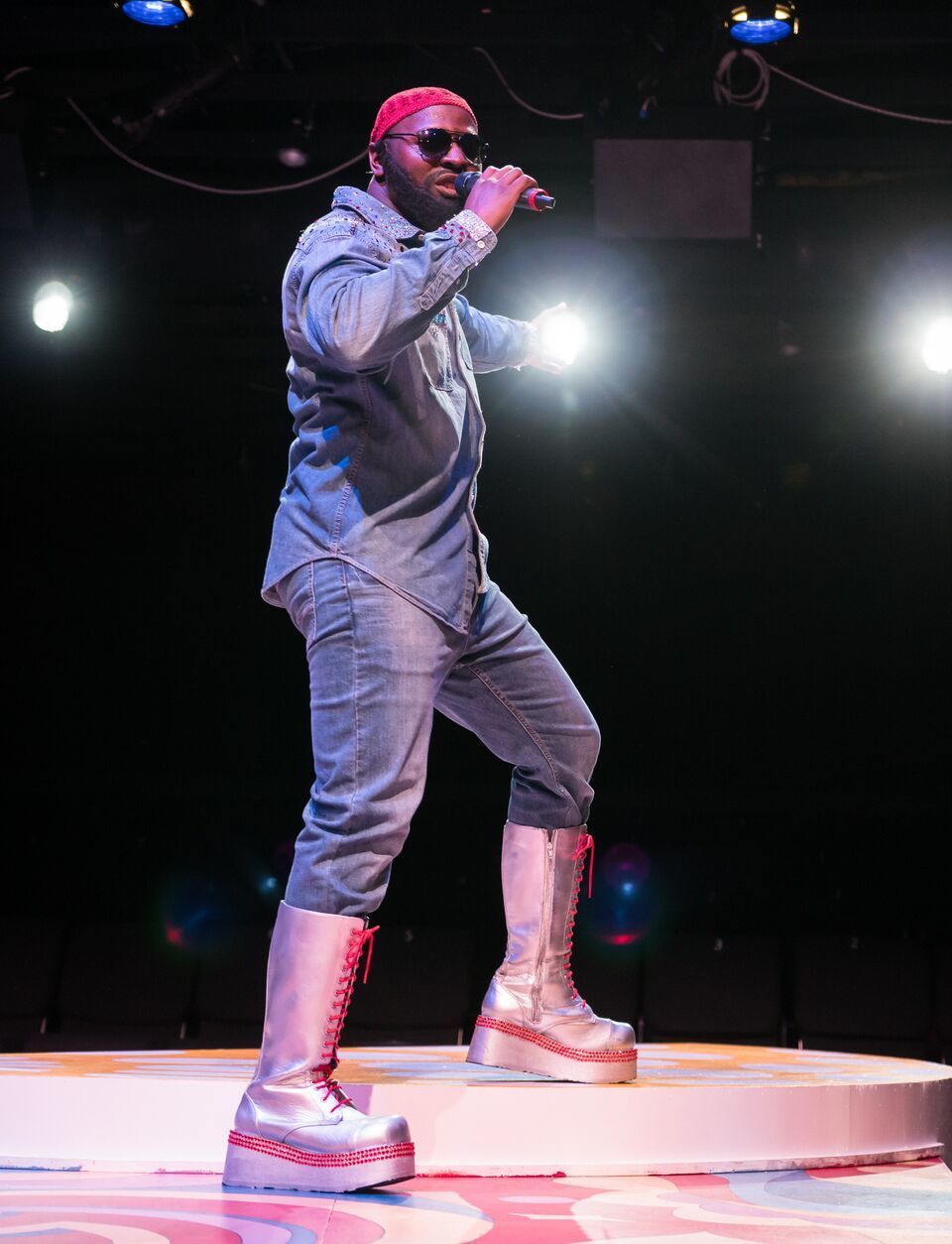 Breathing new life into one of the most Popular Productions staged by WBTT is Marvin Gaye: Prince of Soul, by Founder & Artistic Director Nate Jacobs. Adding a larger cast, dancers and more songs, granted by the Marvin Gaye estate, this production is electrifying. Sheldon Rhoden flawlessly embodies Marvin Gaye with all the boyish charm, smooth moves and impassioned four-octave vocal range you would expect. His brilliant portrayal is haunting long after you leave the theatre.
The musical follows the rise of Marvin Gaye's career from the 50's through the 80's, taking us to Detroit and LA, into his family home, on stage, backstage, and in the middle of an ongoing battle with a strict father, who eventually took Marvin's life in 1984 at the age of 44. The show is packed full of music from The DC Tones, The Marquees, The Moonglows and of course the Marvin Gaye catalog, including duets with Kim Weston and Tammi Terrell.
The story is narrated by Marvin's brother Frankie, reverently played by Brian L. Boyd, who seamlessly moves in and out of various scenes to address the audience. Ariel Blue is precious as Marvin's kind and loving mother, a woman torn between her son's success and her husband's strict religious doctrines that plague their household. Her song "He Doesn't Hate You" is powerful and heart wrenching. Leon S. Pitts II brings all the rough edges to life as Marvin's abrasive and disapproving father. Ashley D. Brooks in dual roles as Marvin's no-nonsense wife Gwen Gordy and singer Kim Weston, plays both characters with spirit and sophistication. Ian Fermy as Motown Record's founder Berry Gordy Jr. (Gwen's brother) is cool and mentor-like in his relationship with Marvin. Jai Shanae paid an inspiriting tribute portraying Tammi Terrell, another awesome talent taken from us far too soon. Emerald Rose Sullivan played Marvin's second wife Janis Hunter Gaye and got to show off her comedic side as snappy reporter Cindy Blabber. Donald Frison's choreography had every inch of the stage covered and James E. "Jay" Dodge and band beautifully delivered some amazing tunes.
As typical of any WBTT's shows, every attention to detail is highlighted. Set designer Jeffrey Weber's interlocking stage reflected various shapes and psychedelic colors and patterns. Great usage of the flat screens in the background showed pictures of Marvin and some of the singers he worked with while the performers onstage mirrored identical garbs - kudos Costume designer Angela Franklin-Mayo. One hard hitting highlight was when Sheldon was singing Marvin's social commentary, "What's Going On", and the screens showed images of the Vietnam War, race riots in Detroit and the Kent State shootings. How sad we have not come very far in all those years. What song would Marvin write today if he were still with us? Over 30 numbers are embraced in this production, from "His Eye is On the Sparrow", "Honey Love", "Mr. Sandman", "Too Busy Thinking About My Baby", and "Can I Get A Witness", to "I Heard It Through the Grapevine", "Ain't No Mountain High Enough", "Ain't Nothing Like the Real Thing", and the one that made all the girls swoon, "Sexual Healing".
Marvin helped to shape the sound of Motown in the 1960s as an in-house session player and later as a solo artist. Very few performers have as many genres attached to their music styling: jazz, pop, R&B, soul, funk. The WBTT tribute to Marvin Gaye is brilliantly written, thoughtfully produced, and dynamically staged. This is a piece of history that needs to be seen.
Marvin Gaye: Prince of Soul runs through January 13, 2019. For more information about Westcoast Black Theatre Troupe and their upcoming season of productions visit www.westcoastblacktheatre.org.