Photo Flash: The Theatre Group at SBCC presents the Comedy Thriller COMMUNICATING DOORS
The Theatre Group at SBCC will present will be the comedy thriller COMMUNICATING DOORS by Alan Ayckbourn, directed by Katie Laris, February 28-March 17, 2018 in the Garvin Theatre. This intricate, time traveling, comic thriller by the British master of farcical comedy delighted London and New York audiences.
A London sex specialist from the future stumbles into a murder plot that sends her, compliments of a unique set of hotel doors, traveling back in time. She and two women who were murdered in 2004 and 1994 race back and forth in time trying to rewrite history and prevent their own violent ends. The frantic race begins when Poopay is hired for an evening at the Regal Hotel by an old man who eschews a fling in favor of confessing his role in the demise of his wives. Now a target, Poopay must race against time to rewrite history and save her own life.
"A real knockout...A vastly entertaining blend of the West End drawing room thriller with one of Priestley's old time plays, where characters go whirling throughout time. Of course, Ayckbourn has added innumerable piquant and bizarre details of his own...This is a show to see." - The New York Post
THE PLAYWRIGHT
2018 will mark Alan Ayckbourn's 59th year as a playwright with it being 61 years since he joined the Library Theatre company in Scarborough, of which he was the Artistic Director for 37 years and where he made both his professional playwriting in 1959 and his directorial debut in 1961. He has spent his life in theatre, rarely if ever tempted by television or film, which perhaps explains why he continues to be so prolific. To date he has written 82 plays - the 82nd will premiere this summer at the Stephen Joseph Theatre - and his work has been translated into over 35 languages, is performed on stage and television throughout the world and has won countless awards.
Major successes include: Relatively Speaking, How the Other Half Loves, Absurd Person Singular, Bedroom Farce, A Chorus of Disapproval and The Norman Conquests. In recent years, there have been revivals of Season's Greetings and A Small Family Business at the National Theatre and in the West End productions of Absent Friends, Relatively Speaking and How The Other Half Loves. In 2009, he retired as artistic director of the
Stephen Joseph
, where almost all his plays have been and continue to be first staged. He has also forged close links with the
59E59 Theaters
in New York, where he has directed a number of his own plays to great success since 2009. 2018 will see him direct the New York premiere of his 81st play A Brief History Of Women for the
Brits Off Broadway
festival. In recent years, he has been inducted into American Theatre's Hall of Fame, received the 2010 Critics' Circle Award for Services to the Arts and became the first British playwright to receive both Olivier and Tony Special Lifetime Achievement Awards. He was knighted in 1997 for 'services to theatre.'
THE PLAY
Communicating Doors is Alan Ayckbourn's 46th play. The world premiere was held at the Stephen Joseph Theatre In The Round, Scarborough, on February 2, 1994. The London premiere was held at the Gielgud Theatre, London, on August 7, 1995 and was directed by Alan Ayckbourn. It transferred to the Savoy Theatre, London, on January 29, 1996. The New York premiere was held at the Off-Broadway venue, the Variety Arts Theatre, in August 20, 1998. It was directed by Christopher Ashley. Alan Ayckbourn initially intended to write an entirely different play called Private Fears In Public Places, but when his idea fell apart he came up with another idea for a time-travelling thriller which became Communicating Doors. It marks a relatively rare foray into the thriller genre for Alan Ayckbourn. Communicating Doors won Alan Ayckbourn his first Molière Award (the French equivalent of the Oliviers). He also won the Writers' Guild Of Great Britain Best West End Play award for the play, which was also nominated for an Olivier Award.
THE CAST
Communicating Doors will feature: George Coe, Leslie Gangl Howe, Felicia Hall, Brittany Harter, Matt Smith, Julia Trites and Raymond Wallenthin.
George Coe (Julian) has appeared on stage with the Theatre group at SBCC in Sherlock Holmes : The Hounds of Baskerville, Picasso at the Lapin Agile and Stirring the Pot. He performed at Center Stage in Mornings at Seven and Ghetto; at Circle Bar B in Noises Off, The Fox on the Fairway, Return Engagements and The Girl in the Freudian Slip. He appeared at the Plaza Theater in Pvt. Wars and the original DIJO production Connected. He starred in Peaches En Regalia at the Elite Theatre in Oxnard. He appeared with Drama Dogs in Dance Me to End of Love and a collection of Shakespeare's works titled Tales of Woo & Woe.
Leslie Gangl Howe (Ruella) was last seen by The Theatre Group audiences as Becca in the production of Rabbit Hole. Her most current work has been in the Santa Barbara Library's Good Reads Project of The Three, an original concept piece based on the novel Station 11 produced by Drama Dogs. Last season she was in the Ensemble Theater production of Macbeth. Leslie's other performances for The Theatre Group at SBCC include: Becky's New Car, The Heiress, The Man Who Came to Dinner, Anton in Show Business, Private Eyes, Shadowlands, Good Night Desdemona, Good Morning Juliet, and The Heidi Chronicles. Leslie specializes in voiceovers for television, radio and industrials.
FELICIA HALL (Poopay) is excited to make her debut on the Garvin stage with The Theatre Group at SBCC. Other central coast credits include SLO Rep (A Christmas Story, Oliver, Our Town, The Road to Mecca, and Wit) and CCAT (Company). From LA to Utah to England, Felicia has been acting professionally for over 9 years. She also teaches private acting/singing lessons. When not performing or teaching, Felicia can be found writing songs on her piano, guitar, or ukulele.
BRITTANY HARTER (Jessica) grew up playing pretend until she realized that the mature thing to do was call it acting. She has appeared in Out of the Box's production of High Fidelity (Charlie), Dramatic Women's FemFest (Farraleigh Webster), and in On the Verge Festival's A Likely Pair (Two.) She currently runs the theatre department at Garden Street Academy where she is very happy. In her free time, Brittany practices roller derby with the Brawlin Betties and takes long walks on the beach with her dog, Tansy.
Matt Smith (Reece) was most recently seen as David in The Foreigner (DogStar Theater Co., Santa Barbara), and as Prospero in The Tempest (King's Crown Shakespeare, NYC). Matt was lucky enough to study acting with faculty from The Juilliard School, The Moscow Art Theater, and Columbia University. He is delighted to be appearing in his first production with The Theatre Group at SBCC.
Raymond Wallenthin (Harold) was last seen as Sidney Black in Light up the Sky with The Theatre Group at SBCC. Other Theatre Group appearances; Noises Off, Bus Stop, Rumors and Born Yesterday. He also appeared in Circle Bar-B's final show Boeing Boeing. Other CBB appearances; Regrets Only and the title role of Bullshot Crummond. At Center Stage in Bill W. and Dr. Bob playing 11 roles. New York appearances include Murder in the Cathedral, Landscape of the Body, Sand Mountain, Othello and Life Happens. Raymond studied with Terry Schreiber and graduated from SBCC and the American Musical and Dramatic Academy.
JULIA TRITES (Understudy for Jessica on March 15) is a first year communications major making her debut performance with The Theatre Group at SBCC. She was previously seen in a performance of It's a Wonderful Life with SBCC Theatre Arts Department. Her acting classes with Emmy award-winner, Obba Babatunde, have guided her through 18 major production roles, her favorite being Baker's Wife from Into the Woods, as well as her internship as assistant director at Phillips Performing Arts Camp (2017) in the San Fernando Valley. She is excited for this new opportunity and is looking forward to working with everyone.
PRODUCTION STAFF
KATIE LARIS (Director) is Co-Chair for the Theatre Department, stage director and an instructor of acting in The Theatre Arts Department at SBCC. Recent productions include It's a Wonderful Life, Rabbit Hole, Vanya and Sonia and Masha and Spike, Dead Man's Cell Phone, Good Kids, Arsenic and Old Lace, Becky's New Car, August: Osage County, Through the Fire, The Solid Gold Cadillac, Love, Santa Barbara, Machinal, The Suicide, Moonchildren, Stirring the Pot, Twelve Angry Men, Over the Tavern, Seascape, The Physicists, The Man Who Came to Dinner, Lola Goes to Roma, Gunfighter: A Gulf War Chronicle, Real Women Have Curves, Ghosts, Fortinbras and Baby with the Bathwater. Previously she directed Fuente Ovejuna, All's Well That Ends Well and The Birds in New York City and The Trial, The Ride Across Lake Constance and Danger Cave in Portland, Oregon. She also produced and wrote TV programs for Animal Planet, Discovery Health Channel and PBS. Katie received her B.A. in Theatre/Literature from Reed College and her M.F.A. in Theatre Directing from Columbia University.
PATRICIA L. FRANK (Scenic/Lighting Designer) is the Co-Chair and Director of Design and Technology for the Theatre Department and serves as the resident scenic and lighting designer for The Theatre Group at SBCC. She returns as the Scenic/Lighting Designer for Communicating Doors, after her success in the scenic and lighting design for It's a Wonderful Life One Man, Two Guvnors, High Society, A Flea in Her Ear, and Other Desert Cities. Pat has an MFA in Visual Arts and an MA in Dramatic Arts.
Pamela Shaw (Costume Designer) is resident costume designer for The Theatre Group at SBCC, recently designing It's a Wonderful Life, One Man, Two Guvnors, Vanya and Sonia and Masha and Spike, Rabbit Hole, A Flea in Her Ear, High Society and In The Next Room or the vibrator play. Ms. Shaw was Costume Designer for The Forbidden Planet at Rubicon Theater, the premiere of San Patricios at PCPA, the off-Broadway show Lonesome Traveler, Assistant Costume Designer for TV sensation Vampire Diaries and The Artist, the 2011 Academy Award winner: Best Picture & Best Costume Design, designer Mark Bridges. Ms. Shaw served two terms as Vice President of the Costume Designers Guild, Local 892 and is 2017-2020 Chair for the Western Region Board of United Scenic Artists, Local 829.
BEN CROP (Sound Designer) is the company's full-time technical director and instructor of technical theatre of six years. Sound design credits include One Man, Two Guvnors, A Flea in Her Ear, Other Desert Cities, Proof, Hound of the Baskervilles, Ten Red Kings, Light Up The Sky, Bus Stop and Arsenic and Old Lace with The Theatre Group at SBCC, additional sound credits include Bill W. and Dr. Bob, The Ash Girl, and Confession in Wood. In addition to theatre, Ben has worked in the concert industry having been a light director and sound operator for such artists as Alice Cooper, Poison, Leanne Rimes, Wynona Judd, and Air Supply. Ben earned a BA in Theatre and Performance and his M.B.A in non-profit management from Willamette University.
PERFORMANCES
Performances will be February 28-March 17, Thursday through Saturday @ 7:30pm, Sundays @ 2pm. Previews on February 28 & March 1 @ 7:30pm. The Sunday, March 4, 2pm performance will be live-captioned for the hearing-impaired. All performances have the assisted listening system available and the Garvin Theatre is wheelchair accessible.
Ticket prices are: Previews $18 general/$15 seniors/$10 students,
Thursday evening and Sunday matinees $24 general/$19 seniors/$14 students,
Friday and Saturday evenings $26 general/$21 seniors/$17 students.
The Garvin Theatre is located on the West Campus of Santa Barbara City College in the 900 block of Cliff Dr. Parking is free and near the Theatre. For information or reservations call the Garvin Theatre Box Office at 805-965-5935 or purchase tickets online at www.theatregroupsbcc.com.

Leslie Gangl Howe and Brittany Harter in The Theatre Group at SBCC's production of COMMUNICATING DOORS, by Alan Ayckbourn, directed by Katie Laris, February 28-March 17, 2018, Garvin Theatre. www.theatregroupsbcc.com or 805-965-5935. Photo Credit: Ben Crop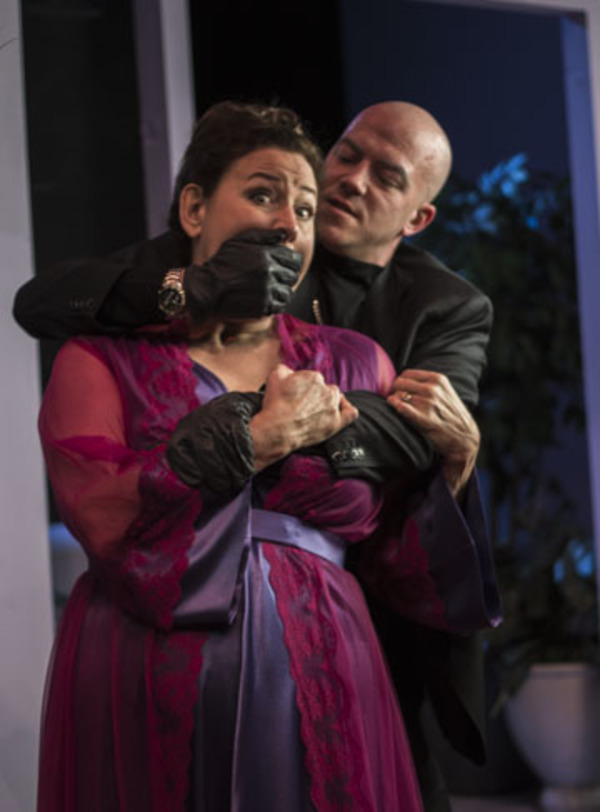 Leslie Gangl Howe and George Coe in The Theatre Group at SBCC's production of COMMUNICATING DOORS, by Alan Ayckbourn, directed by Katie Laris, February 28-March 17, 2018, Garvin Theatre. www.theatregroupsbcc.com or 805-965-5935. Photo Credit: Ben Crop

George Coe, Leslie Gangl Howe and Brittany Harter in The Theatre Group at SBCC's production of COMMUNICATING DOORS, by Alan Ayckbourn, directed by Katie Laris, February 28-March 17, 2018, Garvin Theatre. www.theatregroupsbcc.com or 805-965-5935. Photo Credit: Ben Crop

Leslie Gangl Howe, Brittany Harter and Felicia Hall in The Theatre Group at SBCC's production of COMMUNICATING DOORS, by Alan Ayckbourn, directed by Katie Laris, February 28-March 17, 2018, Garvin Theatre. www.theatregroupsbcc.com or 805-965-5935. Photo Credit: Ben Crop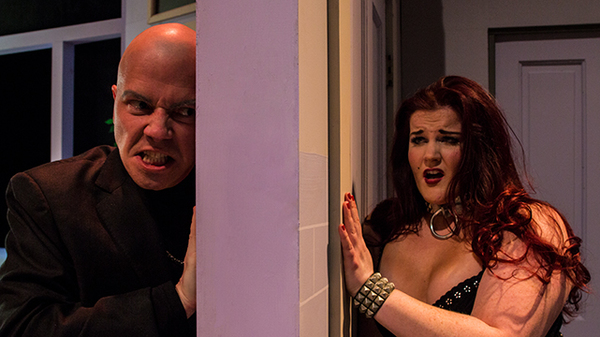 George Coe and Felicia Hall in The Theatre Group at SBCC's production of COMMUNICATING DOORS, by Alan Ayckbourn, directed by Katie Laris, February 28-March 17, 2018, Garvin Theatre. www.theatregroupsbcc.com or 805-965-5935. Photo Credit: Ben Crop

George Coe and Felicia Hall in The Theatre Group at SBCC's production of COMMUNICATING DOORS, by Alan Ayckbourn, directed by Katie Laris, February 28-March 17, 2018, Garvin Theatre. www.theatregroupsbcc.com or 805-965-5935. Photo Credit: Ben Crop