The Marsh San Francisco Presents Charlie Varon's STORYBORSCHT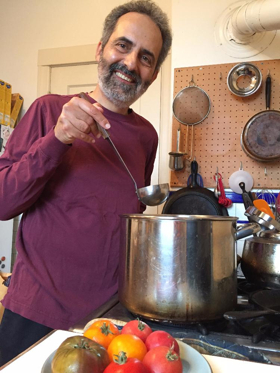 The Marsh San Francisco presents Charlie Varon's Storyborscht, a new pop-up experience featuring storytelling and cooking by award-winning performer Charlie Varon. Varon will serve Storyborscht at 11:00am on three Sundays: October 15, October 22, and October 29, 2017. The event takes place in the intimate Marsh Café, 1070 Valencia Street, San Francisco, and admission is limited to 20 people per brunch. For tickets ($50-$75), the public may visit www.themarsh.org or call The Marsh box office at 415-282-3055 (1-4pm, Monday through Friday).
Charlie Varon's Storyborscht is the latest innovation of an artist who has been pushing the boundaries of storytelling at The Marsh for over a quarter century. The San Francisco Chronicle has credited Charlie Varon with "redefining the medium" of solo performance. Varon's many hit shows (including Rush Limbaugh in Night School and Second Time Around) and his directing projects (including Dan Hoyle's many solo shows) have consistently surprised and delighted audiences.
Now Varon is adding the element of food.
"I love cooking for people and I love performing," says Varon. "Storyborscht lets me feed my audience's bodies and souls." As the audience enters The Marsh Café, Varon welcomes them in his apron and leads them to the appetizers. Courses of food and storytelling alternate, and the event has a relaxed, informal feel. After the appetizers, Varon performs the first half of an original story. Then he serves the main course of the brunch - his hot, hearty Russian borscht. When diners have eaten their fill, he performs the conclusion of his story. This is followed by dessert and conversation.
For these three brunches, Varon will be performing "Back in the World," the next installment of his cycle of stories set in a retirement home. Adele, the most anxious resident, finds that jealousy of the popular Selma is all she needs to propel herself out of security and back into life.
Charlie Varon's hit shows at The Marsh have included Rabbi Sam, Rush Limbaugh in Night School, The People's Violin, Feisty Old Jew and Second Time Around (his collaboration with renowned cellist Joan Jeanrenaud). He has also collaborated on and directed Dan Hoyle's many hit shows, including Tings Dey Happen, The Real Americans, and Each and Every Thing.
David Ford (collaborator and director) is the one of the nation's leading directors of solo theater. He has collaborated with Charlie Varon for over 25 years, and with dozens of other performers, including Geoff Hoyle, Brian Copeland, Marilyn Pittman and Echo Brown.
Funding for this work has been provided by the San Francisco Arts Commission and the Fleishhacker Foundation, with in-kind support from Small Potatoes Catering.
The Marsh is known as "a breeding ground for new performance." It was launched in 1989 by Founder and Artistic Director Stephanie Weisman, and now annually hosts more than 600 performances of 175 shows across the company's two venues in San Francisco and Berkeley. A leading outlet for solo performers, The Marsh's specialty has been hailed by The San Francisco Chronicle as "solo performances that celebrate the power of storytelling at its simplest and purest." The East Bay Times named The Marsh one of Bay Area's best intimate theaters, calling it "one of the most thriving solo theaters in the nation. The live theatrical energy is simply irresistible."
Photo credit: Myra Levy
Related Articles View More San Francisco

Stories

Shows
More Hot Stories For You