Photo Flash: Sneak Peek at Sweet Can Productions' MITTENS AND MISTLETOE
Start a new holiday tradition and savor the season with something a little sweet (but oh so good for you). The Bay Area's homegrown Sweet Can Productions presents an intimate theatrical circus experience for the holidays with the fourth edition of MITTENS AND MISTLETOE: A WINTER CIRCUS CABARET. MITTENS AND MISTLETOE plays for a limited engagement December 20-24 at Dance Mission Theater (3316 24th St. in San Francisco). BroadwayWorld has a sneak peek at the performers below!
This astonishing production, a charming, light-hearted, variety program suitable for all ages, features the innovative clowning,spectacular circus feats, and holiday high jinks from some of the Bay Area's most talented theatrical circus artists (including Abigail Baird, Andy Cook, Jamie Coventry, Natasha Kaluza, Kerri Kresinski, SAM Luckey, Jasper Patterson, Diana Strong, Matt White, and special guests) in an unforgettable program that will amaze, delight, and inspire the entire family. MITTENS AND MISTLETOE, hosted by Bay Area performing legend Joan Mankin and directed by award-winning clown duo Coventry & Kaluza, features live music, comedy performances, and performances on trapeze, aerial fabric, Cyr wheel, hula hoop, and juggling.
Clown duo Coventry & Kaluza have developed a unique blend of comical characters, music, and circus skills; this is their third year directing MITTENS AND MISTLETOE. Clown school sweethearts, this award-winning comedy duo has been seen throughout the Bay Area and beyond, in the ring with Circus Bella, onstage with Sweet Can, Circus Finelli, Circus of Sound, and the New Pickle Circus, among others. Additionally, Coventry & Kaluza won Best Comedy/Clown Act in the American Circus Festival two years in a row. Jamie Coventry has a background in theater, music, and education. He attended the Clown Conservatory at the San Francisco Circus Center, and has developed his own show about his experience as a clown. He also formed Tin Sandwich, a neo-vaudevillian harmonica ensemble that plays blues, jazz, pop, Balkan, and Tango. Natasha Kaluza attended the Clown Conservatory at the San Francisco Circus Center, and studies voice at the Jazz School in Berkeley. She is perhaps best known for her signature style of hula hooping which incorporates "B-girling" and funk dancing. 2013 marks a decade of collaboration for Coventry & Kaluza.
Joan Mankin has been an actress, clown, teacher, and director in the Bay Area for over 40 years. A former company member of the San Francisco Mime Troupe, the Pickle Family Circus, and an Associate Artist with Traveling Jewish Theatre, Mankin's credits include productions at American Conservatory Theater, Aurora Theatre Company, California Shakespeare Theater, Magic Theatre, TheatreWorks, San Francisco Playhouse, San Jose Stage Company, San Diego Repertory Theatre, and Marin Theatre Company, among others. She has taught at SF State, Berkeley Repertory Theatre, American Conservatory Theater, and Marin Theatre Company. She recently directed the Mime Troupe's production of Oil and Water, and co-starred in Wunderworld at Yerba Buena Gardens.
About the circus theater artists:
Abigail Baird, Andy Cook began their acrobatic partnership in Santa Monica, California before they migrated up the coast to train with Master Lu Yi at the San Francisco Circus Center. They have performed together and individually throughout the southwest and the Bay Area.
Kerri Kresinski has performed in shows and festivals all over the world, including the New Pickle Circus and MTV's "My Super Sweet Sixteen;" she is a co-founder of Sweet Can Productions. She has been teaching acrobatics, yoga, dance, and aerial arts for over 10 years.
SAM Luckey studied at The Circus Space in London, specializing in swinging trapeze. During her time in London, she was part of The Optomists, a flying trapeze troop; in the Bay Area, Luckey has worked with Flynn Creek Circus, The Burley Sisters, Sweet Can, Coventry & Kaluza, Ragged Wing Ensemble, and Vespertine Circus, among others. She is an aerial dancer in Flyaway Productions, a company of "off-the-ground dance" directed by Jo Kreiter in San Francisco.
Jasper Patterson is a product of the new vaudeville movement. He is a performer, musician, writer, director, and experience designer in the Bay Area and has directed and performed in productions and festivals around the world. His current projects fuse circus and comedy improvisation with installation and reactive technology.
Diana Strong provides music for MITTENS AND MISTLETOE. Strong discovered the accordion in 2006 with both inspiration and mentorship from Dan Cantrell. She performs with Sweet Moments of Confusion, the Red Hot Chachkas, appears as a guest soloist with numerous other ensembles, and has worked regularly with dance and theater companies including Central Works, Dark Porch Theater, Cielo aerial dance, and Fog Beast dance.
Matt White learned the acrobatic trades at the San Francisco Circus Center under the instruction of Master Trainers Lu Yi and Xia Ke Min. Before specializing in Hand-to-Hand Balancing, White was a generalist of Chinese Acrobatics: scaling the Chines Pole, flying and catching from the Teeterboard, supporting Human Pyramids, and performing handstands on tiny wooden blocks. In addition to Sweet Can, he has worked with the New Pickle Circus, Teatro Zinzanni, and in cabarets across Europe.
The mission of Sweet Can Productions is to create intimate, heartfelt performances in which the audience and performer easily connect. Sweet Can presents the circus performer as a human being, and uses the performer's circus skills to make connections by demonstrating the shared emotional experiences that unite us all. Formed in 2006 at the San Francisco Circus Center by founding members BetH Clarke, Kerri Kresinski, and Daniela Steiner, Sweet Can was established with the artistic goal to bridge the gap between traditional circus and theater. Where most Bay Area circus performers were resigned to performing in night clubs, at corporate events, as incidental performers for major theatrical productions, or at non-professional community events, Sweet Can Productions wanted to allow for complete artistic expression, and embarked upon creating a production rooted in traditional circus, theater techniques, and improvisation, creating an intimate theatrical circus experience in which circus artists provide stage substance and not merely stage decoration.
For tickets ($15-60) and information, the public may call 415-225-7281, visit
brownpapertickets.com
or
sweetcanproductions.com
.
Photo Credits: Kate Russell (first two) and Eric Gillet (last four)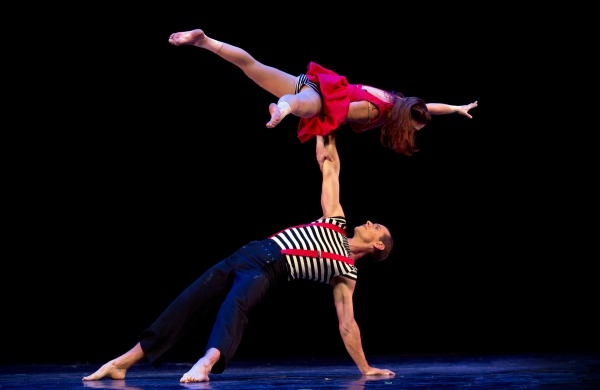 Abigail Baird and Andy Cook

Abigail Baird and Andy Cook

Matt White

Kerri Kresinski

Award-winning clown duo Natasha Kaluza and Jamie Coventry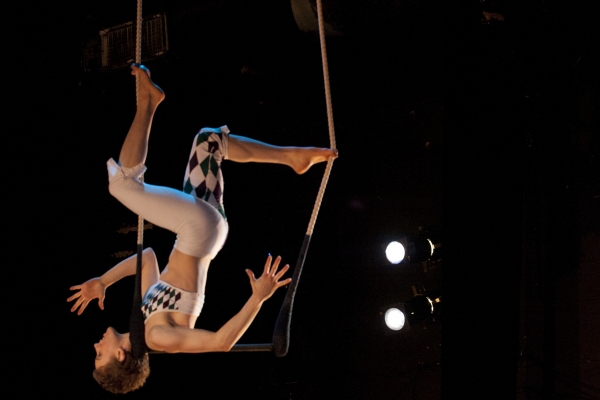 Sam Luckey