Photo Flash: Meet the Cast of 42nd Street Moon's SOMETHING FOR THE BOYS
42nd Street Moon presents a 20th Anniversary edition of one of its earliest hits -- the hilarious farceSOMETHING FOR THE BOYS, November 26 - December 14, 2014. Press opening is set for November 29. Scroll down for a sneak peek at the cast!
In this rollicking musical with music and lyrics by Cole Porter, book by Dorothy Fields and Herbert Fields, three unlikely cousins, (including one who picks up radio waves with her teeth) inherit a San Antonio Ranch. Despite their lack of familiarity with each other, the cousins join together to transform the ranch into a boarding house for soldier's wives. Romantic and military complications quickly arise. The top drawer Porter songs include The Leader of a Big-Time Band, Something for the Boys, Could It Be You?, Hey, Good Lookin', By the Mississinewah, and He's a Right Guy.
SOMETHING FOR THE BOYS will be directed by Daniel Witzke, with music direction by Dave Dobrusky and choreography by Staci Arriaga.
Performances run November 26 - December 14, 2014. Press opening: Saturday, November 29, 2014. Shows: Wednesdays and Thursdays at 7 pm (No show Nov. 27); Fridays at 8 pm (Added show 2pm, Nov. 28); Saturdays at 6 pm; and Sundays at 3 pm at The Eureka Theatre, 215 Jackson Street, San Francisco, CA 94111. Tickets: $25 - $75. For information or to order tickets call (415) 255-8207 or visit 42ndStMoon.org.
Photo Credit: David Allen

Dyan McBride, Brian Herndon, and Heather Orth get some good news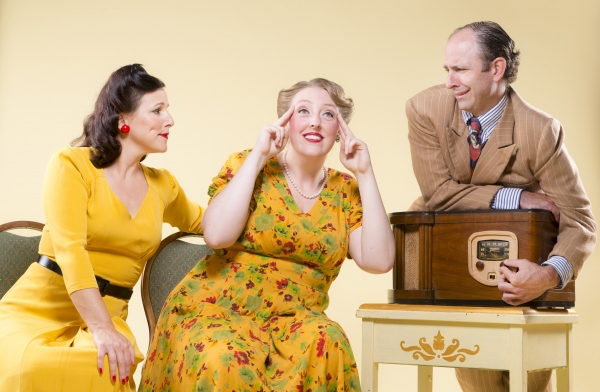 Heather Orth (center) picks up radio frequencies with her dental work while Dyan McBride (left) and Brian Herndon (right) watch skeptically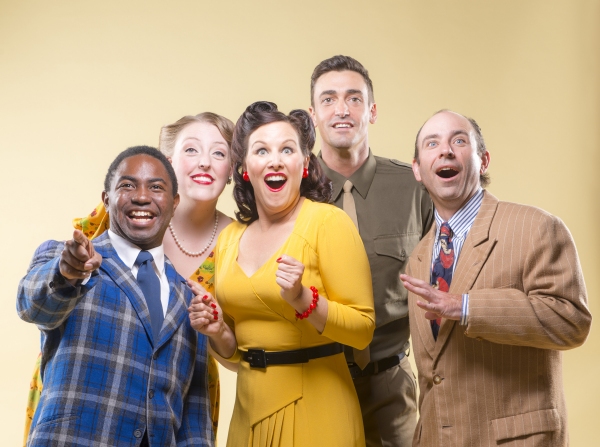 AeJay Mitchell, Heather Orth, Dyan McBride, Tyler McKenna, and Brian Herndon sing 'There's a Happy Land in the Sky'

Dyan McBride and Heather Orth are cousins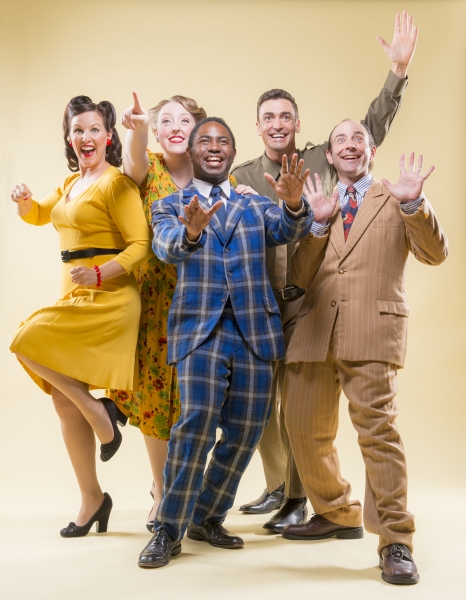 Dyan McBride, Heather Orth, AeJay Mitchell, Tyler McKenna, and Brian Herndon sing 'There's a Happy Land in the Sky'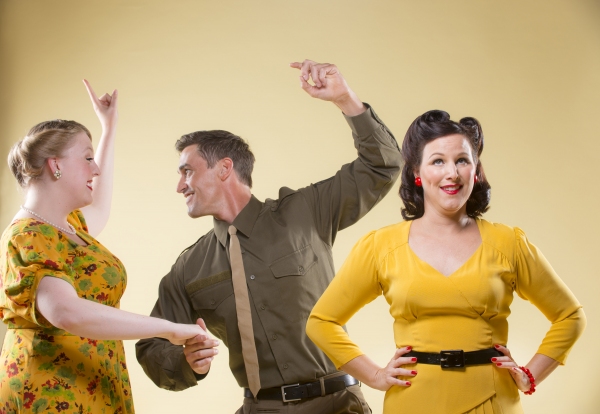 Heather Orth and Tyler McKenna whoop it up, while Dyan McBride watches in disapproval

Heather Orth (center) picks up radio frequencies with her dental work while Dyan McBride (left) and Brian Herndon (right) watch skeptically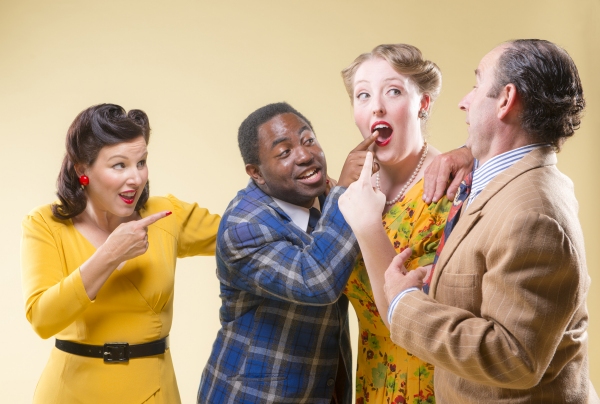 Dyan McBride and AeJay Mitchell check out Heather Orth's ability to pick up radio frequencies in her fillings with Brian Herndon