Eugenie Chan's MADAME HO to Premiere at Exit Theater This Fall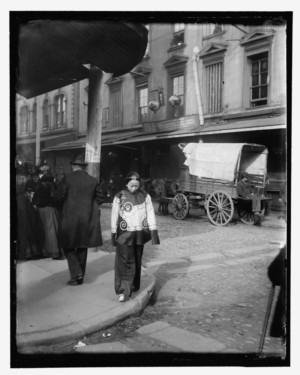 Madame Ho, by Eugenie Chan, Eugenie Chan Theater Projects' (ECTP) first full production, premieres at the Exit Theater, 156 Eddy St in San Francisco's Mid-Market arts district October 5-21, 2017, then goes to Chinatown's Donaldina CameRon House, 920 Sacramento St for three free community performances October 28-29, 2017.
In English with supertitles; accessible to both Chinese and English speakers. Exit Theater advance tickets are $20 at madameho.eventbrite.com. $25 at the door. For more information, visit eugeniechantheater.org, and for CameRon House information, email ECTPCommunityEvents@gmail.com.
Inspired by the life of Chan's great-grandmother, Madame Ho tells the fascinating story of a formidable Barbary Coast, San Francisco brothel madam, single mother, Chinese immigrant...and ghost. It is a tale of of survival and complicity, forming the first installment of a performance trilogy that captures the epic sweep of Chinese in the American West. Chan mines her real family history to unearth how a single mother struggles to raise a family while running a Chinatown brothel in the segregated world of the late 1800s. Chan explains,
"For years as a kid, I would hear rumors of my father's family's tainted past. That my great-grandmother was a brothel madam. Aunts would shoo away a flamboyant uncle who dared tell such tales at the teen table. My mother who married into the family was straightforward: It was a way to survive. I wondered what it was like for this great-grandmother to raise a family while running this business. And to do so with the highest regard for her children's future in the segregated world of the late 1800s. Thus, Madame Ho was born."
Directed by Jessica Heidt, Madame Ho's cast includes Bonnie Akimoto, Keiko Shimosato Carreiro, Lisa Hori-Garcia, Christine Jamlig, Rinabeth Apostol, Mimu Tsujimura, Lily Tung-Crystal, and erhu musician Alan Yip. Lighting designer Allen Willner, scenic designer Randy Wong-Westbrooke, and costume designer Keiko Shimosato Carreiro round out the creative team. Produced by ECTP in association with Intersection for the Arts with support from 6NewPlays.
Playwright Eugenie Chan is an award-winning playwright and screenwriter whose work has been produced or developed across the United States, including at the Asian American Theater Company, Bay Area Playwrights Festival, Centenary Stage (Daphne Does Dim Sum), Crowded Fire, Cutting Ball (Bone to Pick, Diadem), East West Players, Group Theater, Houston Grand Opera: HGOco (Courtside), Magic Theatre, Ma-Yi, Northwest Asian American Theatre, Pan Asian Rep, Perishable, Playwrights Horizons, the Public (Novell-aah!), San Francisco Mime Troupe, and Thick Description (Rancho Grande). Her screenplays have been seen at the Asians on Film, Berlin, Big Apple, Cinestory, Dis-Orient, Mill Valley, San Diego Asian, and Toronto Independent Film Festivals. She teaches at the University of San Francisco's Performing Arts & Social Justice Department and Marin Academy, is playwright emerita at Cutting Ball Theater, and a New Dramatists and Playwrights Foundation alumna. ECTP is a member of of Intersection for the Arts. Learn more at www.eugeniechantheater.org.
Director Jessica Heidt is an award winning director, producer and casting director. She is currently based in San Francisco, where she served as the Artistic Director of San Francisco's Climate Theater. Prior to Climate, she served as Associate Artistic Director of Magic Theatre, where she contributed to the development and production of over 50 new plays. Heidt has also directed at Aurora Theatre (Collapse by Allison Moore), Brava Theater, AlterTheatre, Abydos, Playground, CenterRep, New Harmony Project, BAPF, The Lark/NY Stage & Film, SF Playhouse, and Snap JudgmeNT Productions (NPR). She has worked as a casting director with many Bay Area film and theater companies, and has taught at University of San Francisco, San Jose State University, Film Acting Bay Area, and American Conservatory Theater.
ECTP recognizes the generosity of the ?Phyllis C. Wattis Foundation, Walter and Elise Haas Foundation, California Arts Council, Theater Bay Area's CA$H Grant for Individuals and Organizations, Kenneth Rainin Foundation, Zellerbach Family Foundation, Venturous Fund for Theater, San Francisco Arts Commission, Puffin Foundation, Creativity Fund at New Dramatists, Lippmann Family Foundation, Handel Fellowship at Woodstock Brydcliffe, and the many individuals that made this production possible.
IF YOU GO:
MADAME HO
WHERE & WHEN: October 5-21, 2017
EXIT THEATER 156 Eddy St, San Francisco 94102
Thursday, Friday, Saturday evenings at 8PM Saturday matinees at 2PM
Press night will be Friday, October 6
Three free Chinatown community performances at:
CAMERon House 920 Sacramento St, San Francisco, CA 94108
Saturday, October 28 at 5PM Sunday, October 29 at 1PM and 7PM
HOW MUCH: Exit Theater advance tickets $20: madameho.eventbrite.com; $25 at the door.
CameRon House RSVP: ECTPCommunityEvents@gmail.com