BWW Review: THE WHO & THE WHAT at Marin Theatre Company - Pulitzer-Prize Winning Author Ayad Akhtar's Thought-Provoking Examination of Islamic Faith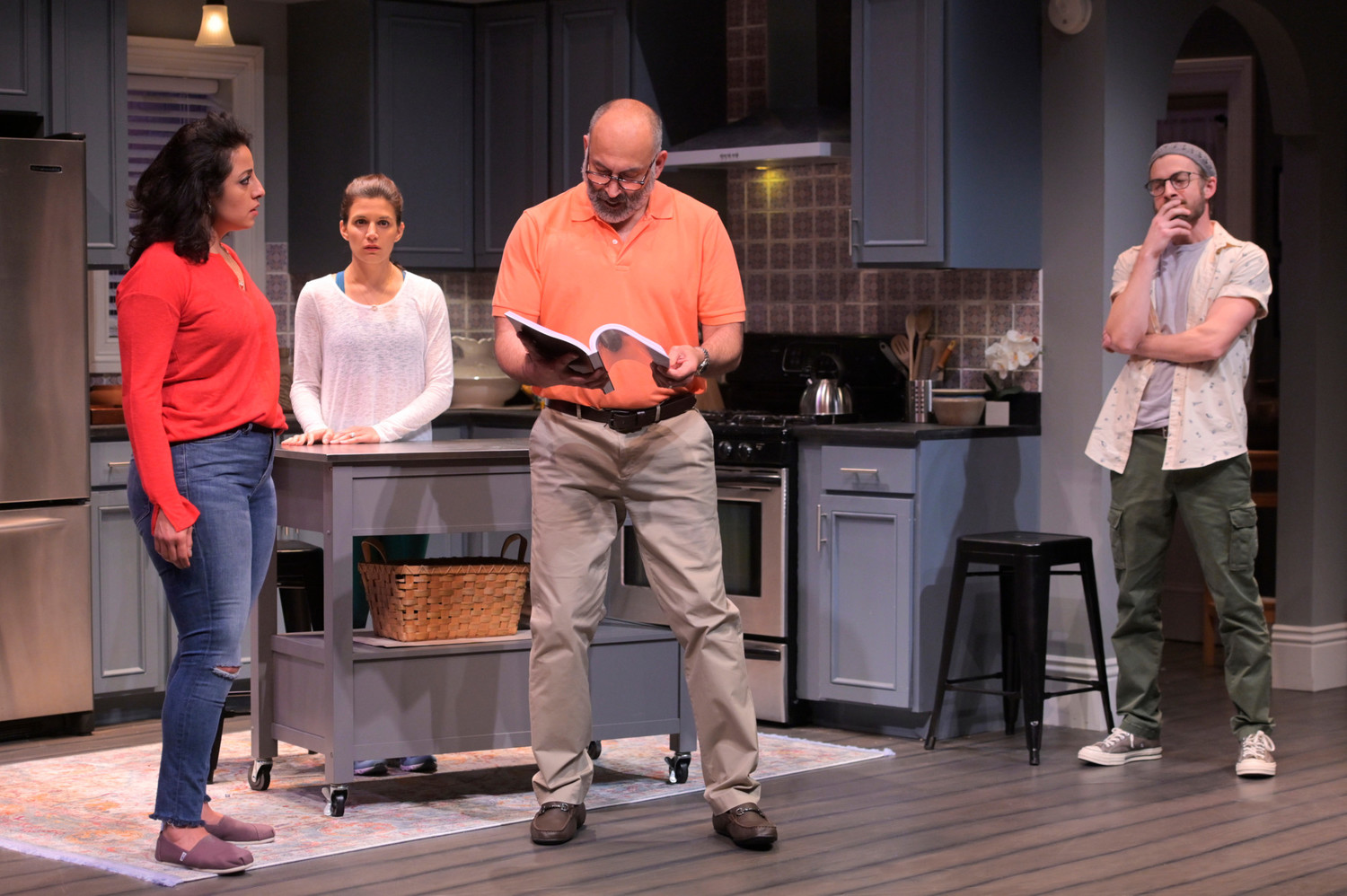 Family and faith are tested in Ayad Akhtar's courageous The Who & The What, the third in his trilogy that includes the Pulitzer prize winning The Disgraced and MTC's 2016 production of The Invisible Hand. This dramatization highlights the conflicting world of Pakistani immigrants and their first-generation experiences. In the hands of director Hana S. Sharif and an excellent cast, the results are both explosive, heartfelt and illuminating.
The story follows writer Zarina (Denmo Ibrahim) and her attempt to complete her novel on women and Islam. She's struggling with writer's block, perhaps due to her father nixing her last relationship on religious terms (he was Catholic). To make it up to her, her father Afzal (Alfredo Huereca) sets her up with a white Muslim convert Eli (Patrick Alperone) who runs a local mosque.
Things go well for Eli and Zarina, she has an epiphany about her characterization of the prophet Muhammad and finishes her manuscript. And here's where the trouble begins. Zarina's humanistic depiction of the Prophet enrages her father and sister Mahwish (Annelyse Ahmad) causing a schism in the family.
Akhtar uses the family unit to explore the gaps between fundamentalist religious thought and contemporary desires to loosen their rigid boundaries. Huereca's Afzal is a contradictory character - a lovable, meddling papa figure with only the interests of his daughters at heart. He'll setup his daughter with an appropriate match and stuff cash gifts into Eli's backpack. But he's oblivious to the realities of his modern daughter's lives; one having anal sex so she can present as a virgin, the other feeling invisible and 'veiled' by her father's actions.
Denmo Ibrahim is amazing as Zarina, the contemporary voice of reason in a household of contradictions, denial and obligatory adherence to ancient practices. She knows the consequences of her actions yet maintains her responsibility to her purpose. Alparone's Eli is the bridge between both worlds. Interested in Islam for its equalitarian tenants, he plays the mediator between Zarina and her father. Annelyse Ahmad is another conflicted character - caught between her father's faith and her carnal desires.
The Who & The What refers to the title of Zarina's book, her attempt at humanizing the Prophet (not unlike Kazantzakis' The Last Temptation of Christ). Its her chance to express a feminist viewpoint to Islam that may free women from the veil of invisibility. The old-school father cannot bear the affront to his religion and it is only the love of his daughter that will allow him a smidgen of forgiveness.
The Who & The What successfully blends comedic elements with the high drama of clashing cultures within one family. It's a testament to Akhtar's skill as a playwright and Sharif's careful and intuitive handling of the material. Ven the set is a contradiction of styles; a modernly appointed kitchen set encased within a framework of Islamic-inspired filigree by set designer Tim Mackabee. Sound designer Everett Elton Bradman adds Middle eastern chants to set the religious atmosphere aided by Wen-Ling Liao's sensitive lighting.
Akhtar focuses on his Pakistani community, but on could easily substitute Islamic faith for Christianity. It's a testament to his fine writing and universal themes of strict linear fundamentalism and a more relaxed, open look at what religions mean.
The Who & The What continues through March 24th at Marin Theatre Company, 397 Miller Avenue, Mill Valley. For information, contact www.marintheatre.org or call (415) 388-5208.
Photos by Kevin Berne