BWW Review: Broadway San Jose's RENT: It's All About LOVE!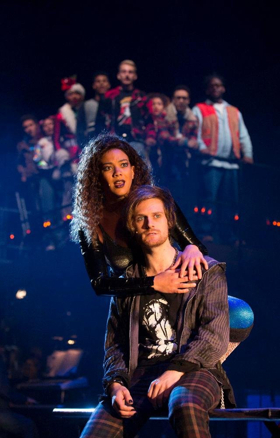 Broadway San Jose plays host to the 20th anniversary traveling company of Rent, the raging, power-packed, raw-energy rock musical that first found its way into the American lexicon in 1996. It was the era of performance art and starving artists, rampant gentrification, police brutality and AIDS. The entire country struggled to make sense of the epidemic, even as infected individuals fiercely determined not to let the disease define them. Playwright, music and lyric writer Jonathon Larson brought it all to the Broadway stage with a transcendent message of love in the face of fear that brought hope and light to the scene. Sadly, Larson died right before the show's off-Broadway debut, but his soaring spirit lives on in this fantastic company of creative souls who make up the new cast of Rent. Playing now through January 28, Rent captures the lives of a mixed race, gender-defying family of friends grappling with how to stay true to their creativity and pay the rent, while simultaneously coping with romantic entanglements and living with what was, at that time, the death sentence of AIDS.
I'd never seen Rent - not in the theater or on film. I was a newbie, but the truth is that I lived through the AIDS epidemic of the early 90s, taking care of my brother-in-law for the last 15 months of his life. Broadway San Jose's Rent was a vivid reminder of a time when we 20-somethings were going to more funerals than weddings. What a time it was. But setting aside the personal, the audience seemed to be full of "Rentheads," those fiercely loyal fans who'd seen the show hundreds of times. They were there in full force and it gave the show a knowing, ecstatic vibe that invited the rest of the audience to party with them. It soon became apparent that certain characters had become iconic and, without singing a note or saying a word, they were met with wild applause. Angela Wendt's reprised role as costume designer likely helped with that. Her eclectic and sensual mix of skintight fabrics and thrift store chic were emblematic of the 90s.
Set designer Paul Clay gave us an indoor dumpster-dive of a place that screamed refuse, steel-gray metal, jagged edges and the smell of desperation. (For this Bay Area audience, the specter of the artist collective warehouse known as "Ghost Ship," had to come to mind.) It's Christmas Eve and you could almost feel the cold in the heatless loft.
When Sammy Ferber's Mark opened the show, the crowd went nuts. He and roommate Roger (Kaleb Wells) are about to be evicted by their former roommate Benny (Marcus John) who wants to turn the building and the lot next door into a high-tech cyber arts studio. Their dire straits are mirrored in all their friend's plights. They're all poor and struggling with AIDS, just like Roger is. When he meets another tenant named Mimi (the wonderful Skyler Volpe) he struggles with feelings for her when she comes onto him. His angst is palpable. What's the point when you're dying?
Aaron Alcaraz danced onto the stage as Drag Queen Angel Schunard to thunderous applause, as well as a kind of reverence could be felt throughout the theatre. Angel is the heart of the show, facing fear and death with pure love.
If Angel represents the heart of the show, then Mark's former girlfriend Maureen, a lusty Lyndie Moe, is the soul. Her Christmas Eve performance, set up hastily to protest Benny's evictions, brings down the house. (Audience participation includes moo-ing!)
The program provided for the show included "A Note About the Plot: RENT Who's Who." That proved to be helpful as I got lost at a few different points in the storyline. I think you need to be a "Renthead" to follow all the threads. There's Roger and Mimi, Angel and Tom Collins (an amazing Josh Walker), Maureen and Joanne (Jasmine Easler) and of course Mark, who is the narrator/observer filming the whole thing. There are also parents calling and leaving messages for the various characters. I found that to be interesting. Clearly, Mark et al. had formed a family of friends. We're left to wonder if their parents even know that their children have AIDS.
Ultimately there's no getting around the fact that almost everyone is dying. But the show's message resonates loudly amidst the fear: Live in the moment with love. As Mimi sings to Roger, "There's only this. Forget regret - or life is yours to miss...No day but today. But it is Rent's signature song "Seasons of Love" that is at once gut-wrenching and heartwarming. "How do you measure a year in the life? How about Love? Measure in Love. Seasons of love."
RENT
Broadway San Jose, January 23-28, 2018
Book, Music and Lyrics by Jonathon Larsen
Directed by Evan Ensign
Choreography by Marlies Yearby
www.broadwaysanjose.com
Photo courtesy of Carol Rosegg