Review Roundup: La Jolla's World Premiere of THE SQUIRRELS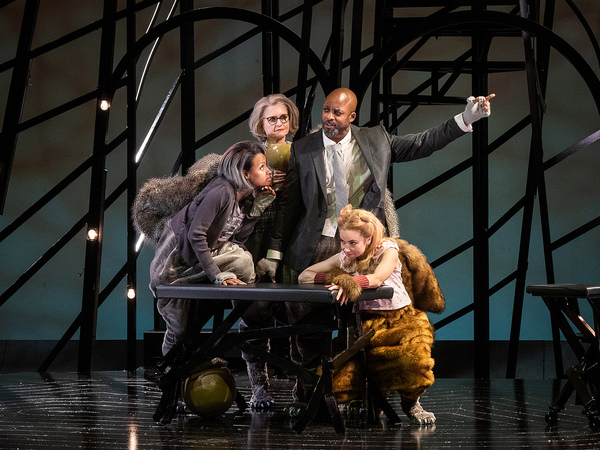 La Jolla Playhouse presents the world-premiere production of The Squirrels, by Tony Award nominee Robert Askins, directed by 2017 Tony Award winner and La Jolla Playhouse Artistic Director Christopher Ashley, running June 5 - July 8.
The cast features Terence Archie (Broadway's Rocky) as "Scurius," Candy Buckley(Playhouse's Kill Local) as "Mammalia," Lakisha May (Off-Broadway's Everybody) as "Chordata," Tony Award nominee Brad Oscar (Broadway's The Producers, Something Rotten) as "Scientist/Sciuridae," Marcus Terrell Smith (Book of Mormon national tour) as "Carolinensus" and local actor Summer Spiro (Playhouse's DNA New Work Series) as "Rodentia," along with UC San Diego M.F.A. students Sidney Hill, Max Singer and Danielle Wineman as Squirrel Ensemble members.
The creative team includes Tony Award winner Beowulf Boritt (Come From Away), Scenic Designer; Tony Award winner and UC San Diego M.F.A. alumna Paloma Young(Peter and the Starcatcher), Costume Designer; Tony Award nominee Tyler Micoleau(Playhouse's Miss You Like Hell; Broadway's The Band's Visit), Lighting Designer; Tony Award nominee Cricket S. Myers (Playhouse's Guards at the Taj), Sound Designer; John Narun (Playhouse'sBlueprints to Freedom), Projection Designer; Gabriel Greene, Dramaturg; and Joshua Pilote, Stage Manager.
Winter is on the way and the squirrels are restless. Mistrust is growing between the Rich Gray Squirrels and the outcast Fox Squirrels. When a wily outsider gets in the mix, he ignites an epic animal kingdom soap opera teeming with rebel armies, conspiracy, love and family loyalties. No squirrel will go unharmed in this deliciously-demented new comedy from Tony Award nominee Robert Askins.
Let's see what the critics have to say!
Pam Kragen, San Diego Tribune: As a new play, "The Squirrels" is in good shape, though its final scenes feel a little clunky and the acorn den collapse scene is confusing. I also wanted to know more of Carolinius' backstory. Instead of a realistic tree set, the action plays out on a stylish, industrial black steel tree structure designed by Beowulf Boritt, which hints at the hidden brutalism in squirrel culture. Paloma Young designed the not-too-animalistic costumes, Tyler Micoleau designed lighting, Cricket S. Myers designed sound and John Narun designed projections.
Pat Launer, Times of San Diego: The play isn't quite yet where it needs to be. It requires more honing, tightening and focus. It seems to be trying to do and say too much. At the end, the message, which has been somewhat subtle up to then, is hammered home as a clear call to arms. As the situation becomes more ominous, the dead pile up and survival becomes a serious challenge, the final words uttered are: "Someone would have to do something now, right now-other than make noise."
E.H. Reiter, BroadwayWorld: Touching on the environment, prejudice, politics, and racism there is a lot of nut for this play to crack. It does so by keeping the action moving, and the messages subtle up until the end. Some tightening up and possibly ending the play one scene earlier than it does may help keep the focus and not feeling like the message is being hammered in with an outright declaration.
More Hot Stories For You