Photo Flash: Globe For All Presents A MIDSUMMER NIGHT'S DREAM
Fall under the spell of Shakespeare's most uproarious and popular comedy. Filled with magic, humor, music, and magnificent poetry, this dream unfolds in an enchanted forest where fairies play tricks on unsuspecting lovers, and bumbling actors are transformed beyond their wildest imaginings.
Add to this a secret potion that grants love at first sight, and anything can-and does-happen! Globe for All is the centerpiece of The Old Globe's commitment to creating public value by making theatre matter to more people. It tours free professional Shakespeare to community-based venues throughout San Diego County.
Globe for All will be presented with free public performances at:
The tour culminates with two low-cost public performances on the Globe's Lowell Davies Festival Theatre stage on Sunday, November 18 at 12:00 p.m. and 3:15 p.m.These tickets are $10.00 for subscribers and donors, on sale Friday, October 12 at 12:00 noon; and $15.00 for the general public, on sale Friday, November 2 at 12:00 noon; subject to availability.
Photo Credit: Ken Howard.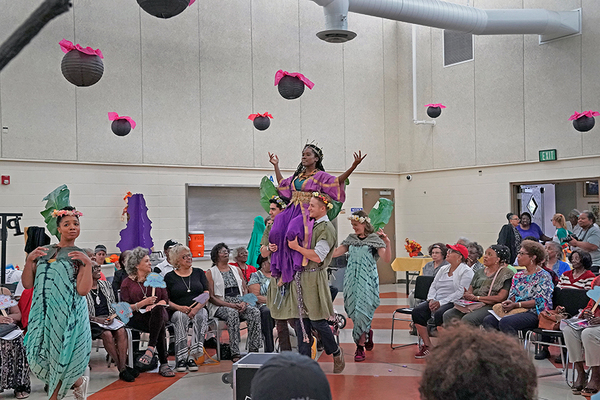 Nora Carroll, Jose Martinez, Kimberly Monks (as Hermia, aloft), Sam Avishay, Larica Schnell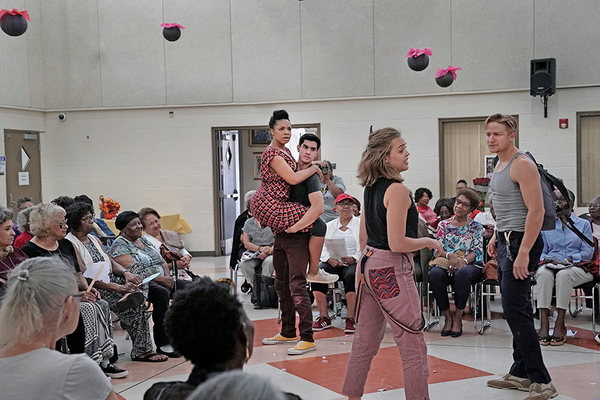 Nora Carroll as Hermia, Jose Martinez as Lysander, Larica Schnell as Helena, and Sam Avishay as Demetrius

Kimberly Monks as Titania, Jake Millgard as Bottom with the company of Globe for All tour of Shakespeare's A Midsummer Night's Dream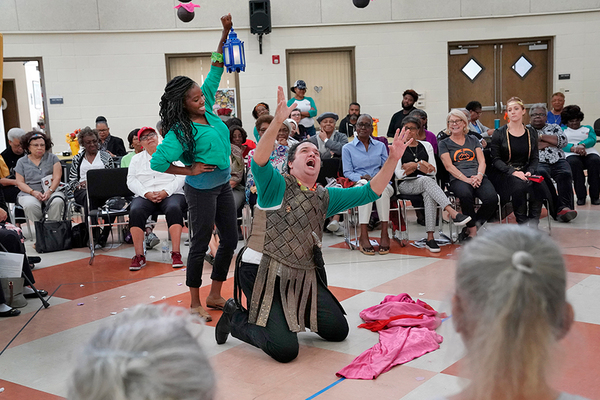 Kimberly Monks as Robin Starvling and Jake Millgard as Theseus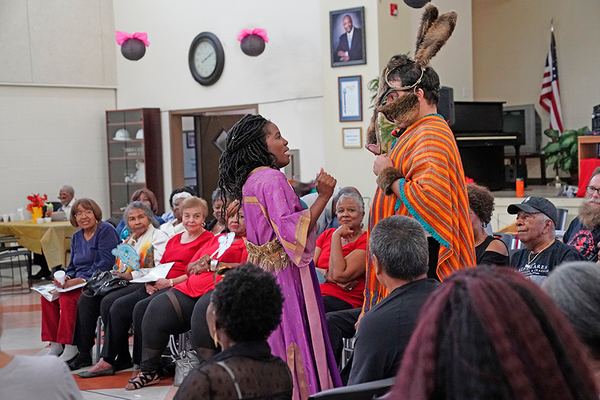 Kimberly Monks as Titania and Jake Millgard as Bottom

Jake Millgard as Theseus and Samantha Sutliff as Hippolyta with the company; in a scene from the Globe for All tour of Shakespeare's A Midsummer Night's Dream

The cast of Globe for All tour of Shakespeare's A Midsummer Night's Dream