Moonlight Youth Theatre Announces Cast and Creative Team for LEGALLY BLONDE THE MUSICAL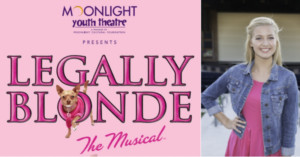 The Moonlight Cultural Foundation and the Moonlight Youth Theatre announced today the cast and creative team for its upcoming production of Legally Blonde the Musical. This fabulously fun musical includes music and lyrics by Laurence O'Keefe and Nell Benjamin and a book by Heather Hach. Legally Blonde features direction and choreography by Evan D'Angeles, music direction by JD Dumas, and associate choreography by Chelsea Nicole Lapp. Performances run October 13 through October 21 at the Moonlight Amphitheatre in Vista.
Based on the novel by Amanda Brown and the hit movie starring Reese Witherspoon, Legally Blonde the Musical follows Delta Nu President Elle Woods on her journey of self-discovery as she tackles stereotypes, snobbery, and scandal in pursuit of her dreams. Against the odds, Elle moves from the sorority house to Harvard Law School and proves that kindness and compassion never go out of style. With her charm, Chihuahua, and the classic bend and snap, she discovers the true power of being legally blonde. Come witness Elle find her true potential in this upbeat show that is both heart-warming and hilarious.
"Following the success of Thoroughly Modern Millie, it was important for MYT to put together both an amazing cast, and a visionary creative team for Legally Blonde the Musical," Mike Bradford, the show's Producer noted. "We have done just that. With over 120 students auditioning, a talented cast from all over San Diego and a Creative Team with credits from Moonlight to Broadway, Legally Blonde the Musical is destined to be a hit you won't want to miss!"
Starring as Harvard's most beloved blonde, Elle Woods, is Classical Academy sophomore, Madeline Edwards. Also starring is Jake Bradford as Emmett Forrest, Lauren Turn as Vivienne Kensington, Daniel Woods as Warner Huntington III, Maria Tenereillo as Paulette Buonofuonte, Rocco Polanco as Professor Callahan, Paityn Manor as Brooke Wyndham, Aquila Ewald as Serena, Lydia Schmidt as Margot, and Mikayla Kehler-Elliott as Pilar.
Additional cast includes: Dashiell Gregory, Gillian Northway, Cassie Bleher, Megan Perreault, Cassie Bleher, Carly Walton, Ella Levinson, Ali Rohrbaugh, Megan Perreault, Casey Johnston, Luke Casillas, Gillian Northway, Travis Kramer, Mason Ballard, Ben Little, Josh Bradford, Eli White, Sierra Weis, Eli White, Matthew Goates, Piper Bingham, Jacob Morilak, Joseph DiPietro, Izaiah Rhinehart, Eden Young, Dashiell Gregory, Wyatt Rhinehart, Audrey Deubig, Kaila Tacazon, Téa Carpenter, Catalina Colby, Mariel Alexander, Cassie Bleher, Amanda Clopine, Emily DaFoe, Sofia D'Alessio, Jillian Fortner, Emma King, Isabelle McKelvey, Sierra Pia, Lindsey Rappaport, Stephanie Ninberg, Lily Jane Blackman, Riley Cox, Mikayla Kelley, Ainsleigh McKinlay, Caelinn Morris, Rachel Pizzurro, and Casey Reichenthal.
The creative team is comprised of Mike Bradford (Producer), Evan D'Angeles (Director and Choreographer), JD Dumas (Music Director), Chelsea Nicole Lapp (Associate Choreographer), Curtis Mueller (Lighting Design), Jim Zadai (Sound Design), Carmen Amon (Costume Design), Carmen Amon (Hair and Wig Design), DJ Maloney (Stage Manager).
Evan D'Angeles (Director/Choreographer) is a master of talent recipient in choreography from Chapman University where he received the Best Choreographer Award for his contemporary piece "Oh, Father" on domestic violence. Most recently he directed and choreographed SONGS FOR A NEW WORLD at the Old Town Temecula Theatre where he also serves as the Casting Director for The Barn Stage Company (Spring Awakening, Urinetown, Chess, Carousel, Camelot, James & The Giant Peach). He has Co-Directed and Choreographed two productions of Spring Awakening and RENT. Other creative credits include choreographer for the west coast premiere of Magdalene - a new musical. Three Trees Theatre in Costa Mesa, and assistant choreographer for Walt Disney Creative Entertainment Special Events. Performance Credits include: Broadway: Miss Saigon, Pacific Overtures (Revival), Children & Art (Sondheim 75th Birthday Benefit). National Tours: RENT (Angel), The 25th Annual Putnam County Spelling Bee, Cats. Regional: His Girl Friday (La Jolla Playhouse), Here Lies Love (Williamstown), Disney's Tarzan (Terk), Dennis DeYoung's Hunchback of Notre Dame (Quasimodo), Miss Saigon (Thuy), Finding Nemo (Crush), Crazy For You, West Side Story, The Who's Tommy, The King & I, My Fair Lady, Phantom, Fiddler On the Roof, among others. He is thrilled to be part of the Moonlight Youth Theater's commitment to cultivating youth talent and bringing professional Broadway theater to San Diego. www.evandangeles.com.
Performances for Legally Blonde the Musical run October 13 -21, 2017, at the Moonlight Amphitheatre in Vista, CA. Show times are 8:00 p.m. on Friday, October 13, Saturday, October 14, Thursday, October 19, Friday, October 20, and Saturday, October 21. For more information about Legally Blonde, the Musical and upcoming Moonlight Youth Theatre events visit www.moonlighfoundation.com. To purchase tickets, call the Vistix box office at 760-724-2110 or go online to www.vistixonline.com.
ABOUT MOONLIGHT YOUTH THEATRE
Moonlight Youth Theatre, a program of the Moonlight Cultural Foundation presents this fabulously fun international award-winning musical based on the adored movie. Legally Blonde the Musical follows the transformation of Elle Woods as she tackles stereotypes, snobbery, and scandal in pursuit of her dreams. From the sorority house to Harvard Law School to the courthouse, come witness Elle find her true potential in this fun, upbeat story of self-discovery.
ABOUT THE MOONLIGHT CULTURAL FOUNDATION:
Moonlight Cultural Foundation is a 501(c)(3) not-for-profit with the mission of raising funds for The Moonlight: the City of Vista's award-winning theatre that produces a summer season of four Broadway musicals in the outdoor, 2,000-person capacity Moonlight Amphitheatre plus year-round cultural programming. The Moonlight is also committed to arts education and serves local youth through education and outreach programs which provide free performances and training in musical theatre, culminating in the work of the Moonlight Youth Theatre.