IN THE HEIGHTS Closes Moonlight's 37th Season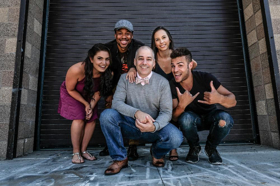 Moonlight Stage Productions closes its 2017 season with the groundbreaking musical In the Heights, September 13 - 30. With music and lyrics by Lin-Manuel Miranda and a book by Quiara Alegría Hudes, this Tony Award-winning musical broke new ground as it introduced a new generation of Broadway storytellers. Manuel would later go on to bring his megahit show Hamilton to the stage. In the Heights is full of exhilarating dance with a backdrop of salsa, Latin pop sounds, and frequently rapped lyrics described by the New York Times as "an ear-tickling novelty on Broadway." Tickets range from $23 to $55 for all reserved seating and $17 to $22 for general admission lawn seating. To purchase tickets or for more information, call (760) 724-2110 or visit moonlightstage.com.
Set in the primarily Hispanic neighborhood of New York City's Washington Heights, In the Heights tells the universal stories of three generations who live in that vibrant community. The neighborhood is on the brink of change, its characters singing about their hopes, dreams, and how each negotiates which traditions are important to them and which ones they should leave behind.
As the show opens, we find Nina returning to her Washington Heights neighborhood after her freshman year at Stanford, unsure if she plans to go back. Her parents struggle to keep their small business alive as Benny, their young employee, does his best to help it stay afloat. Usnavi operates a tiny bodega, and his love interest, Vanessa, dreams of finding a studio apartment in the coveted West Village. When the winning lottery ticket, a power outage, and romantic tension all hit the 'hood, the long-time friends and neighbors make discoveries about each other, about themselves, and about the place they all call home.
In the Heights' 2007 off-Broadway run received nine Drama Desk Award nominations and won two. When the show moved to Broadway the following year, it was nominated for 13 Tony Awards, capturing Best Musical, Best Original Score, Best Choreography, and Best Orchestration. It also received a Grammy and nominated for the 2009 Pulitzer Prize for Drama. The Broadway production ran for nearly three years with more than 1,100 performances. Some of its critical acclaim include:
"In the Heights pulses to a joyful new beat, and youthfulness has its advantages." The New York Sun

"A groundbreaking 21st century musical. This extraordinary blend of old and new
pushed the sound of Broadway deeper into new territory."New York Magazine
"Blending hip-hop, rap, jazz, pop, salsa, and merengue, this buoyant musical
also nods reverently to the traditions of the show tune."Variety
"With the popularity of Lin-Manuel Miranda's current hit Hamilton, it seemed fitting to introduce our audiences to his first Broadway musical," said Producing Artistic Director Steven Glaudini. "In the Heights appeals to several generations, from those who love the style of standard musical theatre ballads, to young people who may see themselves on stage reflected through the characters. The show's diverse music pulsates with Caribbean-inspired rhythms bringing a new sound to the Broadway experience. In the Heights is a joyous celebration of community, chasing one's dreams, and finding your true home. These are themes everyone can relate to."
The cast features William Cooper Howell as Usnavi, Caitlyn Calfas as Nina, Rudy Martinez as Kevin, Amber-Sky Skipps as Camila, Carleton Bluford as Benny, Michelle Cabinian as Vanessa, Nicholas Alexander as Sonny, Samara Otero as Abuela Claudia, Marlene Montes as Daniela, Jonathan Arana as Piragua Guy, Nadia Guevara as Carla, and Sebastian Montenegro as Graffiti Pete. Rounding out the company are Danielle Airey, Marcos Alexander, Jessica Nornejo, Israel Cortez, Denise Esteves, Pierre-Daniel Petit Fre?e, Laurie Marie Muñiz, Janissa Rose, and Ricardo Valenzuela.
The artistic team bringing In the Heights to life includes Director James Vásquez, Choreographer Carlos Mendoza, Musical Director and Conductor Elan McMahan, Lighting Designer Jean-Yves Tessier, Sound Designer Jim Zadai, Scenery Designer Anna Louizos, Costume Designer Renetta Lloyd, Make-up Designer Gabe Nunez, Wig Designer Peter Herman, Properties Coordinator Bonnie Durben, and Stage Manager Stanley D. Cohen. The Moonlight production is utilizing the sets and scenery of the original Broadway show.
In the Heights
September 13 - 30, 2017
NOTE: September 13 - 24: Wednesday through Sunday nights; September 27 - 30: Wednesday through Saturday night.
Performance at 7:30 p.m.
Gates open for picnicking and dining at 6:00 p.m.
Ticket price range $23 to $55 for all reserved seating (general lawn is $17 to $22 and includes lawn chair provided at entry. Additional general lawn discounts for children, seniors, military).
Web: moonlightstage.com
Box Office Phone: 760.724.2110
One of the most unique theatre-going experiences found anywhere is Moonlight's lawn seating, allowing patrons to bring their own picnic suppers into the theatre and picnicking before the show. Lawn ticket holders receive a chair as part of their ticket upon entry to the theatre.
The Artisan Café offers pre-show dining outdoors on the Moonlight Patio where glimpses of the sunset can be seen before patrons take their seats for the show. The Café also offers delicious intermission snacks to all theatregoers including beverages. To view the Café's menu, visit
moonlightstage.com
. For information and reservations, call
760-828-0596
. 1200 Vale Terrace Drive, Vista
Gates open for picnicking and dining 90 minutes before curtain. Non-alcoholic beverages and food may be brought into the Amphitheatre. Parking is free. Winner of several San Diego Theatre Critics Circle Awards among others, Moonlight Stage Productions is the cultural arts program of the City of Vista. Named "San Diego's #1 Outdoor Theatre" by readers of 'San Diego Magazine,' Moonlight Stage Productions provides high-caliber Broadway musical theatre each summer in the 2,000-person capacity Moonlight Amphitheatre, owned and operated by the City of Vista. Audiences attend from San Diego County, Southern Riverside County and Orange County. The Moonlight's season of Broadway musicals is produced in the Moonlight Amphitheatre, a summertime tradition experienced by more than one million people. Throughout the decades, the Amphitheatre has seen numerous transformations, but nothing so dramatic as the total reconstruction of the stage house in 2008-2009. With a grand re-opening in June 2009, a state-of-the-art venue was revealed, which included
Modern Stage
and audience facilities. Since then, the Amphitheatre has extended its entertainment offerings with the addition of concerts and other special events held throughout the year through Moonlight Presents and ClubM.