Plan-B Theatre Slates 2017-18 Script-in-Hand Series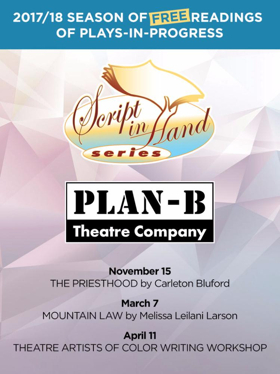 Plan-B Theatre has announced its 2017/18 Script-in-Hand Series, featuring free readings of plays-in-progress by Utah playwrights, accompanying their regular season of World Premieres by Utah playwrights. Scroll down for details!
---
THE PRIESTHOOD
Featuring Tyson Baker, Joe Crnich, Lonzo Liggins, Gray McKenzie & Matthew Sincell directed by Alicia Washington
Wednesday, November 15, 7pm
How do we choose to find ourselves? The LDS Church's 1978 decision to ordain black men to the priesthood sends two young friends on a surprising and unexpected journey of personal revelation. From the author of MAMA (2015).
MOUNTAIN LAW
By Melissa Leilani Larson
Directed by Cheryl Cluff
Featuring CalBert Beck, Matthew Sincell & Emilie Starr
Wednesday, March 7, 7pm
In the fall of 1850, Tamson English has been alone with three young children on the Western frontier for more than a year. Isolated from civilization, abandoned by her husband, haunted by her past, Tamson's mind begins to fracture... Until an old friend appears at her door. From the author of PILOT PROGRAM (2015) and THE EDIBLE COMPLEX (2016).
SELECTIONS FROM THEATRE ARTISTS OF COLOR WRITING WORKSHOP
Playwrights & directors TBA
Wednesday, April 11, 7pm
We hosted a gathering of Theatre Artists of Color in June of 2017. The desire to tell stories authentically came up multiple times throughout the gathering. So we organized a writing workshop with Utah's most produced playwright, Julie Jensen, to be held in November and December of 2017. Julie will teach the basics of the craft; the writers will write; we'll craft select pieces into an evening of short works.
---
Free but required tickets are available at planbtheatre.org/scriptinhandseries (once capacity is reached a wait list option is available - if the wait list doesn't activate that means the wait list is also at capacity).
Forty-two plays have received free staged readings since the launch of the series in 2004. Now a natural extension of The Lab (our monthly meeting-and-sharing of the work of 13 local playwrights), the Series allows us to further explore plays under consideration for full production and test them in front of an audience.
More Hot Stories For You