Broadway Alumni to Perform at Pride of Southern Utah Festival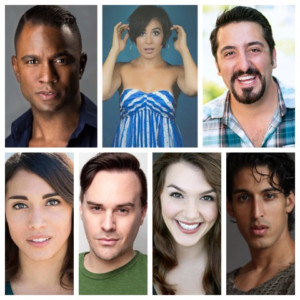 Pride of Southern Utah announces the theme Everyone Belongs for the third annual pride celebration to span a week of festivities.
The week concludes with the featured Pride Festival event on Saturday September 22, 2018 from 3:00 pm to 10:00 pm at Vernon Worthen Park in St George. Festival goers will enjoy live entertainment from start to finish. In addition, all age appropriate activities including slack lines, face painting, drum circles, hair extensions and more from 3:00 - 7:00 pm, will be provided by The Dixie LGBTQ Teen Alliance.
This year we are excited to include performers from Broadway and Las Vegas. Talent Includes Aaron Young, Gabriela Carrillo, Frank Viveros, Sara Gallo, Josh Black, Noelle Hammond, Matt Ban, Mimi Robinson, Ryan Stutz, Belen Moyano, Roderick Law and Brad Bradley, With Musical Direction by: Stephen Diaz. The lineup will conclude with a special appearance by Tuacahn High School PAC. Their performance will begin at 5PM.

Stephen Lambert, Director of Pride of Southern Utah explains, "This year's theme was chosen because in the current political and religious environment of perceived divisiveness, coupled with the high rate of suicide in our state, it is important to send out the message that everyone belongs...that YOU belong. Each of us has value. Each of us is needed in this world. Everyone is an important part of the fabric of society."
In keeping with the theme, Everyone Belongs, organizers felt the importance of the festival being family friendly, creating an environment that is welcoming and fun for all of Southern Utah. "Whether or not you identify as part of the LGBTQ+ community and their allies, we invite and welcome you", said Pride of Southern Utah board member Linda Stay.
For more information about donating, volunteering and details of events scheduled, please visit https://www.prideofsouthernutah.org/
About Pride of Southern Utah
Pride of Southern Utah is a non-profit organization founded on the belief that everyone belongs; with the aim to build a better, stronger and more cohesive community in Southern Utah. Pride of Southern Utah is creating a community that feels safe, is active and offers information and resources, serving members of the LGBTQ+ community and their allies.