BWW Review: Pioneer Theatre Company's MAMMA MIA! Feels Effortless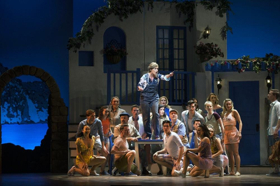 Pioneer Theatre Company has created a truly strong production of MAMMA MIA! that feels effortless and joyful.
MAMMA MIA! (book by Catherine Johnson, music and lyrics by Benny Andersson and Bjorn Ulvaeus and some songs with Stig Anderson) is a long-running jukebox musical about a hardworking single mother named Donna and her daughter, Sophie, who sends wedding invitations to three men she suspects may be her father. When all three arrive the day before the wedding, along with Donna's friends Rosie and Tanya, a whole lot of drama, fun, and ABBA music ensue.
Coleen Sexton, who starred as Lucy in the filmed cast of Broadway's JEKYLL & HYDE and as Florence in last season's breathtaking concert production of CHESS at Pioneer Theatre Company, is Donna. She is a special performer who leads the cast with charisma and talent.
Her friends Tanya and Rosie are played fabulously by Amy Bodnar and Mary Fanning Driggs, respectively.
Brian Sutherland is grounded and intriguing as Sam Carmichael, and his fellow possible fathers--Paul Castree as Harry Bright and Dan Sharkey as Bill Austin--also fill their roles admirably.
Kathryn Brunner brings spunk and enthusiasm to the role of Sophie Sheridan, if also a tendency to overemote. Aidan Wharton is well cast as her fiancé Sky, and they have a good chemistry together.
The ensemble, and especially those playing Sky's buddies, are a highlight of the production, with stellar dancing.
The choreography from director Patricia Wilcox, who choreographed MOTOWN THE MUSICAL on Broadway, is a joy to watch. It defies the audience members to not have smiles across their faces throughout each dance number.
The lighting design by Paul Miller (Broadway's LEGALLY BLONDE) bounces effortlessly from dramatic tension to dream sequence to sparkling island fun. It is classy and effective.
The set design by James Kronzer is impressive in scale and has been realized gorgeously. The delightful costumes by Brenda Van der Weil create a true contemporary paradise.
If you are a fan of MAMMA MIA!, this is a production you won't want to miss!
MAMMA MIA! plays through May 26, 2018. For tickets, call the box office at 801-581-6961 or visit www.pioneertheatre.org.
Photo Credit: Coleen Sexton (Donna) and cast
Related Articles View More Salt Lake City

Stories

Shows