BWW Review: Pioneer Theatre Company's A COMEDY OF TENORS is Impeccably Cast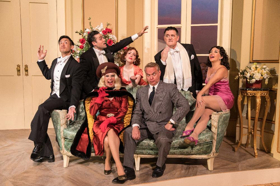 Filled to the brim with crackling comedy and characters you want to root for, Pioneer Theatre Company's impeccably cast A COMEDY OF TENORS is high caliber entertainment.
A COMEDY OF TENORS by Ken Ludwig, is a sequel to his Tony-winning screwball comedy LEND ME A TENOR. When three tenors meet in 1930s Paris to perform a concert of operatic proportions, the hotel suite of opera star Tito Merelli alternately turns into a battleground for spatting lovers and a playground for mistaken identities.
You would be hard pressed to put together a better cast for a Broadway production of this show than Pioneer Theatre Company has done.
While the group is wonderful all around, the standout is Broadway favorite Jennifer Cody, who voiced Charlotte LaBouff in Disney's THE PRINCESS AND THE FROG. As Tito's fiery wife Maria, her physicality and comic timing is irreproachable, and it is an honor to witness such a talent on a Utah stage.
The remainder of the cast is well matched with prodigious comedic and musical talent. Enough cannot be said about their unique contributions and appealing likeability.
Gregory North as Tito/Beppo is both commanding and distraught without losing the humor of the situations. Jessica Fontana as Tito's daughter, Mimi, and Storm Lineberger as her secret beau Carlo are a believable and charming couple. Andy Prosky as uptight general manager Saunders and Hansel Tan as his son-in-law/assistant Max are neurotic but affable, and Kirsten Wyatt is relentless as Tito's old flame Racon.
The period costumes by Susan Branch Towne and hair/makeup by Amanda French are delightful and true to the time, and the opulent set by Eric Renschler is realistic and just the right setting for the uninterrupted stream of hijinks.
A COMEDY OF TENORS plays through November 4, 2017. For tickets, call the box office at 801-581-6961 or visit www.pioneertheatre.org.
Photo Credit: Cast of A COMEDY OF TENORS