BWW Interview: Laura Osnes, Susan Egan, and Benjamin Rauhala on Bringing Broadway Princess Party to Utah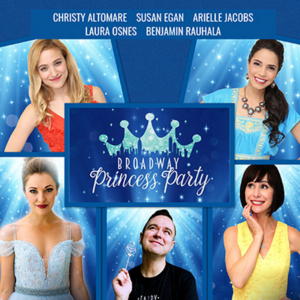 A rare treat is in store for Utah audiences, as the beloved Broadway Princess Party will arrive in Sandy on Aug. 23 with Tony nominee
Laura Osnes
, who originated the title role in Rodgers and Hammerstein's CINDERELLA on Broadway;
Susan Egan
, who originated the part of Belle in BEAUTY AND THE BEAST on Broadway and voiced Meg in HERCULES;
Christy Altomare
, who was the first and only person to play Anya in ANASTASIA on Broadway; and
Arielle Jacobs
, who was the first to play Jasmine in the Australian production of ALADDIN and is currently playing the part on Broadway.
BroadwayWorld had the opportunity to chat with Osnes, Egan, and music director Benjamin Rauhala, who co-created Broadway Princess Party with Osnes, about the show and what's in store for Utah audiences.
Broadway Princess Party began as an intimate performance at Feinstein's 54 Below in New York City, but through word of mouth and over 18 million views on YouTube, it has expanded into a bona fide phenomenon that sells out every announced show at 54 Below and is now touring across the country.
"It wasn't about singing fun princess songs," said Rauhala. "It was really about something bigger and deeper, and that came from the fact that these girls really did it, and so when these girls had something to say about this music, people really tuned in."
The performers will lend their stunning, recognizable voices to an eclectic mix of Disney hits from MARY POPPINS to POCAHONTAS to FROZEN, as well as songs from non-Disney favorites such as ANASTASIA and THUMBELINA.
"Benji created this beautiful medley that we call the 'Cinder-Epic' medley because it has songs from every musical CINDERELLA that we know," Osnes said. "Disney is represented, Sondheim's Cinderella is represented, and obviously Rodgers and Hammerstein's Cinderella, which is what I did. I think it's become pretty iconic for me, and it's always very special to sing. Getting to hear the original voices, the audience always gives an audible gasp because they listened to the cast recording and now we're bringing it to them live, and so that's special to me."
"I get very emotional whenever I play home from BEAUTY AND THE BEAST with Susan," added Rauhala, and he also expressed excitement about some newer additions to the set list. "Arielle and I just did a music video for 'Speechless,' and I'm really looking forward to doing that live. Christy sings a very good 'Part of Your World.' It just resonates with her so deeply, so it's very special to do that with her, for sure."
"My favorite moment is when Laura plays Rapunzel because my favorite princess song is Mother Gothel's song," said Egan. "It's not often in this industry that you get to pick on Laura Osnes, but I get to be snarky and mean to the nicest person in the world, and it's kind of really fun."
"It's a good moment," agreed Osnes, laughing.
"The idea of Broadway Princess Party is not that these princesses are coming and gracing you with their presence," said Egan. "It's more to celebrate the princess inside all of us. We got to play these characters, and we love these characters, but they're your characters, too."
In that spirit, Broadway Princess Party will launch its first ever "Unleash Your Inner Prince" contest, which will give at least one lucky young man in Utah the chance to sing onstage with the Broadway stars. The deadline for video submissions is Aug. 8, with the winner announced by Aug. 15. More information is available at broadwayprincessparty.com.
Broadway Princess Party will perform at the Sandy Amphitheater on Fri. Aug. 23 at 7 pm. To learn more and purchase tickets, visit sandyamp.com/events.
Related Articles View More Salt Lake City

Stories

Shows