BWW Review: COMING OUT at Theatre.doc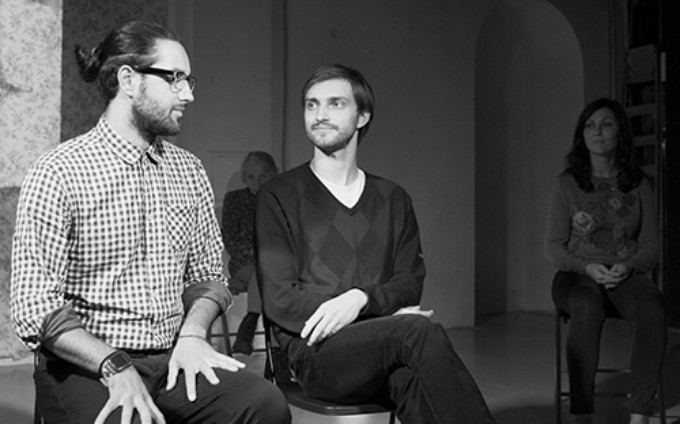 The audience overflowed last night at director Anastasia Patlay's Coming Out, at Theatre.doc. Viewers sat on the floor, on the stairs, on the stage; they curled up on the windowsill. The white hall, a small, intimate space, was beyond capacity with spectators and spirit.
Dima, Ruslan, and Felix are three gay men living in Moscow. For about 90 minutes they discuss and reenact their coming out stories. Later, their mothers cautiously recount how they reacted. The costumes are simple, the setting sparse, the acting understated.
As a work of documentary theatre, the text of Coming Out, by Nana Greenstein, is based on interviews and correspondences with real people. And it shows: the play pulses with a natural and audible heartbeat, not like the steady timbre of a manufactured drama but with all the irregularities, the jumps and spikes and falters, of an actual beating human heart. The dialogue is vulnerable and warm. The spirit of the play is willing to hurt, but not to bleed; Dima, Ruslan, and Felix demand understanding, but they do not crave pity.
Moscow is a place of greatness and grandeur. From the golden domes of the Orthodox churches to the massiveness of the Stalinist towers, the city instructs each resident to stand tall, walk fast, talk big. But Coming Out reminds us of the beauty of small things:
The significance that one word can have.
The difference that a single act can make.
The impact of a small show in a tiny, crowded theatre.
Coming Out at Theatre.doc
Directed by Anastasia Patlay
Written by Nana Greenstein, conceived by Valery Voronetsky
Set design by Konstantin Terentyev
Starring Nikolai Mulakov, Raphael Durnoyan, Ekaterina Strogova, Alexander Usherdin/Sergei Fisher, and Alya Feodorovna Nikulina