Click Here for More Articles on RAGTIME
Photo Flash: RAGTIME at Westchester Broadway Theatre
Standing Ovation Studios of Armonk stages its largest production with Ragtime, the Tony Award winning epic musical set in Westchester's own New Rochelle. Directed by John Fanelli, Ragtime features a cast of 40 including NYC, national and local talent. The production marks the first time the show is presented at the Westchester Broadway Theatre, the longest running year-round professional equity theatre in the state of New York.
Based on the novel by E.L. Doctorow, this sweeping musical portrait of early 20th century America tells the story of three seemingly unconnected families who wind their way through upper-middle class New Rochelle to Harlem and Tin Pan Alley to the immigrant melting pot of the lower East Side. Colorful characters reveal their belief in the American Dream through fiery rhythms, heart-wrenching lyrics, bigger-than-life choruses, and ever-present ragtime melodies.
According to Fanelli, Ragtime represents a big step in the evolution of his drama coaching and stage direction programs. "This is a very large piece of musical theater in so many ways. Between its powerful and varied musical score, large cast across three ethnic groups, set designs that include a working Model-T automobile, and intricate story anchored to historical events and figures of its time, we are raising the bar for our local audiences. It is both exciting and challenging," he observes.
Like last year's sold-out production of In the Heights, Ragtime blends national and NYC talents with those from the local region, including some in leading roles. FaTye of Dobbs Ferry plays Coalhouse Walker, Jr., Joey Sanzaro of Pleasantville plays Tateh, Cali LaSpina of Scarsdale plays Evelyn Nesbitt, and Todd Ritch, originally from Dobb Ferry, is in the role of Younger Brother.
Ragtime runs February 27th through May 4th, Thursday through Sunday evenings and Thursday and Sunday matinees. A special ticket price of $67 plus tax is offered for all performances with additional discounts for seniors, children and groups on some performances. Tickets include the show, a three-course meal and parking. Students with a student ID may also purchase a student rush ticket 15 minutes prior to curtain time for $20, if seats are available. Student rush tickets are for the performance only, do not include lunch/dinner, and calling the theater for availability is advised.
Located at One Broadway Plaza in Elmsford, the Westchester Broadway Theatre is minutes from I-287, the Saw Mill Parkway and the Sprain Brook Parkway. For more information about Ragtime, visit www.RagtimeWestchester.com or call 914-592-2222.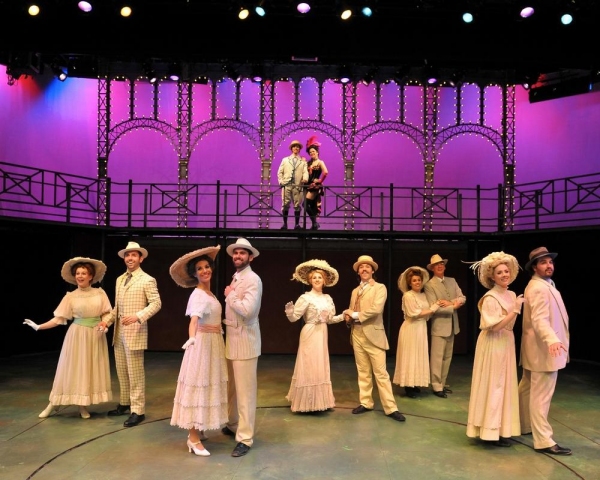 Ensemble performs "Atlantic City"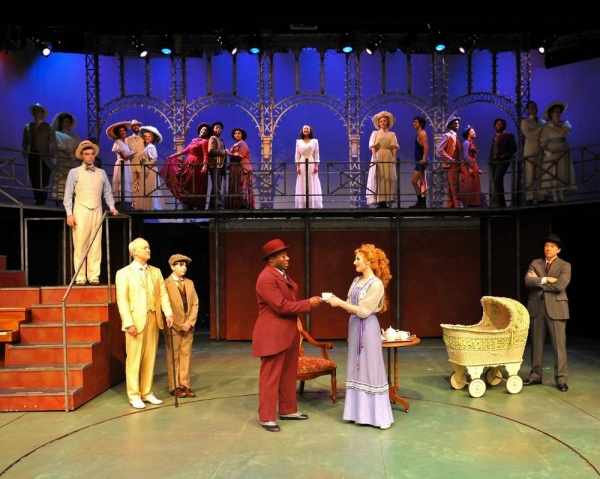 l to r: Todd Ritch, on steps, (as Youngrer Brother), Grant Albright (as The Little Boy), Fataye (as Coalhouse Walker), Victoria Lauzun (as Mother), Craig Waletzko (as Father) and the ensemble perform "New Music."