Photo Flash: First Look at George Dvorsky and Haley Swindal in WBT's SOUTH PACIFIC
Westchester Broadway Theatre presents SOUTH PACIFIC, with Music by Richard Rodgers, Lyrics by Oscar Hammerstein II and Book by Oscar Hammerstein II and Joshua Logan. Directed by Charles Repole and choreographed by Michael Lichtefeld, with musical direction by Leo Carusone, the musical runs now through November 30th and December 31st - January 25th, 2015, starring George Dvorsky and Haley Swindal. BroadwayWorld has a first look at the cast in action below!
Rodgers and Hammerstein's award-winning South Pacific is based on the Pulitzer Prize-winning book Tales of the South Pacific by James A. Michener. The musical is set on an island paradise during World War II and tells two parallel love stories against the dangers of prejudice and war and the importance of valuing diversity. Its portrayal of Americans stationed in an alien culture in wartime is as relevant today as when it first thrilled audiences in 1949.
The cast features Haley Swindal as Nellie Forbush, George Dvorsky as Emile de Becque, Zach Trimmer as Lt. Joseph Cable, Bill E. Dietrich as Luther Billis, Joanne Javien as Bloody Mary, Alison T. Chi as Liat, Brian Michael Henry as Stewpot, David Cantor as Commander Harbison, William Richardson as Professor and James Van Treuren as Brackett. The deBecque children will feature local children; Kyle Arzaga and Daniel Ward will alternate in the role of Jerome and Kaeleigh Picco and Isabella D'Erasmo will alternate in the role of Ngana.
The multi talented ensemble includes, Felipe Bombonato, Logan Benedict, Stephanie Cowan, Michael Dinneen, Sarah Ellis, Joey Elrose, Paul Jordan Jansen, Pedro Kaawaloa, Ashley Lanyon, Maria Logan, and Laura Yen Solito.
The production is directed by WBT favorite, Charles Repole, who has been at the helm for many WBT productions including; My Fair Lady, Sugar andI Love You,You're Perfect, Now Change! The choreographer is Michael Lichtefeld. The musical director is Leo Carusone. Set design is by Steven Loftus, lighting design is by Andrew Gmoser, sound design is by Jonathan Hatton, costume design is by Derek Lockwood and Roberto Silva. The production stage manager is Victor Lukas, properties are by Grumpy Props. As with all our productions, Lisa Tiso is the associate producer.
For tickets and more information, visit www.BroadwayTheatre.com.
Photo Credit: John Vecchiolla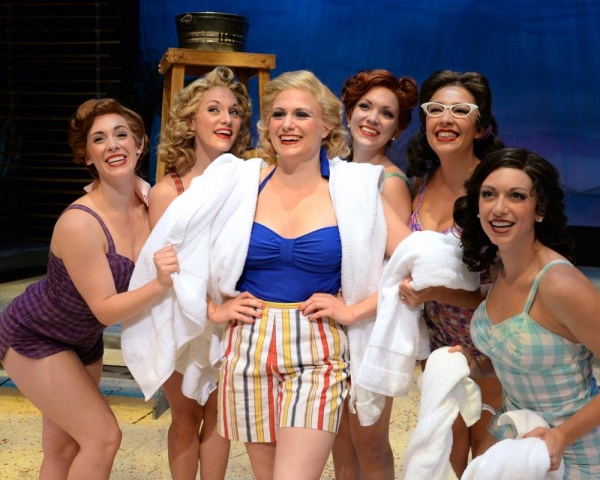 Stephanie Cowan, Maria Logan, Haley Swindal (Nellie Forbush), Ashley Lanyon, Laura Yen Solito and Sarah Ellis perform 'I'm Gonna wash that Man Right Outa My Hair'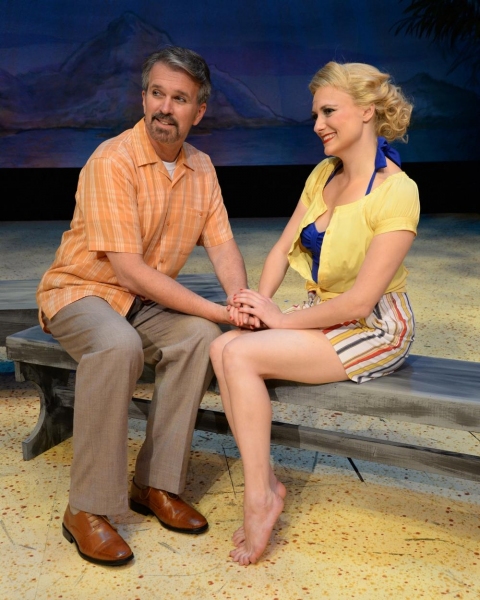 George Dvorsky (as Emile deBecque) and Haley Swindal (as Nellie Forbush)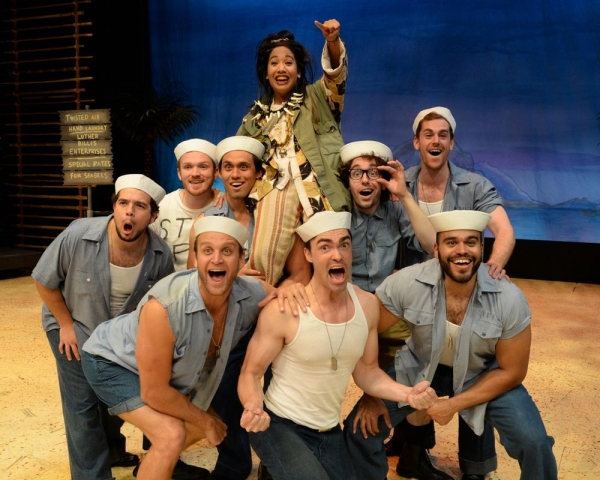 Joanne Javien (as Bloody Mary, center), with sailor ensemble, performs 'Bloody Mary'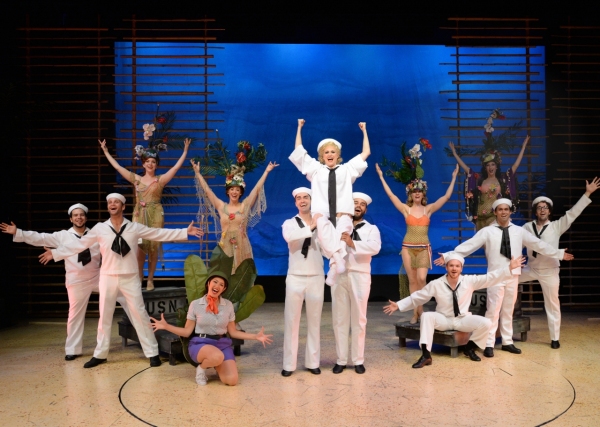 Ensemble performs 'Honey Bun'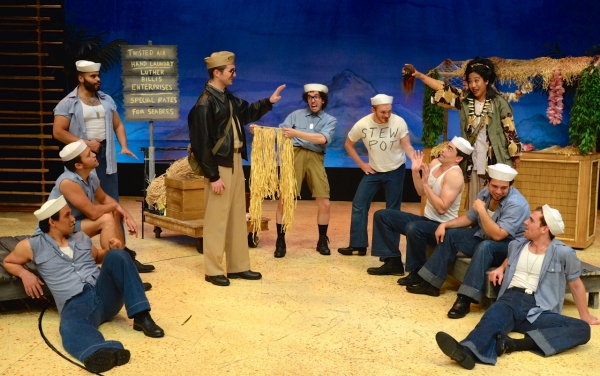 Zach Trimmer (center) as Lt. Joseph Cable with Ensemble and Bloody Mary (Joanne Javien)

Haley Swindal (as Nellie Forbush), George Dvorsky (as Emile deBecque) Kaeleigh Picco (as Ngana), Daniel Ward (as Jerome) and Pedro Kaawaloa (as Henry)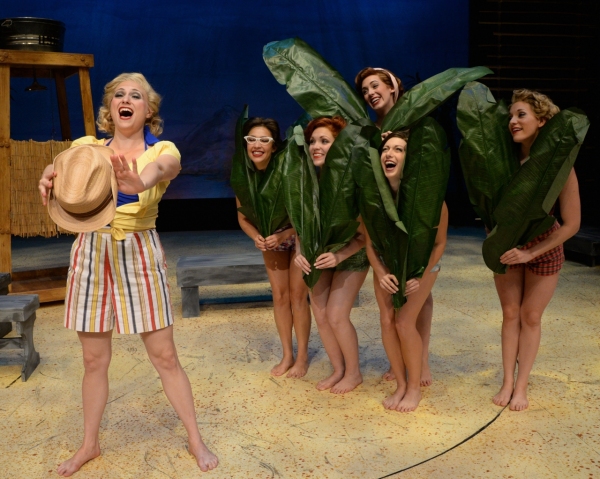 Haley Swindal (Nellie Forbush), Laura Yen Solito, Ashley Lanyon, Maria Logan, Sarah Ellis and Stephanie Cowan perform 'A Wonderful Guy'

Zach Trimmer (as Lt. Joseph Cable) and Alison T. Chi (as Liat) with Joanne Javien (as Bloody Mary) in the back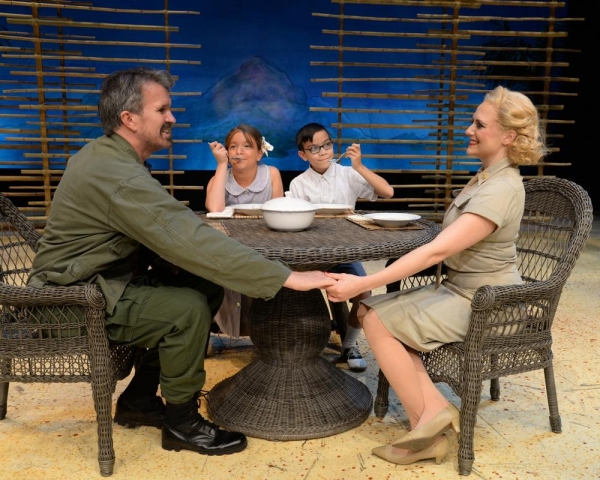 George Dvorsky (as Emile deBecque) and Haley Swindal (as Nellie Forbush)with the children : Kyle Arzaga(as Jerome) and Isabella D'Erasmo (as Ngana)