Photo Flash: First Look at Elmwood Playhouse's THE PILLOWMAN
Elmwood Playhouse's production of THE PILLOWMAN by Martin McDonagh opened this past weekend. The production continues its run at The Elmwood Playhouse for 3 more weekends (March 21st - April 5th). The play explores the nature, freedom and responsibility of artists and asks: "To what extent an artist is responsible for the actions of others in response to their work?" BroadwayWorld has a first look at the cast in action below!
A writer of gruesome stories portraying bizarre violence against children is arrested and interrogated because his work mirrors recent child murders. What responsibility does the writer hold? Travelling the blurred lines between life and art, the accused tries to save his brother, himself, and his life's work from destruction. THE PILLOWMAN explores family secrets, censorship and the irrepressible power of storytelling.
The play received the 2004 Olivier Award for Best New Play, the 2004-5 New York Drama Critics' Circle Award for Best New Foreign Play, and two Tony Awards for production. It was nominated for the 2004 Evening Standard Award for Best New Play.
The Elmwood Playhouse is located at 10 Park Street, Nyack NY. The show runs March 14 - April 5, 2014 (Fri - Sun) & Thurs April 3 at 8pm and Fridays and Saturdays at 8pm, Sundays at 2pm. Tickets: $22 Adults, $19 seniors & students except Saturdays. Call (845) 353-1313 or visit www.elmwoodplayhouse.com for tickets and more information. ***This thoughtful, intelligent but disturbing and dark comedic play contains mature language, adult themes and subject matter. Not suitable for all audiences or children.***
Elmwood Playhouse provides outstanding and affordable live theatre in an intimate & comfortable 99 seat theatre. Newly renovated, this award winning community theatre hosts free workshops, classes, special events and a 2nd stage series complimenting the main stage musicals, comedies and dramas.
Photo Credit: Fotos by Failla


Tupolski (Scott Nangle l.) and Ariel (John Ade r.) interrogate the writer Katurian (Tom Mazzarella c.)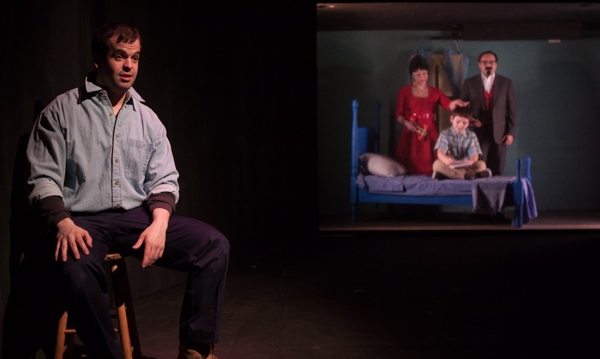 Katurian (Tom Mazzarella l.) tells one of his stories (L-R Stacey Cretekos, Matthew Quirk, Seth Ginsberg)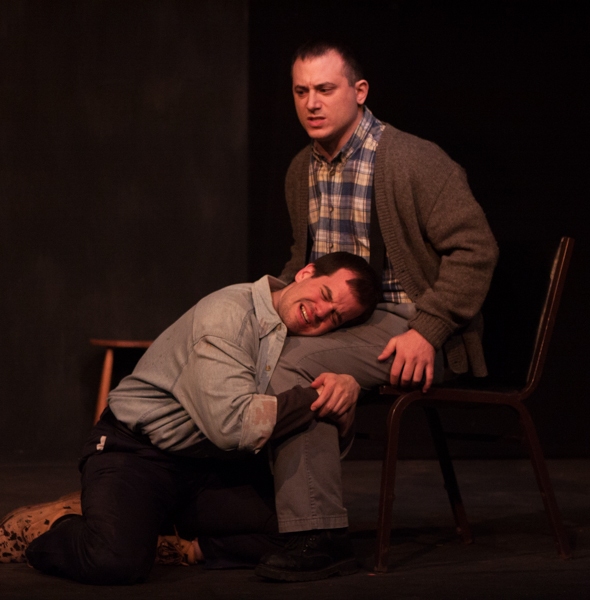 Katurian (Tom Mazzarella, kneeling) seeks comfort after his interrogation from his brother Michal (Neil Battinelli, seated)

Michal (Neil Battinelli l.) listens to a story being told by Katurian (Tom Mazzarella r).

More Hot Stories For You