BWW Review: BLOOD DONE SIGN MY NAME at Raleigh Little Theatre is One History Lesson Not to be Missed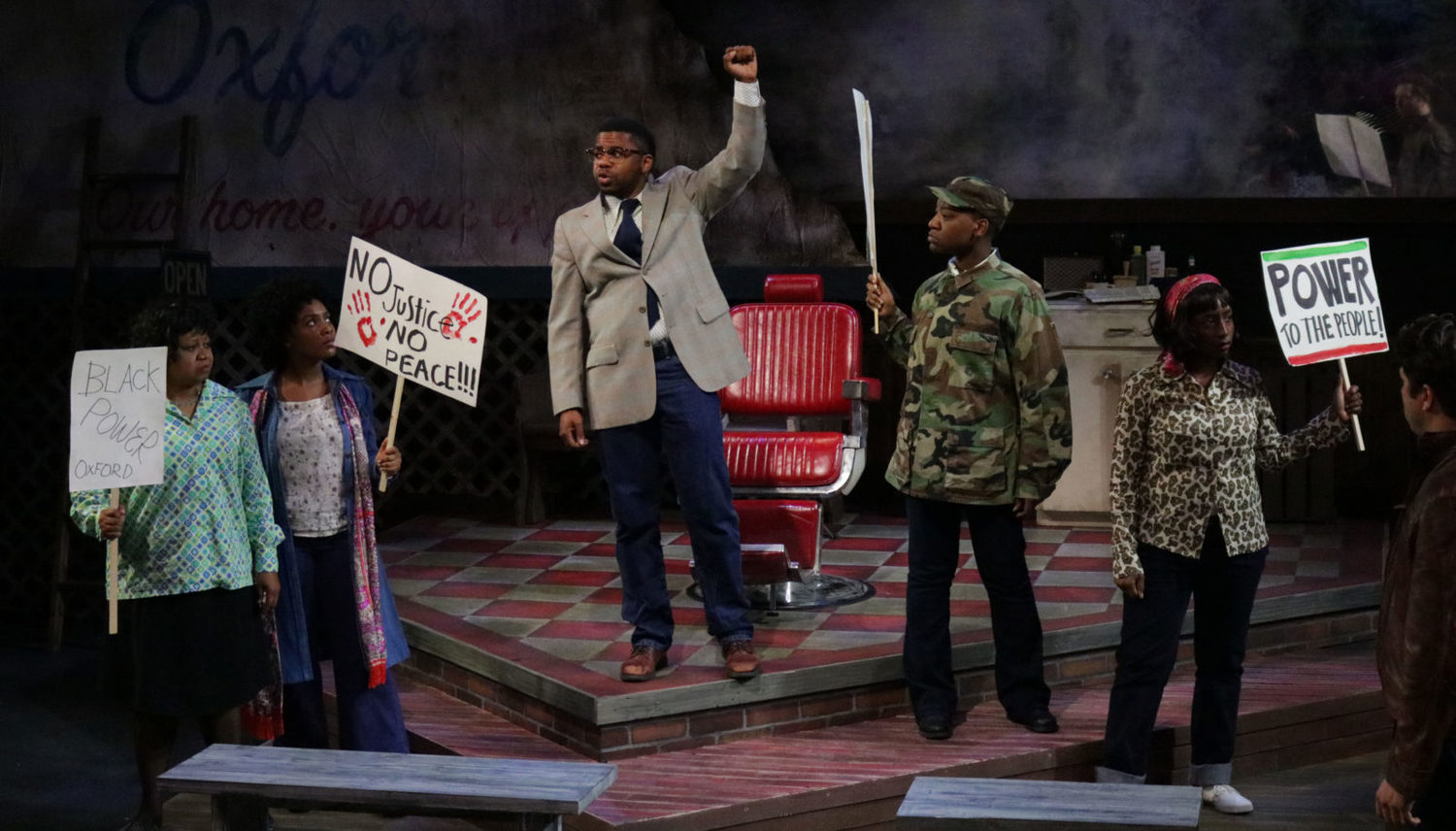 Playwright and performer Taylor Mac once said: "Theater reminds an audience of the things they've forgotten, dismissed, or buried or that others have buried for them. It unearths. It brings the conversation you aren't having with yourself into the room."
Such is the case with Raleigh Little Theatre's world premiere ensemble version of Blood Done Sign My Name.
The play by Mike Wiley, adapted from the memoir by Timothy Tyson, looks the "brutal history" of Oxford, NC in the eye during a time when the quaint town became a battleground for racial equity and social justice.
Timothy Tyson was ten years old when Henry "Dickie" Marrow, a 23-year old African American Vietnam vet, was beaten and shot to death by three white men in May 1970. Robert and Larry Teel were tried for the murder and acquitted by an all-white jury. Following the trial, Civil Rights Activist Golden Frinks organized a historic march from Oxford to Raleigh, after which mob riots broke out in Oxford resulting in a million dollars of damages to local businesses. Tyson's father, Vernon Tyson, was the pastor of the all-white Methodist church in Oxford and tried to forge a path to racial reconciliation but failed and was ultimately forced to leave Oxford with his family.
The ensemble is made up of a cast of 18, a far cry from Wiley's one-man version of the play. The play is beautifully directed by Joseph Megel and Sonya Drum's set design transitions seamlessly from scene to scene. Audiences may want to familiarize themselves with the events surrounding Marrow's murder as Wiley's play jumps from year to year in a nonsequential way and most of the performers play multiple roles albeit skillfully.
Mark Phialas (Older Tim), Justin Toyer (Younger Tim), and Benjamin Cashwell (Boyhood Tim), all share the role of Timothy Tyson. Phialas gives a solid performance as the show's narrator and the young Cashwell delivers a performance beyond his years.
Although the play is not a musical, music plays a role in setting the tone and the spirituals and hymns sung by Germona Sharp (Eddie McCoy) and Juanda Lajoyce Holley (Patty, Eveline, Lonnie) in particular provide a soundtrack to the unsettling drama unfolding on stage.
Kevin Leonard is most convincing as the Rev. Vernon Tyson and begs, not only his parishioners but also the audience, to ask themselves, what would you do and where do you stand.
Although the drama takes place in the years before and after Marrow's murder in 1970, Oxford could be anywhere USA, including Ferguson, Charlottesville, Baltimore, or Oakland, which makes Tyson's memoir and Wiley's play as timely as ever. Subsequently, Raleigh Little Theatre is hosting two community conversations surrounding the play on May 19th and May 26th from 4:00 pm to 5:30 pm at the Gaddy-Goodwin Teaching Theatre to start a dialogue and hopefully move the dial towards race reconciliation.
Just as Hamilton informed how people have come to understand American History, Wiley's Blood Done Sign My Name moves audiences to face North Carolina's past in a way that is palatable, accessible, and thought-provoking, which is good, because this is one history lesson you don't want to miss.
"We want to transcend our history without actually confronting it. We cannot address the place we find ourselves because we will not acknowledge the road that brought us here." - Timothy Tyson, Blood Done Sign My Name
Blood Done Sign My Name runs through June 3rd. For more information or tickets visit:
Photo credit: Dennis Berfield
Lauren Van Hemert is a graduate of Indiana University-Bloomington, where she majored in Journalism with a minor in Theater. Prior to graduation, Van Hemert hosted (read more...)