HISTÓRIAS MAGNETICAS Comes to Teatro das Figuras This Week
The performance takes place on November 16 at 10am and 2pm.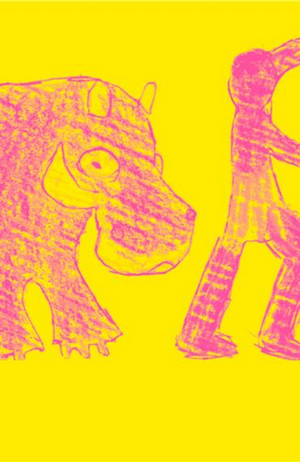 Magnetic Stories was created by guitarist-composer Sérgio Pelágio, in a project dedicated to creating soundtracks for children's stories. Together with Isabel Gaivão, they perform short stories with original live music, recreating the original texts' atmospheres to build, along with the children in the audience, new meanings for the situations that come up in the narrative.
Through music, prompting and image, children are invited into these worlds and characters, to creatively unfold the narratives themselves. The result is a storytelling-concert for electric guitar and voice, followed by a workshop for children.
The performance takes place on November 16 at 10am and 2pm.
Learn more at
Programme
10AM
DON'T BE FOOLED! A 2019 POLITICAL TALE (an original story by Sérgio Pelágio)
The latest História Magnética (premiered in 2020 at Teatro LU.CA).
A new musical tale about a child who lived through the transition from fascism to democracy in Portugal and knows now that there is nothing worst than living in the former regime. This child is now a 53 year-old grownup who realizes that his family's history of anti-fascist resistance, like so many others', cannot be forgotted: it must instead be told to his own children as an example of courage and undisputable belief in Freedom as the most precious thing in life, and yet always in danger.
A tribute to the generation of moms and dads born in the 1930s who never conformed and were politically persecuted, risking their own lives going through prison or exile without ever seeking any kind of spotlight in history-making, so that we could today live in a better country.
This is a story about the importance of democracy and a tribute to all those anonymous parents who resisted and fought so we can enjoy freedom today. Yet we must never forget that, now as before, the tides can suddenly change!
2PM
NUNGU E A SENHORA HIPOPÓTAMO (from a tale by Babette Cole)
This tale, by English author and illustrator Babette Cole, tells the story of an African boy determined to return to his village the river water that had been swallowed by an angry hippopotamus. Alone, Nungu sets out through the jungle to get the water back. Helped by his grandfather's ancient wisdom, he manages to make her give back the water to the now dry riverbed, and the joy to the people of Tubu.
This is the 4th Magnetic Story and the first one based on a non-Western culture, in this case African. With it came an original musical score and a narration inspired by the rhythms and melodies of that continent.
Prices: Free admission (subject to the capacity of the venue)
Duration: 90 minutes
Target Audience: Children from 6 to 10
Production: casaBranca
Structure Financed by: República Portuguesa - Cultura / Direcção-Geral das Artes
Coprodcution: Cine-Teatro Louletano / Câmara Municipal de Loulé, Teatro das Figuras
Financial Support: Câmara Municipal de Lagos
Institutional Partners: Programa Garantir Cultura - Entidades Artísticas, República Portuguesa - Ministério da Cultura
Presentation Support of ZA!: Acción Cultural Española (AC/E): Programa para a Internacionalização da Cultura Espanhola (PICE) / Mobilidade
Local Partners: LAC - Laboratório de Actividades Criativas, Biblioteca Municipal de Loulé, 8100 Café, Câmara Municipal de Faro / Museu Municipal de Faro, Biblioteca Municipal de Faro - António Ramos Rosa, Associação Recreativa e Cultural de Músicos/Projecto SIGA, LAMA Teatro
Media Partners: RUA FM, Barlavento, Postal do Algarve, Sul Informação, Canal 180, Antena 2, Antena 3, RTP2, Revista Gerador
Support: Messe Militar de Lagos,
Acknowledgement: Marco Lopes, Loulé Jardim Hotel
Special Thanks: Levina Valentim