KISS By Guillermo Calderón At Third Rail, Beginning March 15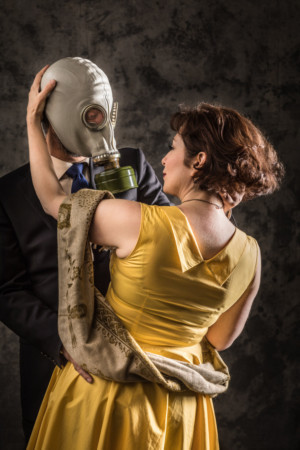 In a Syrian city stricken by war, two couples meet for a quiet evening at home. In an intimate theatre in America, four actors attempt to make sense of an intriguing international work of art. Guillermo Calderón's riveting play-within-a-play blazes a trail through the twists and turns of cross-cultural understanding, challenging us to re-frame our notions of life, love, and what's lost in translation. Kiss is a genre-defying play filled with comedy and intrigue, with a riveting conclusion that raises questions about the ethics of theatre and the necessity of trying to imagine the unimaginable.

Kiss was written by Guillermo Calderón (Santiago, Chile, 1971), a screenwriter, playwright and theatre director based in the USA. Calderón's plays have toured on three continents and appeared in such prominent theaters as the Royal Court in London, The Public Theater in New York, and the Schauspielhaus in Düsseldorf--the theater that commissioned Kiss and where it premiered in 2014. He is perhaps best known for his work on the screenplay for the 2016 film Neruda, which tells the story of the communist poet's escape from the brutal Chilean regime in 1948. Most of Calderón's work has a political bent, raising questions about what constitutes effective political action.

Third Rail's production of Kiss is directed by Company Member Philip Cuomo, and will take place at CoHo Theatre in NW Portland. The show features Third Rail Company members Darius Pierce and Maureen Porter alongside guest artists Dana Ghazi, Myriam Hamieh, Cristi Miles and Rolland Walsh.

Playwright: Guillermo Calderón (Santiago, Chile, 1971), is a screenwriter, playwright and theater director based in the USA. His plays include Neva, Diciembre, Clase, Villa, Speech, Quake, Escuela, Mateluna and Goldrausch. Calderón's productions have toured extensively through South America, North America, and Europe.

Cast: Dana Ghazi (Interpreter), Myriam Hamieh (Woman/Ameera's Sister), Cristi Miles (Hadeel/Andrea), Darius Pierce* (Youssif/Daniel), Maureen Porter* (Bana/Laura), Rolland Walsh (Ahmed/Martin)

* Denotes Third Rail Company Member

Dates: Mar 15-Apr 6, 2019, Thursdays-Saturdays at 7:30pm, Sundays at 2pm.

Location: CoHo Theatre, 2257 NW Raleigh Street, Portland, OR 97210 [Editors, please note venue for this Third Rail production.]

Tickets Available: By phone at 503-235-1101 or online at thirdrailrep.org.

Prices: Single tickets $25 - $45 (plus online service fees). Admission included for Third Rail Members (monthly fee of $26.00).
More Hot Stories For You