CROSSING MNISOSE To Open At The Armory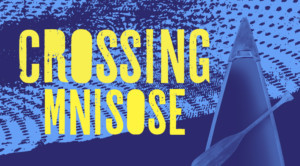 Mary Kathryn Nagle's world premiere play Crossing Mnisose weaves together Sacajawea's story with that of the contemporary fight to protect the Mnisose (what Europeans named the Missouri River) from the Dakota Access Pipeline. As in her celebrated playsManahatta and Sovereignty, Nagle draws a clear, urgent line between the past and the present. Nagle's frequent collaborator Molly Smith (Sovereignty at Arena Stage) will direct.
Crossing Mnisose was commissioned by Portland Center Stage at The Armory for its Northwest Stories series.
"We've heard the Sacajawea story through the diaries of Meriwether Lewis and some heroic statues. Thankfully, thrilling writers like Mary Kathryn Nagle are telling Sacajawea's story from a Native American point of view," Smith said. "The fight for the Missouri River (Mnisose) is past and present in our playCrossing Mnisose. In both 1805 and 2016, the fight is visceral; the present story is informed by the bloodlines of the past."
Nathalie Standingcloud (Nagle's Return to Niobrara at The Rose Theater) makes her
debut at The Armory as Sacajawea/Carey, leading a cast of Nick Ferrucci, Gavin Hoffman, Sera-Lys McArthur, Robert I. Mesa, and Chris Murray.
The Armory will host several free community events surrounding Crossing Mnisose, including pre-show happy hours with Mt. Hood Cherokees and the Columbia Land Trust, and an art exhibit on the gallery level featuring Native artists chosen by Nagle.
Crossing Mnisose tells the story of one of America's first feminists, Sacajawea. The play draws a line from a completely original view of Lewis and Clark to the present day, where descendants of the Dakota and Lakota Nations continue their fight to protect the Mnisose and the lands that contain the burials of their ancestors. From celebrated playwright, activist, and attorney Mary Kathryn Nagle, whose Manahatta captivated audiences at Oregon Shakespeare Festival last season.
Mary Kathryn Nagle is an enrolled citizen of the Cherokee Nation. She currently serves as the executive director of the Yale Indigenous Performing Arts Program. She is also a partner at Pipestem Law, P.C., where she works to protect tribal sovereignty and the inherent right of Indian Nations to protect their women and children from domestic violence and sexual assault. Nagle is an alumn of the 2012 Public Theater Emerging Writers Group, where she developed her play Manahatta in Public Studio (2014). Productions include Miss Lead (Amerinda Inc., 59E59 Theaters, 2014), Fairly Traceable (Native Voices at the Autry, 2017), Sovereignty (Arena Stage, 2018), Manahatta (Oregon Shakespeare Festival, 2018), and Return to Niobrara (The Rose Theater, 2019).
The following cast members will be making their debut at The Armory: Sera-Lys McArthur (Off-Broadway: Smoke and Sacagawea: Bird Woman) will play Otter Woman/Rose, Robert I. Mesa (Tecumseh in the miniseries The Men Who Built America: Frontiersmen, 2018) will play Coyote/Travis, and Nathalie Standingcloud (Return to Niobrara at The Rose Theater, Sterlin Harjo's Mekko, 2015) will play Sacajawea/Carey. Returning to The Armoy are Nick Ferrucci (Astoria: Part One and Two, JAW: A Playwrights Festival) who will play Meriwether Lewis/Colonel; Gavin Hoffman (Major Barbara, Astoria: Part One and Two) who will play Charbonneau/Carl; and Chris Murray (Sense and Sensibility, Major Barbara) who will play Captain Clark/Patrick Morgan.
Director Molly Smith (the artistic director at Arena Stage) leads a creative team that includes Tony Award-winning Scenic Designer Todd Rosenthal (Broadway: August: Osage County, The Motherf**ker with the Hat), Costume Designer Alison Heryer (Sense and Sensibility, Fun Home), Lighting Designer Sarah Hughey (Sense and Sensibility, A Christmas Memory/ Winter Song), Sound Designer Roc Lee (Snow Child, The Price at Arena Stage), Text Director and Vocal Coach Anita Maynard-Losh (Sovereignty at Arena Stage), Fight Director Kristen Mun (The Color Purple), Dramaturg Benjamin Fainstein (Astoria: Part One and Two), Stage Manager Mark Tynan, and production assistants Lilo Alfaro and Alexis Ellis-Alvarez. Glenn Drapeau (Cultural Consultant, Yankton Sioux Nation) and Lauren Cordova (Cultural Consultant, Shoshone-Bannock Tribes) round out the creative team.
Portland Center Stage at The Armory's Northwest Stories series is a celebration of the essence of the region. From fresh looks at history to dynamic explorations of contemporary culture, Northwest Stories blends adventurous storytelling with local impact, all created with the immediacy and vibrancy that only live performance can bring. This season's Northwest Stories offerings include the world premiere of Mary Kathryn Nagle's Crossing Mnisose, along with Winter Song, Tiny Beautiful Things, and the return engagement of Storm Large's Crazy Enough.
Regular tickets range from $25 to $87. Tickets may be purchased at www.pcs.org, 503.445.3700, or in-person from the box office (128 NW Eleventh Avenue, Portland, OR). Rush tickets are $20. Students; patrons who are 30 or younger; and active duty or veteran military personnel and their families get 50% off tickets in seating areas 1-3. $5 tickets are available for Oregon Trail Card holders through the Arts for All program. All prices vary by date and time, and are subject to change.