BWW Review: RENEE'S QUEER CABARET Debuts Resistance Variety Show Series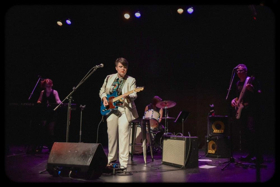 Portland needs more cabarets. Specifically, it needs more cabarets like RENEE'S QUEER CABARET. The good news is that we're getting them! This "resistance variety show" hosted by local singer-songwriter Renée Muzquiz made its debut last week at Artists Rep as part of the Risk/Reward Festival. The plan is to turn it into a monthly series -- submissions are now being accepted for the next installment, which takes place on October 20.
I found RENEE'S QUEER CABARET all at once humble, subversive, and delightful. Humble because it felt like sitting around a campfire with a bunch of friends who just decided to take turns singing, telling their stories, cracking jokes, or performing a striptease. Right from the start, we were a community, not just an audience. Subversive because every act challenged gender- and heteronormativity in some way. The show featured incredible variety -- from Nat Jacobs's stand-up about the loneliness of being queer in Southwest Portland, to Serah's personal story of discovering her asexuality, to Lily Le Fauve's Star Wars-themed burlesque. And delightful in the way only a diverse group of talented people coming together to share their art can be.
For me, RENEE'S QUEER CABARET represents everything Portland theatre and queer theatre should be -- fierce, authentic, awesome, and worth MUCH more than the ticket price (which in this case was pay-what-you-will).
Keep up with RENEE'S QUEER CABARET on Facebook, and visit the Risk/Reward website to see what's next for this festival dedicated to pushing boundaries.
Photo credit: Meg Nanna
Related Articles View More Portland

Stories

Shows