Review: Feel the Thrill of Antarctic Exploration in Portland Story Theater's POLAR OPPOSITES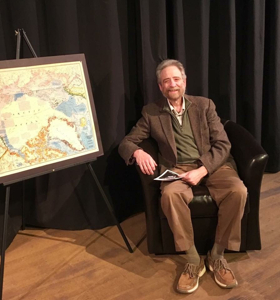 I didn't know much about polar exploration prior to hearing Lawrence Howard of Portland Story Theater tell his story SHACKLETON'S ANTARCTIC NIGHTMARE a couple of year ago. Now, after seeing three installments of Howard's Armchair Adventurer Series, which is all about various journeys to the Poles, I'm hooked. I've even booked a trip to Antarctica.
Howard's latest offering, POLAR OPPOSITES: AMUNDSEN, SCOTT, AND THE RACE FOR THE POLE, tells the story of Roald Amundsen and Robert Falcon Scott's competing journeys to the South Pole. As Lynne Duddy, Portland Story Theater's co-founder, noted before the show, this isn't theatre as in acting, nor is it a lecture. It's something in between - a history lesson in narrative form.
The story in POLAR OPPOSITES takes place in the early 1900s, when Norwegian explorer Roald Amundsen and British explorer Robert Falcon Scott found themselves in a race to be the first to the South Pole, to bring glory to themselves and their country. The two men were opposites in many ways. Amundsen was born to explore the far reaches of the planet; Scott stumbled into it. Amundsen was prepared; Scott, less so. It's a story of ambition, jealousy, and perseverance in the face of unimaginable obstacles.
Howard got his passion for the subject matter from his father, and that passion is evident in every performance (and in the facility with which he rattles off a multitude of names and dates). In POLAR OPPOSITES, as in the others in this series, Howard weaves history, biography, geography, and psychology into a fascinating study of the men who, at great risk and often at great cost, advanced our understanding of our world. He also provides plenty of cliffhangers and emotional ups and downs to keep you on the edge of your seat, an impressive feat given that the show comes in just shy of 2½ hours.
Howard will be performing POLAR OPPOSITES four more times over the course of the next few months - twice in Portland and twice in Central Oregon. If you're a history buff or an Antarctica enthusiast, or if you just love a good story, I highly recommend you check out it. More details here.