Teatr Wielki - Opera Narodowa Announces Lineup of March 2021 Events
The company will present Lady Camelia, The Magic Flute, and more!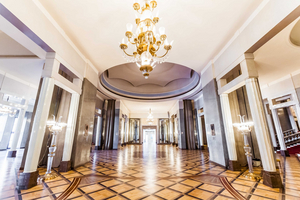 Teatr Wielki - Opera Narodowa has announced its lineup of events taking place in March 2021. Tickets are on sale now.
At the beginning of the month you will be able to hear Aleksandra Kurzak performing the Cio-cio-san batch in ′′Madame Butterfly′′ from G. Puccini. The outstanding soprano will be partnered by the well-known tenor Rafa ał Bartmi ński.
Next up will be the last 4 performances of ′′Lady Camelia′′ - John Neumeier's ballet for music by Frederick Chopin.
On March 17, the concert everyone has been waiting for will be moved from February 10. The prominent world-famous tenor Piotr Becza will perform. More tickets will be available from March 1.
Later in March,"The Magic Flute" from W. A. Mozart returns to the repertoire, directed by the Director of Commissionche Oper Berlin.
On March 28, the company will present a concert devoted to the life and work of the excellent Polish composer - Christopher Penderecki - "In Memoriam." It's been a year since Maestro Penderecki is not with us.
To learn more and purchase tickets, visit https://bit.ly/3qmkPXB.