Calarts Center For New Performance Residency And Festival At Teatr Studio, Warsaw Poland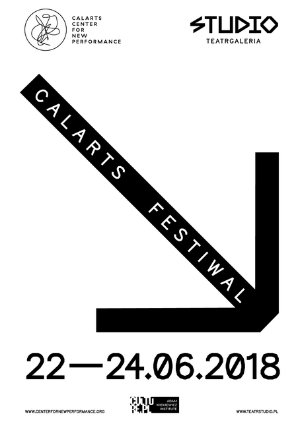 In June 2018, CalArts Center for New Performance (CNP) and Teatr Studio launch an interdisciplinary project combining theater, visual arts and contemporary music, implemented in collaboration by CNP and STUDIO artists. Under the curation of CNP Artistic Director Travis Preston, this developmental residency is a creative response to the tradition and space of STUDIO. The results of this cooperation will be presented on the STUDIO stages and at Plac Defilad during the mini CalArts Studio festival from June 22nd through June 24th, 2018. The project and festival were organized in cooperation with the Adam Mickiewicz Institute.
"This first step between Teatr Studio and CalArts Center for New Performance is natural," says CNP Artistic Director Travis Preston. "CalArts' experimental mission has real and direct connection to the interests of Teatr Studio and its new artistic director, Natalia Korczakowska. Seeking to activate the legacy of Józef Szajna, Natalia immediately recognized in CalArts Center for New Performance (CNP) a kindred spirit, a kind of California double. CNP artists coming to be in residence at Teatr Studio are all bringing works in progress. We hope that being in Warsaw can permeate and influence the work in ways that cannot be achieved in the familiar circumstances of our home." Travis Preston brings an all-star team of artists to Teatr Studio, made up of CalArts alumni, faculty, and current students. The artists include writer and performer
Marissa Chibas
, choreographer Jessica Emmanuel, filmmaker Janie Geiser, composer and sound artist Chris Kallmyer, filmmaker Lewis Klahr, performance artist Peter Mark, director
Zoe Moore
, writer and performer
Daniel Passer
, and video artist
Keith Skretch
. The mini-festival will present nine original works developed while in residence, four community engagement workshops, and three short films. The producing team is comprised of CNP Producing Director Megan E Carter and CNP Associate Producer
Sophie Blumberg
. The CalArts Festival will take place Friday, June 22nd through Sunday, June 24th. Tickets to performances, film screenings, and workshops are available through the Teatr Studio website here:
https://www.teatrstudio.pl/pl/aktualnosci/calarts-festiwal-22-2406
Teatr Studio is one of the premier experimental theaters in Poland, and is a place for inventive experiments conducted by artists representing various artistic domains. With reference to its avant-garde tradition and with
Stanislaw Ignacy Witkiewicz
as its spiritual father, STUDIO establishes a space for free speech where different disciplines of art intertwine: theater, visual art, music, film. In accordance with the thoughts of the Theory of Pure Form author, the invited artists have an opportunity to carry out aesthetic experiments. STUDIO does not establish a programme, but a PLACE where one can think differently than in the reality programmed by politicians and advertising agencies. STUDIO aims at changing this reality. The starting point will be questions concerning the future of artistic theater in Poland and Europe and, more precisely, how it can defend its position in current social, economic and political conditions. The Artistic Director, Natalia Korczakowska was a CNP artist in residence in the fall of 2017, and will return to CalArts with a team of Teatr Studio artists in October 2018. CalArts Center for New Performance is the professional producing arm of California Institute of the Arts, established to provide a unique artist-driven framework for the development and realization of original theater, music, dance, media and interdisciplinary projects. Extending the progressive work carried out at CalArts into a direct dialogue with professional communities at the local, national and international levels, CNP offers an alternative model to support emerging directions in the performing arts. It also enables CalArts students to work shoulder-to-shoulder with celebrated artists and acquire a level of experience that goes beyond their curriculum. Seminal artists from around the world are brought to CNP to develop work that expands the language, discourse, and boundaries of contemporary theater and performance. CNP fosters the future of live performance by infusing the work of such transformative artists with the talent, vitality and impulses of emerging artists in the CalArts community.
California Institute of the Arts
has set the pace for educating professional artists since 1970. Offering rigorous undergraduate and graduate degree programs through six schools-Art, Critical Studies, Dance, Film/Video, Music, and Theater-CalArts has championed creative excellence, critical reflection, and the development of new forms and expressions. As successive generations of faculty and alumni have helped shape the landscape of contemporary arts, the Institute first envisioned by
Walt Disney
encompasses a vibrant, eclectic community with global reach, inviting experimentation, independent inquiry, and active collaboration and exchange among artists, artistic disciplines and cultural traditions.