SECRET COMEDY OF WOMEN Opens Jan. 23 At Herberger Theater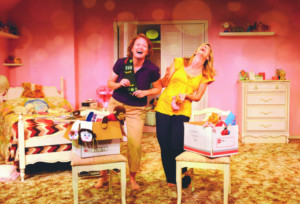 Gather your girlfriends ladies! The Secret Comedy of Women-Girls Only, an original comedy that celebrates the honor, truth, humor and silliness of being female, will be at the Herberger Theater Center from Jan. 23-Feb. 24.
Tickets are now on sale at the Herberger Theater Box Office or by calling (602) 256-6995. Tickets also can be purchased online at either www.herbergertheater.comor playhouseinfo.com/herbergertheater. Ticket prices are $54 to $62.
The Secret Comedy of Women, written and performed by Barbara Gehring and Linda Klein, has found quick popularity in its unique examination of all things girly.
Born out of the earnest and sweetly absurd writings the two authors discovered in their girlhood diaries, The Secret Comedy of Women's mix of sketch comedy, improvisation, audience participation and hilarious songs and videos reminds audiences of the very funny and very charming similarities all women share. "It's really like a girlhood reunion," says Klein.
"Our show is highly universal, made personal. It is for all ages of women," adds Gehring, who also said the show is perfect for group outings for "families, book clubs, social groups, professional organizations and work friends," among others.
The Secret Comedy of Women, lovingly intended for female audiences, actively engages its audience with its high spirited, good-natured style of humor. With reviewers calling The Secret Comedy of Women "an intelligent, astute mélange of scripted sketches and improv...truly brilliant." (Denver Post), it is no wonder that this "two hour celebration of bras, purses, showers, breastfeeding and menopause" (Pittsburgh Tribune) ran continuously for nearly two years at the Denver Centre for the Performing Arts and has played to nearly a quarter of a million women nationally.
Experience this truly brilliant and uplifting female comedy that explores the women's world with joy, heart and intelligent wit. Grab a show-specific specialty cocktail from the bar and laugh with the women in your life until you cry.
Performances are on Wednesdays at 2 p.m., Thursdays at 2 and 7 p.m., Fridays at 8 p.m., Saturdays at 2 and 8 p.m. and Sundays at 2 p.m.
Featured BroadwayWorld Events
Check out these concerts...

More Hot Stories For You