BWW Review: SEEING IS BELIEVING: WOMEN DIRECT ~ A Celebration of Women as Filmmakers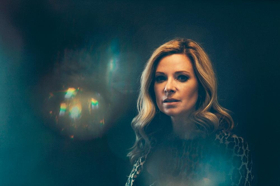 Competence, like beauty, is in the eye of the beholder, and for ages, the judgmental lens has been that of a patriarchal society which has limited opportunities for women to realize their potential in commerce, science, and the arts. The consequence is that society loses out and is deprived of insights and perspectives that would enrich us all.
Among the places where the glass ceiling incurs a high social and spiritual cost is the world of film-making. An especially important place because of how much we define ourselves, the relationships we embrace, and the world around us by what we see on the silver screen and TV sets.
Cady McClain's illuminating, absorbing, and intelligently crafted documentary, SEEING IS BELIEVING: WOMEN DIRECT focuses on this issue head-on. It is a powerful affirmation and celebration of women directors.
An Emmy® winning actress (All My Children, As the World Turns), director (The World of Albert Fuh), writer (Murdering My Youth) and musician (BlueGlitterFish), the prolific McClain has turned her sights on the power and glory of women filmmakers. The result is a proclamation that, yes, indeed, take notice, women do direct! And they direct with distinction!
McClain doesn't require a hammer to make her point. She is too astute for that.
Certainly, the statistics offer ample evidence. As Kimberly Peirce (Boys Don't Cry), one of the several witnesses in the film, notes, 4% of the people directing feature films are women; 7% of people directing TV are women. In a nation where over 50% of the population is women, her more than reasonable conclusion is that "these statistics reflect systemic impediments to opportunity."
Given the data and the inequities, the film could easily be a screed, but it isn't. Instead, McClain accentuates the positive and features women directors who are plying their craft, speaking truth to power, and fulfilling their artistic visions.
She has selected a rich and diverse group of women to speak their minds ~ Sarah Gavron (Suffragette, Brick Lane), Lesli Linka Glatter (Homeland, Mad Men), Li Lu (There Is A New World Somewhere), and Naima Ramos-Chapman (And Nothing Happened) ~ in the context of such chaptered segments as birth of the dream, trailblazers, mentorship, collaboration, and wisdom. We learn about their origins, who inspired them, how they transcended impediments, and what transferable lessons they have learned.
Their stories are captivating and instructive: Gavron, whose sense of possibility was triggered by the works of Jane Campion, Mira Nair, Claire Denis, and Sally Potter. Glatter, offering pearls of wisdom about the business of filmmaking and how to succeed with integrity and initiative, and reflecting on cinema's historic luminaries ~ Alice Guy-Blaché, the world's first woman film director at the turn of the 20th Century; Lois Weber ("as popular as D.W. Griffith in her day"); Dorothy Arzner; Ida Lupino; Agnieszka Holland. Lu, recalling the shock of an audience member's question as to why, as a Chinese-American woman, she had cast a white woman in her movie, There Is A New World Somewhere ~ as if she could not write outside of her own experience or, perhaps, that she might be whitewashing. And so it goes, the director's message is underscored further in interviews with a host of other filmmakers.
As more names of women directors are rattled off, it is clear that most of them are unfamiliar to the general public. To punctuate the point, McClain juxtaposes the commentaries with on-the-street interviews that ask folks if they can name women directors in film. Not surprisingly but sadly, they generally can't. When asked why, most acknowledge the absence of a level playing field. McClain's job is to tip the field into balance.
Early in the film, there's a clip of a 60 Minutes interview in 2010 with Jeremy Renner that captures some of the essence of McClain's documentary. Lesley Stahl comments on how many people have wondered how a woman, Kathryn Bigelow, could direct a movie (The Hurt Locker) filled with violence and machismo. His response is matter-of-fact and insightful: "It's through her eyes that she sees, not her mammaries or anything else that defines her as a woman."
SEEING IS BELIEVING, in the final analysis, is a revelatory documentary, a hope-filled and uplifting testament to a lineage of women who see, who believe, and who direct ~ and without whom filmmaking is an incomplete enterprise. McClain's optimism is cleverly reflected in Chilean artist Xaviera Lopez's magical animations that float throughout the film, evoking gardens of energy that, when cultivated and nurtured, burst forth into waves of creative flight.
SEEING IS BELIEVING: WOMEN DIRECT, winner of the Audience Award for Best Feature at the 2017 SOHO International Film Festival), is making its Arizona Premiere at the Sedona International Film Festival during the week of February 25th.
Credit for photo of Cady McClain to Courtney Lindberg