BWW Review: BEAU JEST - A Delightful And Fun Cooley-Directed Family Comedy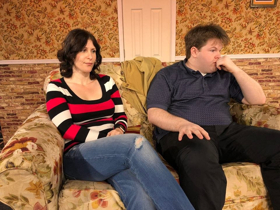 Lee Cooley, whose wry and quirky comic gestures have delighted local audiences and recently won him a coveted ariZoni nomination for his role as Elwood P. Dowd in Don Bluth Front Row Theatre's production of HARVEY, is now applying his keen sense of humor and stagecraft to calling the shots. For his directorial debut, Cooley is flipping audience lips into broad grins with a clever and well-paced production of James Sherman's BEAU JEST.
The jest in question involves a well-intentioned but counterproductive deceit. Sarah Goldman (Hillary Low) rents a beau, Bob Schroeder (Jared Kitch), from the Heaven Sent Escort Agency. His gig is to pose as a faux boy friend that her parents, Miriam (Patty Stephens) and Abe (Jim Coates), will find acceptable ~ that is to say, Jewish. The irony is that she has displaced her erstwhile Gentile and amiable steady, Chris Cringle (Eric Bond) with, notwithstanding his Jewish-sounding name, another non-Jew. Schroeder is nevertheless convincing, for a while, appropriately solicitous, and conveniently drawing cover from his quiver of theatrical roles (delivering, for example, a flawless and surprise recitation of a blessing over wine, because he had a role in Fiddler.) The ruse doesn't seem to fool brother Joel (Robert Jahanfar) whose suspicions are eventually confirmed.
In a series of family encounters, including a riotous version of a Passover Seder, Sarah's plan unfolds ~ but I mean, really unfolds. Unwraps. With amusing, unexpected, and poignant consequences. (No spoilers here!)
BEAU JEST is not just a farce about a dysfunctional family. Actually, they're not really dysfunctional ~ merely clumsy in their respective efforts to protect one another from inconvenient truths. Sherman has written a light-hearted allegory about honesty, trust, and loyalty ~ with lots of laughs.
Cooley succeeds, where lesser hands would have erred and accentuated ethnic stereotyping, in weaving a fine and sophisticated balance between character and caricature.
And, aided and abetted by a well-seasoned cast, the show sparkles with humor.
Hillary Low is poised and elegant as the daughter trying against all odds to keep her ploy afloat. Eric Bond plays the poor foil with just-right boyish vulnerability. Jared Kitch doesn't miss a beat as the suave and seemingly worldly-wise poseur. Robert Jahanfar is a steady presence as the audience's ally, a therapist whose seen enough alibis to know that something's amiss. Patty Stephens is delicious as the overbearing and caring mother, and Jim Coates is perfect as the cantankerous papa. The two together, Stephens and Coates, harping and kvetching at each other, are a marvelous act unto themselves.
It's a fun and highly entertaining comedy...with a strong heartbeat. A fine outing for Cooley and Gang!
BEAU JEST runs through September 29th at Don Bluth Front Row Theatre in Scottsdale.
Photo credit to Lavalle Lee

Related Articles View More Phoenix

Stories

Shows