BWW Review: ASU Lyric Opera Presents THE BARTERED BRIDE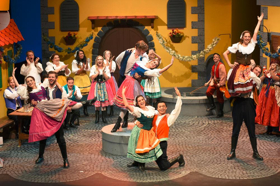 Just before the curtain rises on the set of a mid-19th Century bucolic Bohemian village, Brian DeMaris's superb student orchestra leaps into the festive and celebratory overture to Bed?ich Smetana 's THE BARTERED BRIDE. The tempo sets the tone for ASU Lyric Opera's extraordinary and exuberant performance of a comic opera that, although not often performed, occupies a space in music history as a sort of Czech national anthem.
If Smetana meant to depict the character of a people, if not to romanticize their eccentricities and humanity, THE BARTERED BRIDE is an exemplary piece of nationalist work, interwoven with moments that range from bittersweet to slapstick and back to unassailable romance.
ASU Lyric Opera is fulfilling Smetana's vision in a production that is resplendent with vocal excellence, spirited choreography (by the terrific Molly LaJoie), and the vibrant colors of Alfredo Escarcega's set and Sharon Jones's costumes. Director Dale Dreyfoos has pulled together a remarkable team of talents and added dashes of wit and nuance to spice up both the characters and moments of this funfest.
The opening chorus (by an ensemble whose energy never flags) hints at the challenge to come. Spring has sprung, cheer is in the air, love's potential is aflower ~ but there's a story of a different shade hovering in the wings.
Marie (Emily Botts) and Jenik (Justin Carpenter) are star-crossed lovers whose betrothal is thwarted by the intervention of Kecal, a wily jack-of-all trades marriage broker (Elliot Wulff) who has arrived in town to consummate a contract made years before by Marie's father, Krušina (Nathan Haltiwanger). The deal is that, in exchange for a hard-times bailout, Marie was promised to the son of the wealthy rescuer, landowner Micha (Codyray Caho). Of Micha's two sons, only one (apparently) has survived ~ the stammering and unsteady Vašek (Eric Flyte).
To tell more would be to steal the show's awaiting thunder and enlightening and to reveal the coming of the totally unhinged ding-a-ling circus, replete with a sword swallower, belly dancers, tightrope walker, the suggestively named King Kaakaapuupuu, and a procession of other quirky acts.
Emily Botts is radiant and poised as Marie, a star equipped with a stellar soprano voice. Justin Carpenter matches her note for note and portrays her committed lover with equal doses of confidence and authenticity. Eric Flyte is fabulous as Vašek, the fiancé-apparent, playing the foil but, thankfully, never allowing his stammers or stumbles to trivialize his character. Elliott Wulff brings a marvelous comic sensibility to his role as the self-inflated dealmaker. Each of these performers and their fellow players draw you into their roles for what is in the end an entirely glorious experience. It is three hours (including a brief break) of suspension in time for the sake of stage magic, performed by an array of highly gifted young talents.
THE BARTERED BRIDE runs through October 1st at ASU's Evelyn Smith Music Theatre.
Photo credit to Tim Trumble
Herb Paine is President of Paine Consulting Services, now in its thirtieth year of operation, specializing in organizational development, strategic planning, turnaround management, mergers, and (read more about this author...)