RWM Places Its Bet on Family-Friendly Musical CHITTY CHITTY BANG BANG
Manila, Philippines--If timing is everything, wisdom is the impulse to tighten the cue or the restraint to yield the appropriate pause. It's one of the hallmarks of a seasoned thespian.
A similar virtue is indispensable in crafting a theater season that suits the character of the producing company and the community it serves. To a degree, it pays to act quickly when the rights to a desirable show become available; a rogue producer, on the other hand, might well go the extra mile and buck the trend--presuming said producer renders the art of the shrewd pause.
The creative team at Resorts World Manila (RWM), in cooperation with Ultimate Shows Inc., is attuned to something along that vein. While they're about to produce a foreign musical that hardly sparks kinship to local sensibilities beyond the routine song-and-dance merriment, production leaders are banking on their collective acumen to ensure a complete and indelible event. Chalk it up to their combined years of experience in the entertainment industry; they've seen it all.
Having deferred their upcoming show in favor of a few conventional crowd pleasers ("Annie" being most recent), Resorts World is now primed and ready for the reveal: "Chitty Chitty Bang Bang" will open on October 21 at the famed Newport Performing Arts Theatre.
So what's the formula for sustainable viewership? Director Jaime del Mundo is the first to admit it's no secret at all. Though he's mindful of the perceived cultural disconnect, he may convince you the show isn't all that foreign by the time a common theme is broken down: Filipinos love a good, old-fashioned musical with wholesome family values. And "Chitty" is one spectacular family musical, the sort of perky, magical fantasy spun from a familiar fabric that made "Mary Poppins" a household classic. Resorts World is going all out to assure the public this ambitious project is made for the Filipino family and is not one to be missed.
Modern Filipino audiences may balk at the premise of a strange British yarn about a flying car, truant siblings, and an eccentric inventor for a father. Artistic director Menchu Lauchengco-Yulo understands the initial concern about the show's mere lack of recognition but is quick to qualify the potential for educating a new and wider demographic while creating some serious fun in the process.
"'Chitty Chitty Bang Bang' was always on the list, but it's a little risky because of the car. So we've always put that on the backburner," she affirms. "And this year, based on our experience when we did 'Annie' (it was wonderful because a lot of our audiences were kids), we keep saying this is the future of theater, so we need to educate kids."
Lauchengco-Yulo has clearly tapped an authentic reserve that may hold the key to sustaining her vision and brand of theater at Resorts World. There's undeniable passion in her voice.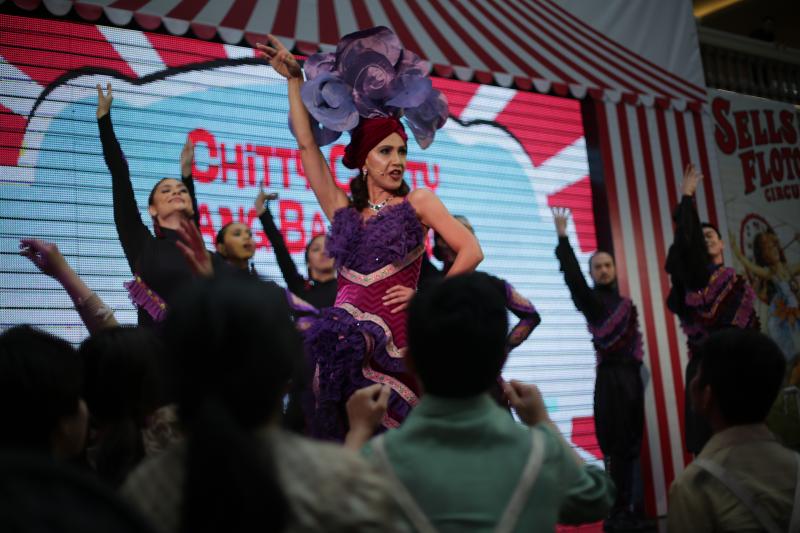 "And what is gonna get them in here, what is gonna get families in here, what is gonna get that kind of crowd? A show that always has good values, where kids can walk away knowing they've learned something. And so we decided--OK, let's do 'Chitty.' I know it's a tall order, but let's get the challenge going."
Topping that tall order is the cumbersome requirement of the aforementioned flying car. It's arguably musical theater's most daunting and most expensive prop. Ian Fleming's children's novel of the same title became a popular movie in 1968. It was a hit largely due to the magical nature of the car -- neatly named "Chitty Chitty Bang Bang" from the onomatopoeic sound it makes.
"Our rights won't allow us to copy the movie car--or anything that resembles the movie car. So we have to create our own. If you've seen our poster, that's the design. It was approved. The script is presented as is; the interpretation is completely different. The costume designs are different. You are not allowed to copy anything remotely close to that production."
Asked whether the company is equipped with the required mechanism for a flying car, Lauchengco-Yulo pauses briefly and says, "we do, but I won't say how," flashing an impish grin that suggests a great ride will be had by all.
The casting challenge has been met as the company secured the commitment of a talented all-Filipino cast, headlined by Gian Magdangal as inventor Caractacus Potts and Yanah Laurel as love interest Truly Scrumptious. 12-year-old Noel Comia, Jr. alternates with 11-year-old Albert SIlos for the role of Jeremy Potts. Isabel Araneta-Elizalde assumes the role of Jemima Potts, Mako Alonso as Boris, Red Atadero as Goran, James Paollolei as Grandpa Potts, Menchu Lauchengco-Yulo as the Baroness, Raymund Concepcion as Baron Bomburst, Michael Williams as the Toymaker, and Lorenz Martinez as the Childcatcher. A large and skilled ensemble of singers, dancers, and child actors will stay busy on one of the biggest stages anywhere.
If we are to judge from past productions at Resorts World, the proven musical score of Richard and Robert Sherman will be more than adequately represented by the Manila Philharmonic Orchestra, conducted by the ever-reliable Rodel Colmenar.
"Chitty Chitty Bang Bang" had its stage premiere at the London Palladium in 2002, with a subsequent 3 ½ year-run, becoming its longest running show. A UK tour ran from 2005 through 2008. It also ran on Broadway, at the Capitol Theater in Sydney, the State Theater in Munich, and the Esplanade Theatres on the Bay in Singapore. If the generous press launch (August 17) was any indication, Resorts World should be proud to hold the Manila premiere of "Chitty Chitty Bang Bang."
This is a good chance to witness a world-class premiere of a bold and extravagant family musical and it behooves theater fans to mark their calendars. Adds Lauchengco-Yulo:
"I hope people come. I know that a lot of people don't know 'Chitty' because it's our generation... I grew up with the movie, but a lot of these people don't know the movie. People my age know the movie. So we're hoping to bring the musical to a new generation. It's really educating a new generation of theatergoers. When you think about it, every musical was once a new musical, and then it becomes a classic. It's easier to do a musical everybody will know, but it's more challenging to do musicals that people don't know. So they come in with no expectations, and they leave loving it."
For tickets, visit www.RWManila.com or call (632) 908-8833. Also, check out TicketWorld.com.ph.
Photos: Resorts World Manila
| | | |
| --- | --- | --- |
| | Donations | Arts Orgs |
Related Articles View More Philippines

Stories

Shows
Born and raised in Cebu, Philippines, Robert Encila is a professional singer, actor, and certified teacher. An alumnus of the University of Arizona, he taught (read more...)