Latest News on Jaime del Mundo
Jaime del Mundo News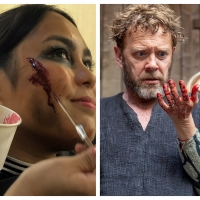 UK's Shakespeare Rose Theatre Holds First Boot Camp in PH; MACBETH, A MIDSUMMER NIGHT'S DREAM Play for One Week, Sept. 17-22
by Carla Delgado - Aug 21, 2019
Shakespeare Rose Theatre, produced by Lunchbox Theatrical Productions, recently held its first-ever Shakespeare boot camp at the Theatre at Solaire. This award-winning company from the United Kingdom (UK) makes its international debut in Manila by bringing two classic Shakespeare plays, 'Macbetha' and 'A Midsummer Night's Dream' to the Filipino audience for a week, from September 17 to 22, 2019.

Audie Gemora, Teroy Guzman Star in THE DRESSER, May 3-26
by Oliver Oliveros - Apr 14, 2019
Repertory Philippines (REP) presents the 1981 Broadway play 'The Dresser,' written by Ronald Harwood, at the Onstage Theatre in Makati City from May 3 to 26, 2019. Directed by Loy Arcenas, his REP debut, 'The Dresser' stars theater veterans Audie Gemora and Teroy Guzman.

BWW Review: CHITTY CHITTY BANG BANG Dazzles and Charms!
by Jude Buot - Nov 2, 2017
Do not let your unfamiliarity with the 1968 movie stop you from watching Resorts World Manila's newest production, Ian Flemming's Chitty Chitty Bang Bang. In fact, in this case, having very limited knowledge prior to watching the show (we are, of course, aware of the flying car since it is being used in the show's promotional advertisements) made the experience more thrilling and enjoyable. Thus, in this review, we shall afford you with the same courtesy and not give too many details about the story. If you happen to know the movie, trust us, this production can still dazzle you with enough charm, making it a satisfying time at the theatre.

RWM Places Its Bet on Family-Friendly Musical CHITTY CHITTY BANG BANG
by Robert Encila - Aug 28, 2017
If timing is everything, wisdom is the impulse to tighten the cue or the restraint to yield the appropriate pause. It's one of the hallmarks of a seasoned thespian.
REP Features Veterans, Young Talents at 50th-Anniversary Gala Celebration, 6/11
by Oliver Oliveros - Jun 5, 2017
One of the country's premier theater companies Repertory Philippines (REP) is counting down the days for its grand 50th-anniversary gala concert, titled 'REP's 50 Years of Telling Stories,' at The Theatre at Solaire, Solaire Resorts and Casino in Para√Īaque City, on Sunday, June 11, 2017, at 8 p.m.
Photo Coverage: Resorts World Manila's PRISCILLA Takes Opening Night Bows
by Jory Rivera - May 11, 2014
Stephan Elliott and Allan Scott's PRISCILLA , QUEEN OF THE DESERT, based on the 1994 sleeper hit 'The Adventures of Priscilla, Queen of the Desert,' is Resorts World Manila's (RWM) fifth theatrical production right on the heels of Rodgers and Hammerstein's 'Cinderella.' The production, helmed by Jaime del Mundo ('The Producers'), opened Friday, May 9, at Newport Performing Arts Theatre.
Resorts World Manila Takes a Detour from Family Musicals
by Jude Cartalaba - Apr 11, 2014
Resorts World Manila (RWM) begins its live shows for the summer this month, and will premiere the Broadway musical PRISCILLA, QUEEN OF THE DESERT, on Friday, May 9, at Newport Performing Arts Theatre (NPAT).
Photo Coverage: PRISCILLA Meets the Press; Show Opens 5/9
by Jory Rivera - Apr 4, 2014
The main cast of the Philippine premiere of Sydney-London's West End-Broadway musical PRISCILLA, QUEEN OF THE DESERT: Leo Tavarro Valdez (Tick/Mitzi), Jon Santos (Bernadette), Red Concepcion (Adam, Felicia), Michael Williams (Miss Understanding), Bituin Escalante (Diva), Lani Ligot (Diva), Timmy Canlas (Diva), and Menchu Lauchengco-Yulo (Marion), donned for the first time their '80s retro costumes, mainly designed by Edgar San Diego, before the members of the press Thursday, April 3, at Taps, Genting Club, Maxims Hotel.