BWW Review: REP Scores a Stunning Winner With IN THE NEXT ROOM, OR THE VIBRATOR PLAY
Manila, Philippines--Sara Ruhl is arguably the most inventive young playwright to emerge in recent years. Exploiting a genre that thrives on the fringes, she graces the mainstream with narratives that fuse realism and sundry whimsical elements. She has a shrewd sense of humor to boot, demonstrated in her 2009 Broadway hit and Pulitzer Prize nominee for Drama: In the Next Room, or the Vibrator Play, now playing to titillating cheers at Repertory Philippines (REP).
The play is set in a resort town of New York in the 1880s when electricity has begun to illuminate the American home and Thomas Edison is the celebrity of note. Technology is a fundamental theme--and the electric vibrator a central character--as Ruhl's stimulating comedy unearths a tale of sexual repression, gender inequality, and loneliness.
If you're inclined to make a Freudian assumption, it's worth noting that psychoanalysis fails the rubric for Ruhl's inspired work. She contends that her plays navigate a "non-linear psychology"..."a more medieval sensibility of the humor, melancholia, black bile, and transformation." If Ruhl's psychology should summon a thinker of relevance, we might invoke Jung or Brecht, inasmuch as mythic principles and eccentric characters have combined to create a malleable playground, namely the performance space.
By necessity, Ruhl drifts slightly away from that blueprint here. The script requires, among other things, the use of the customary proscenium (but wait for her vintage surprise in the final scene). In the Next Room is Ruhl's most realistic play to date, and it wastes no time in revealing the titular scenery the moment you walk in. Mio Infante's handsome Victorian interior is divided into two separate units: the family parlor, which doubles as a waiting room for Dr. Givings' patients; and the "operating theater," where gynecology is practiced and emotional malaise relieved thanks to Dr. Givings' expert use of the vibrator, a quaint apparatus he deploys to treat women suffering from "hysteria."
Director Chris Millado scores a winner by conveying a wicked yet non-judgmental depiction of Ruhl's reflections on the sexual awakening of a straitlaced upper class. The staging is appropriately stiff-necked and stuffy, informed by a corseted culture where decorum ruled--where sex was a perfunctory act in the missionary position (and the least desirable topic for discussion outside the bedroom). The production is an apt exhibit of Victorian propriety.
Yet there's no shortage of excitement in the private workspace of Dr. Givings (Joshua Spafford). Here, he attends to patients, mostly women, in dire anguish and whose initial visit amounts to the last resort for coping with inexplicable emotions. Evidently, the doctor knows best and Ruhl's accuracy on the treatment method comes not without assiduous research. The play is based on historical fact, inspired by Rachel Maines' book The Technology of Orgasm: Hysteria, the Vibrator, and Women's Sexual Satisfaction.
The opening scene finds Mrs. Daldry (the exquisite Caisa Borromeo) in a nervous fit, citing ailments that include uncontrollable tears and acute sensitivity to light and various stimuli. (We soon infer the affliction to be a symptom of her dysfunctional relationship with her husband.) Oblivious to a woman's emotional complexity, Dr. Givings assures Mrs. Daldry that she's exhibiting a sure case of hysteria caused by "congestion" in the womb: "If we can release some of that congestion and invite the juices downwards, your health will be restored."
Reluctantly, Mrs. Daldry agrees to the procedure. Her attendant moans begin to astonish even herself, and her eventual release--called a "paroxysm" (then the scientific label for the big O)--is loud enough to draw the curiosity of Dr. Givings' delightfully rattlebrained wife, Catherine (Giannina Ocampo), who is nursing her baby in the parlor. As Mrs. Daldry leaves the doctor's office, color has returned to her cheeks and she sports the gait of a woman whose balance has been restored. She feels "wonderful" and sees no problem with the doctor's order to return for regular treatments.
An impish extrovert, Catherine Givings is prone to talking (incessantly) before she thinks. But it's easy to empathize with her verbal outbursts because it's her only way of coping with stress. We discover that she's unwittingly distraught from her own feelings of inadequacy: she is completely left out of her husband's work in the next room; she desires an intimate relationship with a partner who is incapable of reciprocating from the neck down; most urgently, she can't produce enough milk to nurse her daughter, forcing her to employ a wet nurse in her stead.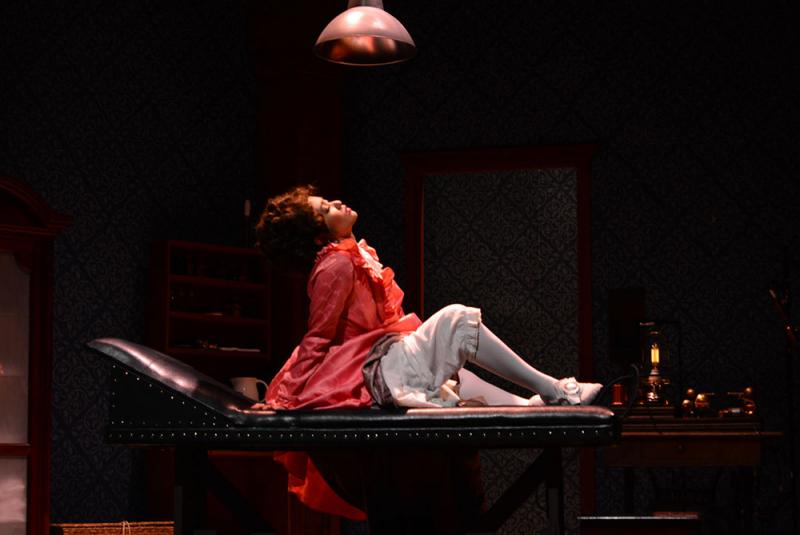 Catherine pleads with her husband to allow her to receive the treatment that clearly helps his patients. Believing his wife to be normal and "without a hint of neurosis," Dr. Givings refuses to oblige and admonishes his wife instead to carry on with her maternal duty and engage her newly arrived wet nurse, Elizabeth (Cara Barredo), to ensure proper nourishment of their baby.
While her husband is out of the house, Catherine unlocks the door to his office with Mrs. Daldry's hatpin. And in a superb conclusion to the first act, the two women undertake a self-administered therapy session with childlike abandon. It seems that even without Dr. Givings' supervision, the treatment is no less pleasurable. Eureka!
The second act attempts to extract Catherine's inner strife by introducing a character foil in Leo Irving (Jef Flores), a flamboyant artist who suffers from a rare case of male hysteria. After one treatment, he is given to superlatives and waxes poetic on the true nature of love. He is the opposite of the stoic Dr. Givings, a proud man of science, whose sensual ignorance becomes more obvious with Leo's growing influence on Catherine, who has grown fond of the artist. Indeed she fancies him, but only because she's projecting what she has always imagined possible with her husband.
The play has received its share of mixed reviews, particularly where the second act wanders into a protracted arc involving characters who seemingly digress in tangents: Catherine falls for Leo, but Leo is in love with Elizabeth, who is repelled by the very notion of offending her own husband. As a black woman, she is an unlikely source of wisdom in a world run by her white superiors. (At one point, asked whether or not she has ever experienced the symptoms associated with the chemical release induced by the electric vibrator, Elizabeth likens the notion to the kind of feeling a woman should naturally gain from intimate moments with her husband, a suggestion that stuns both Catherine and Sabrina.)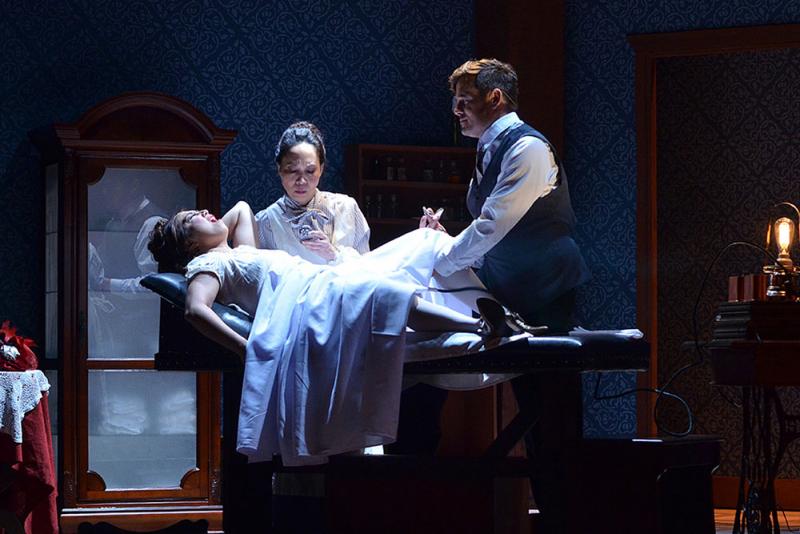 Then there's Dr. Givings' laconic assistant, Annie (Tami Monsod), who expends little energy beyond her daily call of medical duty. When she hears Mrs. Daldry playing the piano in the parlor, she becomes enamored and proceeds to listen by her side--and at the conclusion of the song spontaneously kisses Mrs. Daldry on the lips. Mrs. Daldry is overwhelmed, frightened perhaps by the feeling the kiss has generated. She leaves the room visibly upset, but not before we've discerned an interesting subtext between her and Annie. Ruhl makes a compelling hint at a non-heteronormative potential, but in the interest of time, she leaves us guessing.
The upshot of this unusual hubbub is the eventual breakdown of Dr. Givings' idea of marriage and sexuality. Pangs of jealousy have triggered a rare outburst and force him to expire Leo's treatments, thereby facing the uncomfortable proposition of attending to his wife's suddenly sensible appeal for love and intimacy. Until now, he has never looked at a woman as an erotic being capable of pleasure; in fact, he never saw himself as a man capable of shedding his Victorian masculinity.
Catherine's spiritual transformation is reminiscent of Ibsen's Nora, whose long-subordinate existence gave way to a conscious freedom unthinkable for a woman of that era. Undeterred by society's conventions, Catherine attunes to her inner calling and acquits herself of a token existence. But unlike Nora's choice to leave her husband, Catherine doubles down on her commitment by coaxing her husband to participate in a mutual unmasking of their superficial lives.
What ensues is a thing of theatrical beauty. The Victorian set dissolves into the theater's fly space, revealing a snow-covered "garden" upstage, where a delicate special lighting caresses the couple and poetry proceeds to co-opt the evening. We find Catherine, the liberated one, undressing her husband and making tender love to him (this time she is on top), light fading ever so slowly as he gently waves his arms to create a snow angel.
Bizarre, for certain, and some may call it playwriting overreach. I prefer to think of it as creative outreach-back to Ruhl's preferred realm of myths and archetypes, disclosing a truth occasionally shortchanged by realism.
Millado's cast is to be commended for its faithful rendering of Ruhl's unique storytelling. Joshua Spafford is brilliant as Dr. Givings. While indomitably detached, he is also kind and deliberate in his dual role as husband and doctor. He unveils a splendid vulnerability in his final scene with Catherine, so in that naked moment when he says, "I'm embarrassed," he melts the audience with searing honesty.
Giannina Ocampo gives Catherine Givings a tough interior beneath her wistful pleas for authentic connection. Caisa Borromeo as Sabrina Daldry roars with scintillating energy and a physical presence impossible to upstage in any production. Conversely, Hans Eckstein is quietly compelling as Mr. Daldry, no doubt domineering without having to flaunt it.
Equally strong is Cara Barredo as Elizabeth. Having seen her as the vibrant Aljana in A Little Princess, we do think she exhibits an impressive range in portraying the grieving wet nurse. As someone with the fewest lines, Tami Monsod is the underrated figure in a play of verbose leads. But make no mistake about it: she wields much attention with her proud physicality and impresses with a vocal certainty rooted in intention.
Last and certainly not least, Jef Flores brings a soulful and dynamic performance of the quintessential artist, Leo Irving. He's highly amusing--not quite over the top, but appropriately animated. He moves like the fluid artist Leo is, and he speaks as though his environment were a canvas on which to paint elegant prose.
Not to be patronizing, but these actors possess a remarkable facility for the English language. If I should indicate an ironic flaw in a near-perfect vocal variety, it's what is not being said that misses the mark. Pauses are meaningful when judiciously employed and can make the difference in enhancing beat changes. But one too many of those and dialogue begins to slog rather than a surge in momentuM. Granted, Victorian sensibilities might preclude one from getting ahead of oneself; but see, it's still a comedy of manners and rhythm is an ally that cannot afford to be compromised.
That said, heed the tantalizing news and get thee to REP. You'll affirm that all this talk of repressed sexuality is really about something divinely inspired.Ruhl has fashioned a play certain to relieve everyone's stress. Like Dr. Givings' patients after a cathartic therapy session, you will leave the theatre aglow, feeling more intimately connected than when you first arrived.
In the Next Room, or the Vibrator Play runs at Onstage Theater at Greenbelt 1 in Makati City until Sunday, April 23. For tickets, call TicketWorld at (632) 891 9999 or visit TicketWorld.com.ph.

Related Articles View More Philippines

Stories

Shows
Born and raised in Cebu, Philippines, Robert Encila is a professional singer, actor, and certified teacher. An alumnus of the University of Arizona, he taught (read more...)