BWW Review: A CHRISTMAS CAROL Succeeds in Finding The Heart of The Show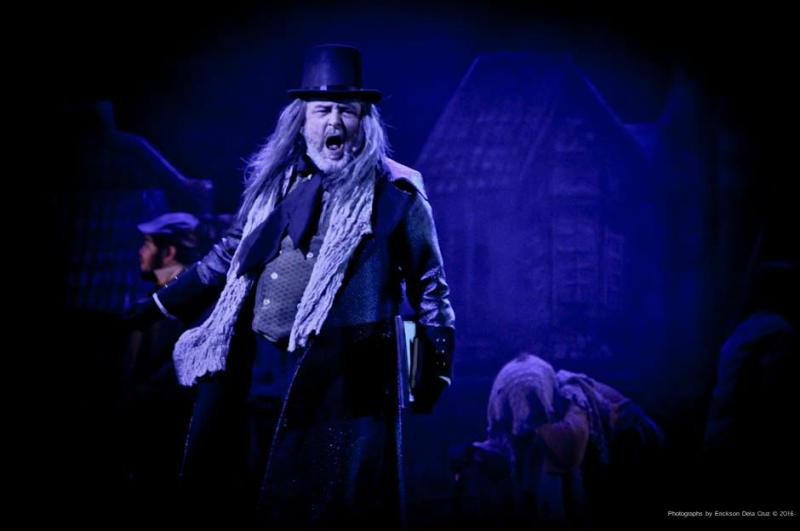 Manila, Philippines--Almost everyone loves Christmas. Almost, since there is The Grinch and an old fellow named Ebenezer Scrooge. The latter is the main character in Charles Dickens' novel titled "A Christmas Carol." His story is quite popular, not just among literature fans, because it served as an inspiration for some TV shows, movies, and, of course, musicals. Scrooge is the grumpy, greedy old man who had a change of heart during Christmas day, after being visited by three Ghosts of Christmas.
For their second team-up (the first time was American Idiot), 9 Works Theatrical and Globe Live present "A Christmas Carol: The Musical," with a book by Mike Ockrent, music by Alan Menken (Little Mermaid, Beauty and the Beast, Aladdin), and lyrics by Lynn Ahrens (Once on This Island, Anastasia). Staged at the amphitheater in Taguig City, this production boasts a cast of more than 30 actors, beautiful and elegant costumes, and a grand finale that will surely make kids and kids-at-heart smile.
This version also features a lot of big production numbers that utilizes its cast very well. You have to hand it to Director Robbie Guevara for rising up to this enormous challenge. His ideas are simple and straightforward, which make sense especially this musical is expected to attract a lot of very young audiences. What some may find quite challenging, though, especially for those not familiar with Dickens' novel, is the assortment of characters in this play; all the more when a change of scenery is oftentimes unrecognizable and most actors who play small featured roles in one scene become part of the ensemble in the next.
Two of the most important featured roles in this story are that of Bob Cratchit (Raul Montesa) and his son, Tiny Tim (Rocco Buser). The contrast of Scrooge's well-off but lonely life and the Cratchit's poor but happy family is something this show has to highlight even more. Perhaps it's a stage blocking issue because the very first time the Cratchit family appears onstage, they were almost unnoticed as they were placed in the far right section of the stage. Among all characters played by kids, Tiny Tim is usually the one that gets the attention and sympathy of the audience. We feel that Buser, albeit charming and armed with an angelic voice, could use more guidance to finally arrive at a touching moment on stage.
A big chunk of the narrative is allocated to Scrooge's (Miguel Faustmann) different visions through the visit of the three Ghosts of Christmas. The Ghost of Christmas Past (Norby David) opens the door to Scrooge's difficult childhood that led him to be the hardworking but scornful banker that he is. Ockrent's book of this musical is rich with poignant scenes such as young Scrooge's (Tory Cortez) relationship with his sister Fan (Ornella Buser), his business partnership with Jacob Marley (Ariel Reonal), and the hurtful departure of his fiancé, Emily (Mitzie Lao). Instead of laying out all these scenes sequentially at the center of the stage, while Faustmann and David explored all corners of Mio Infante's (unnecessarily) huge stage, it would have been more engaging if such scenes were assigned to different areas of the stage and allowed the lighting designers to work their magic. Even Menken and Ahrens's romantic ballad "A Place Called Home" sung by Al Gatmaitan (young Ebenezer Scrooge), Lao, and Faustmann did not send us chills. Another particular scene that falls short of its mission is Fezziwig's Annual Christmas Ball (beautiful costumes by the way). This part of the show reveals most of this show's weaknesses: less-trained dancers, unpolished harmonies, microphones that occasionally falter, and a big stage that the cast has to put up with.
The show finally gets better when Act 2 opens with the visit of The Ghost of Christmas Present (Franz Imperial, who steals the show with his powerful voice). It's at this moment when Scrooge begins to come to terms with his heartless persona but, before he even gets a chance to find a way to remedy the situation, The Ghost of Christmas Yet To Be (Ela Lisondra) pays him a visit. This is probably the most successful part of the show, where choreography (PJ Rebullida and Yek Barlongay), sound effects (Guevara), lights (Martin Esteva), and costumes (Infante and Ian Cartalaba) all come together to create a stirring depiction of Scrooge's fate. The intention to make this part of the show as visually scary as possible proves to be a step in the right direction because this actually validates Scrooge's realization and sudden change of heart.
Scrooge's character is one that requires so much stamina from whoever gets to play it, and we could not be more pleased that the role fell into the hands again of Faustmann (he previously played the same role in a different version of this musical). His unwavering talent as an actor is certainly put to good use in this show, and he is one of the main reasons why this production ends up intact and focused.
9 Works and Globe Live's collaboration is definitely better the second time around. Despite its many technical glitches (which I hope they have fixed by now), it succeeds in finding the heart of the show--that the true treasures in life are the relationships you have with your family and friends. In light of the country's current events, the staging of this musical, along with its valuable lessons, could not have come at a better time.
Presented by Mastercard and Huawei, "A Christmas Carol" closes on Christmas Day, December 25, at 7 p.m. at the Globe Iconic Bonifacio Highstreet Amphitheatre.
For tickets, call (632) 586 7105 or (63917) 554 5560, or visit TicketWorld.com.ph.
Photos: Erickson Dela Cruz
Featured This Week on Stage Door
Shoutouts, Classes, and More from Your Favorite Broadway Stars