Jude Buot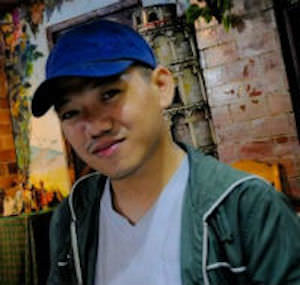 MOST POPULAR ARTICLES
LAST 30 DAYS
LAST 365 DAYS
BWW Review: UNDER MY SKIN is Armed With Substantial Information About HIV

February 18, 2020

The Philippine Theater Educational Association's (PETA) 52nd season-ender is unlike the more popular stage plays (e.g., The Normal Heart or Angels in America), which also talk about HIV and AIDS. Categorized by its creators as a a?oedrama anthology,a?? Under My Skin is a one-act play that weaves through several stories based on the experiences of real-life Filipino individuals living with HIV. At the onset, the main agenda of the play is to educate its audience with correct and updated information about HIV and AIDS in the Philippines.
---
BWW Review: Sondheim's Emotionally Engaging PASSION Plays RCBC Theatre

September 21, 2019

Passion keeps us thoroughly invested as the show's characters profess their passion and obsession towards love and being loved in return.
---
BWW Review: What Do You Get From Upstart Productions' COMPANY?

September 18, 2019

Right after the opening night of Upstart Productions' staging of George Furth and Stephen Sondheim's beloved musical comedy Company, we found ourselves asking a similar question with what the central character, Bobby, has been trying to answer: 'What do you get?'
---
BWW Review: DANCING LESSONS Enlivens Discourse on Mental Health

August 18, 2019

The most striking observation about Mark St. Germain's two-character play a?oeDancing Lessonsa?? is that its main characters spend more time palavering and less time learning how to dance. The story revolves around a socially awkward young science professor who, one day, hires a professional dancer to be his dancing coach. The guy, Ever Montgomery (Randy Villarama), is scheduled to attend a prestigious award ceremony, which may require him to socialize among guests and peers and, worse, dance with someone in public. You see, for most people, this situation hardly poses a dilemma, but with someone diagnosed with Asperger's Syndrome like Ever, this is too daunting a task to be taken just sitting down.
---
BWW Review: DANI GIRL's Best Feature Lies In Its Childlike Heart

August 16, 2019

'She's perfect!' That was our immediate reaction after seeing The Sandbox Collective and 9 Works Theatrical's restaging of a?oeDani Girla?? at the Carlos P. Romulo Auditorium at RCBC Plaza in Makati. We are, of course, alluding to Felicity Kyle Napuli, who is gifted with such a pristine singing voice and, at such a young age, exhibits incredible acting maturity. With this remarkable performance (she was last seen as young Nala in the first international tour of Disney's a?oeThe Lion Kinga?? and as one of the lead actors in a?oeMatilda The Musicala??), Napuli is undoubtedly the child actor to watch for in the Manila theater scene.
---
BWW Review: BEAUTIFUL Lets the Audience Bask In the Fascinating Music of the '50s-'70s

June 26, 2019

To manage everyone's expectations, 'Beautiful: The Carole King Musical' is not entirely about the life and music of the Grammy-winning singer-songwriter. Although Carole King's emergence into the popular music scene is what the audiences will follow from start to end, we feel that this show has more to offer than just a summarization of King's life and musicography. This is not to accuse that the show's title is misleading ('Beautiful' is a song from her Grammy-winning album 'Tapestry'). In fact, the other elements present in the show sufficiently give this production a rightful claim to that adjective in its title.
---
BWW Review: Gerald Santos Comes Full Circle in Homecoming Concert

May 8, 2019

Back in Manila from his two-year stint as Thuy in the UK/Ireland and International tour of 'Miss Saigon,' Gerald Santos is now a certified crossover artist. In his homecoming concert last Saturday, May 4, at the Theatre at Solaire, Santos filled his repertoire with songs from musical theater and from movie musicals that have also crossed over to the pop charts.
---
BWW Review: REP Actors Deliver Fine Performances in FATHER'S DAY; Show Runs Now Thru Apr. 14

April 4, 2019

Theater veteran Miguel Faustmann has been typecast as the go-to actor for old-man roles with an I-do-not-care-what-you-think type of attitude that eventually mellows down right before the end of the play. After taking on the role of Ebenezer Scrooge several times in a span of five years, playing Henry Willows in Repertory Philippines' (REP) latest offering, 'Father's Day,' is the recent addition to his resume.
---
BWW Review: ANG HULING EL BIMBO Version 2.0

March 18, 2019

A prominent theater critic in New York once said in an interview that no producer has gone bankrupt betting on sentimentality. This statement is proven true here in Manila very recently with 'Ang Huling El Bimbo' being restaged, barely six months after it closed its sold-out initial run. The show's main selling point: a throwback to some of the radio hits of the Eraserheads, one of the most celebrated Filpino alternative rock bands in the '90s.
---
BWW Review: NIA AND ANWAR Takes Your Average Theme Park Experience to a Whole New Level

December 20, 2018

With elaborate props and costumes, crowd-pleasing acrobatics and fire dances, 'Nia and Anwar and the Whale Shark Tale' is a daring new Filipino musical that might possibly be the first-of-its-kind in the southern Philippines. Performed on an open-air stage at Gloria's Fantasyland, a theme park in Dapitan City, this one-act show is packed with surprises, taking your average theme park experience to a whole new level.
---
BWW Review: MULA SA BUWAN's Retelling of 'Cyrano' Captivates the Pinoy Audience

November 22, 2018

With a creative vision accompanied by an infectious musical score and punctuated by powerful and authentic performances, 'Mula sa Buwan,' no wonder, is shaping up to be a musical that will be well-remembered long after its final bow. Now in its third and (as they promoted it) last run, I saw the show three times to make up for the missed opportunity of seeing it the previous years. My fondness for this musical just keeps on growing each time I see it and I feel very strongly that a show of this nature is not meant to disappear forever.
---
BWW Review: 'Eto Na! Musikal nAPO!' Has The Right Amount of Nostalgia To Its Advantage

August 6, 2018

The good news is that 'Eto Na! Musikal nAPO!,' an original Filipino play set into music by APO Hiking Society's hit songs, is like no other OPM jukebox musical we have seen in recent memory. Most of the jukebox musicals staged in Manila have an entirely fictional story (e.g. 'Ako si Josephine,' '3 Stars and a Sun' ) or have a plot that's leaning towards social commentary (e.g 'Rak of Aegis'), and, more often than not, try to repackage the sound of the original versions of the songs to make them more current and theatrical (e.g 'Ang Huling El Bimbo,' 'I Remember a Boy'). In their first foray into producing an original material, 9 Works Theatrical and Globe Live go for a more sentimental story, an ultimate throwback to the mid-1970s, with a plot that's loosely based on the early years of the original members of the APO Hiking Society.
---
BWW Review: I REMEMBER A BOY, A Delightful Trip Down Memory Lane

March 7, 2018

We Filipinos love to sing and, not only that, some even create theme songs to commemorate special memories with friends and loved ones. At the center of Artist Playground's latest offering is a barkada (clique) of six teenagers forced to have a get-together at their favorite bar as requested by one of their members. This meetup eventually stimulated them to recall their fondest memories of one another, from the time they first gathered together at that bar until that moment when they began to go their separate ways.
---
BWW Review: HIMALA: ISANG MUSIKAL Tells Its Story Similar to The Original Film

February 25, 2018

Just when we thought a restaging of the musical adaptation of a highly-acclaimed Filipino film could never do wonders, we caught ourselves absolutely in awe of what was offered to us on the February 18 matinee of The Sandbox Collective's comeback musical, 'Himala: Isang Musikal' (its last one was 'Dani Girl' in 2014). Restaging may not even be the most appropriate word for this production. This version is more like a reimagination of what initially came to fruition 15 years ago.
---
BWW Review: GUGMANG GIATAY: Handomanan sa Usa ka Bisrock nga Awit

November 30, 2017

Uso kaayo karon, labi na sa mga kabatan-onan, ang kining ginatawag nga mga pamalandong bahin sa gugma. Mao nga kining myusikal nga Gugmang Giatay, nga ang dungog namo kay sikat kaayo sa dakbayan sa Sugbu, dali ra kaayo nakapahimuot sa amoa. Kuha kaayo nila ang mga kinaiya sa mga kabatan-onan karong mga panahuna, nga dali ra kaayo magmaoy unya usahay alingugngog kaayo kung mabikil.
---
BWW Review: To Love HAIR Is An 'Acquired Taste'

November 20, 2017

It makes perfect sense that Repertory Philippines (REP) chose to end its 50th-anniversary celebrations with the staging of a big musical like Hair. First, the said musical is also commemorating the 50th anniversary of its first staging Off-Broadway. Second, as the musical talks about the dawning of a new era or the age of Aquarius, REP as a theater company is ushering in new milestones in its next 50 years. Hair also promotes a sense of community and togetherness, in line with REP's 50th-anniversary slogan Come Home to REP.
---
BWW Review: CHITTY CHITTY BANG BANG Dazzles and Charms!

November 2, 2017

Do not let your unfamiliarity with the 1968 movie stop you from watching Resorts World Manila's newest production, Ian Flemming's Chitty Chitty Bang Bang. In fact, in this case, having very limited knowledge prior to watching the show (we are, of course, aware of the flying car since it is being used in the show's promotional advertisements) made the experience more thrilling and enjoyable. Thus, in this review, we shall afford you with the same courtesy and not give too many details about the story. If you happen to know the movie, trust us, this production can still dazzle you with enough charm, making it a satisfying time at the theatre.
---
BWW Review: MAYNILA, SA MGA KUKO NG LIWANAG (Musical) Provides Social Commentary That Still Rings True

October 4, 2017

When the film adaptation of Edgardo Reyes's novel Maynila, sa Mga Kuko ng Liwanag, helmed by acclaimed director Lino Brocka, was first released, it was praised by critics for its brave and honest depiction of the quality (or lack thereof) of urban life during the Marcos administration. Surprisingly, even for someone who was not born yet in the '70s, this stage musical adaptation of the four-decade-old novel did not feel like a dated social commentary. It strangely (or sadly) still represents a familiar story of the Filipino poor hoping for a better life in urban Manila.
---
Happy 50th Anniversary, PETA!

April 21, 2017

Singkuwenta (which means 50 in Filipino), Philippine Educational Theater Association's (PETA) 50th-anniversary concert (April 7, 8) proves that this theater company is showing no signs of aging, and still is as relevant and viable as ever. For a two-night anniversary concert, the creative team crafted an efficient way to look back at 50 years' worth of stories of struggles and triumphs, yet not falling into the predictable route of showcasing just about every song they have in their catalog. Yes, it was a bit of a history lesson, except it was told through a dynamic staging of cleverly chosen repertoire.
---
BWW Review: NOLI ME TANGERE, The Opera Goes For A Grand Staging

February 1, 2017

60 years after its original run in Manila, 'Noli Me Tangere, the Opera' is back for a limited engagement at the Cultural Center of the Philippines (CCP) Main Hall. The show's producers, Jerry Sibal (also the show's director) and Edwin Josue, Filipinos both based in the United States, are going all out in making this production worth their trip back to the Philippines. Read to see what our critic thinks.
---